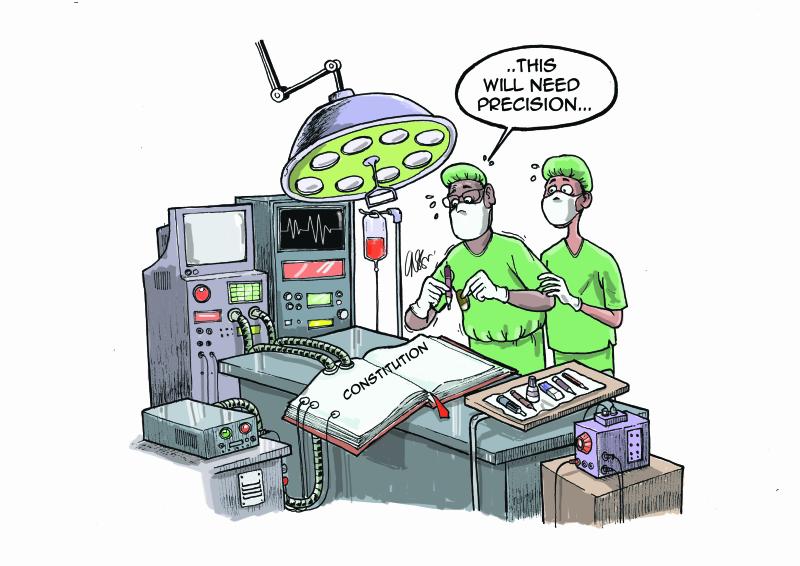 Discussions around a proposed constitutional change were once again in the headlines as Uhuru recently tabled his Referendum Bill at the National Assembly.
The Bill will allow referendum to take place on the same day as the 2022 elections. This referendum will in essence be on the future of the Building Bridges Initiative (BBI), Uhuru's flagship project aimed at uniting our country.
The referendum in question is touted to bring the much needed constitutional change and allow our political system to become significantly more inclusive.
In the spirit of the BBI for example, the referendum would allow constitutional changes that discourage the political divisiveness which has plagued our country for generations. Thus, instead of the winner takes all presidential system currently in place, a hybrid system that gives more room for participation by opposition parties in parliament would be instituted.
Read More
The importance of this cannot be understated. Anyone old enough surely remembers the 2007 post-election violence that left 1,300 dead and half a million displaced. Similar concerns were present in 2017 when our courts overturned Uhuru's victory and required a repeat election. A constitutional change will ensure that our country never again faces such domestic political instability.
Enabled by a referendum, further constitutional changes which would be instituted allow for our extensive process of national consultation, the BBI, to live up to its full potential.
Women would be further included in the political decision making process and our civic culture as its defined in Article 6 of the Constitution would be expanded. More important though, is what the referendum and subsequent constitutional change will say about the vibrancy of our democracy.
Although only adopted in 2010, our relatively new constitution was never defined as a perfect document. Constitutions need to be living and breathing things, and much like laws, must always be kept relevant. As such, they must be subject to adaptation and change. The US constitution, ratified in 1788 and often seen as the model for all later documents, has been adapted 27 times in the ensuing 232 years, an average of once every nine years.
The French constitution adopted much later in 1958 and considered an exemplary model for European constitutions has in its short existence already been modified a whopping 24 times, or once every two and a half years.
Why should our country be any different? Our citizens deserve the most important legal document in their country be as comprehensive as possible in meeting the challenges they might face in today's day and age.
One of the founding fathers of our republic, Tom Mboya, foresaw the challenges inherent in constitution drafting.
Uhuru quoted this in his 57th Madaraka Day address stating, "He told us that a constitution is not an end in itself; it is a means to a greater end. It is a living document. And if certain elements of the constitution outlive their historical purposes, they become a cancer. They must be removed or they will infect the good elements of the mother law".
Constitutional change must be seen as part of the natural progression of any democratic state. As is well known, this is not the first time in our country's history that the constitution has been adapted in accordance with national needs. As a matter of fact, our entire independence constitution was scrapped all together in 1969 to make room for a more authentically Kenyan document that was not based on the Lancaster House colonial model. Section 2(a) of this constitution was removed to allow for the institution of a multi-party system, while in 2008 the National Accord and Reconciliation Act was embedded in our constitution, expanding executive powers with the aim of preventing future outbreaks of violence.
The Covid-19 pandemic, which has been a stumbling block in making progress with scheduling this referendum, should also serve as a national wakeup call as to why constitutional change is required. Not even the greatest strategic thinkers one year ago thought the world would quite literally be shut down for the first time in over 100 years due to a pandemic.
Our world is a dynamic place, with the needs of citizens ever constantly changing. When he took office, our president committed to caring for citizens' needs and providing our country with the most efficient form of government possible. We must allow Uhuru to live up to that commitment, by making sure that the guiding document of our democracy is representative of the cornucopia of needs of our people.
Mr Kwinga is a political scientist. [email protected]