Political sideshows big threat to Covid-19 war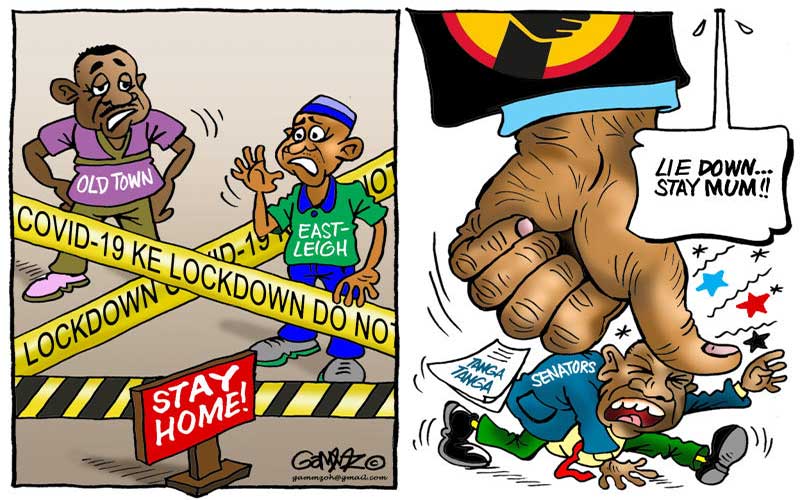 As the political drama unfolds in Kenya and many of us are left scratching our heads wondering what exactly is happening, it is important that we should not get caught up in the pettiness.
While minor politicians trade jibes and reporters make mountains out of molehills, every concerned Samaritan in Kenya has a certain duty to transcend the arguments and focus on a bigger picture for our country's future.
Nothing is easy right now. While economic growth was on a positive trajectory last year and many other positive developments were happening in Kenya - increased foreign investment, a growing local high-tech scene and an expanding universal healthcare programme to name but a few - most of that has been put on hold due to coronavirus, and is likely to remain stuck in the immediate future.
A pandemic is raging around us and there is no known cure. While many economic activities have come to a screeching halt, business owners are doing what they can while the government works day by day to come up with a plan moving forward.
And as new updates emerge at a dizzying pace, it takes some time to process this new information.
We all should be practicing patience as much as we can these days, both towards each other, within our communities, and to our leadership.
Symbolic action
The best thing for us to do at this moment in time is to think about what we can do for our nation, and remember that unity is of the essence.
A little over two years ago, our president took the first step towards reconciling what was once a scarred, divided country.
He shook hands with his political opponent Raila Odinga, a gesture that was applauded around the world.
There is no freedom when only part of the nation is represented, when only part of the nation feels that it has a say in the country's affairs.
President Uhuru Kenyatta has shown us that he is not just a leader for his tribe, but a president for all. He has transcended the tribal divide, and it is something that we all need to work towards.
It is similar to the well known argument for women's rights that when half of a country is prohibited from participating in the decision-making processes, when they are not given a seat at the table, a country is unable to grow in the way that it should in the 21st century.
The same goes for Kenya, if not all ethnic groups are represented adequately and fairly in government.
Against the backdrop of a comprehensive development agenda, Uhuru has been continuously working towards making sure there is room for everyone at the table.
If people from across the spectrum of our country cannot break bread together, then how can anyone expect Kenya to be a better place for all of us, not just the elite in power?
Critical junction
It seems that many of our elected officials are spending a little too much time thinking about advancing their own agendas, and not enough time focusing on what they can do for their country, especially during this time of difficulty.
Frankly, any politician who is working right now to disrupt the delicate situation is clearly not concerned with how Kenya will fare in the long term. We have reached a critical junction.
Politicians can no longer get away with passivity or indolence, nor will they get away with working only towards their own interests.
During this Covid-19 period, we need all hands on deck to ensure that all efforts to contain the pandemic are effectively conveyed and carried out.
Even media outlets should recognise their civic duty to publish government issues, recommendations and regulations clearly and effectively.
The sensationalist coverage of drama in our politics takes away from the real achievements that we have been working hard to realise under Uhuru: Unity, peace, prosperity, and stability.
Without these four concepts, how can we expect to emerge from the Covid-19 situation well-positioned to put the past behind us and return to our development goals?
At this critical juncture in our history, let us all commit to unity above all. Together we stand, divided we fall.
Mr Guleid, the former Deputy Governor of Isiolo County, is CEO, FCDC Secretariat