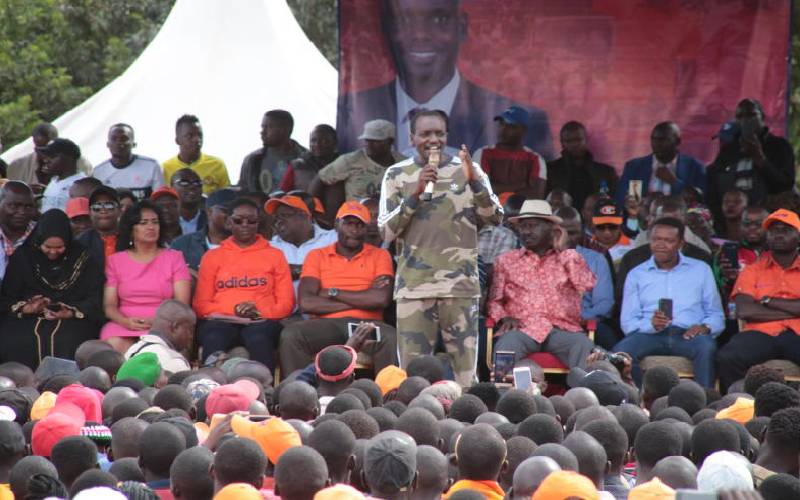 A bedroom is two things at once – a sanctuary where people can take refuge from this mad, mad world, and a sex chamber where people take refuge in each other. Bedrooms can be places of comfort, but at the same time are very often the scenes of violence.
It is in bedrooms that intimate relationships play out, some healthy, some toxic, and some even deadly. So you see, using the term 'bedroom' in the context of the Kibra by-election was apt.
Constituencies are very much like violent sex chambers. And the relationship between voters and their elected officials is as toxic as they come. The voting public can be likened to a battered, abused and brow-beaten spouse who can't find the courage to separate from a narcissistic political elite. Voters are stuck in a bad marriage, confined to the bedroom where they suffer continuous abuse but are too traumatised to speak about it.
To make matters worse, political leaders have the audacity to make light of their powerlessness by referring to entire voting blocks, populated by living, breathing Kenyans, as a bedroom of ballots. Worse still, when they threaten to invade the bedroom and evict the 'owners'. First of all, are politicians now admitting publicly that Kenya has owners?
Because when things that were once whispered in smoke-filled chambers are shouted from podiums, it is a sign that those in power have lost what little respect they had for their subjects. And two, if you're using the analogy of a bedroom as a sex chamber, then by threatening to invade and evict the 'owner', aren't you insinuating that you will ravage those who remain?
It's amazing how clearly the Kibra by-election revealed the seedy, shady and violent underbelly of Kenyan politics. The parallels with sexual violence are astounding. It is now abundantly clear that elections are a winner-takes-all contest where the victor leaves the field having violated his opponents in the worst way possible, in thought, word, and deed.
From the beginning, the process plays out like a bad romance, with power-hungry ego-maniacs on one side, and hapless, helpless voters on the other. Voters whose ability to make sound choices has been diminished by years of subtle and overt manipulations. In the meantime, candidates are wooed with stacks of cash and promises of greatness by billionaire puppet masters who wouldn't recognise human dignity if they saw it in a dictionary.
And at the end of the day, when the campaign machinery is packed away, the polticos go back to their jet-setting, benchmarking, allowance-earning lifestyles. The winning candidates retreat to the backrooms where they are inducted into the ways of elected leadership, and the voters go back to the bedroom.
It is a cycle that will continue on a loop until the bedroom becomes too small for the grief, rage and trauma of the Kenyan voter. In the meantime, the cuts keep coming and the steady stripping of our dignity as humans continues. Those in the corridors, living rooms, kitchens, pantries, cookie jars, and front yards feel no inhibition when they make violent comments that they think are witty.
People like Millie Odhiambo, for example, who alluded to violating Jubilee and its candidate without a condom. That was really and truly the height of disregard for the people who voted in Kibra. Once again, we are reminded that our democratic process is a contest between political rivals, which requires very little input from the voting automatons who rubber-stamp it
Leadership circles
And the condom thing? That was beyond the pale. Raping a person without a condom is a double violation – insult upon insult. Yes, I know she was referring to a political party, and some might consider what she said to be an acceptable metaphor, but that doesn't change the fact that the language of violence cannot be normalised in leadership circles, especially when some of the leaders who use it are part of a vulnerable population that is often the victim of sexual assault.
That said, it is interesting to me how both men and women were cast as victims of violence in the Kibra campaign narrative. How curious that a voter's card can become an instrument of equality but only when that equality can be used as an engine to control the masses. From the start, the by-election was characterised as a study in how things could pan out in 2022, and in the end, it proved what we have known for a long time: that we are a traumatised people who have been completely disinvested from the political process. Let's hope we don't remain in the bedroom forever.
Ms Masiga is Peace and Security Editor, The Conversation Africa