Concern. The effect of industrial disputes in the health sector come back to haunt us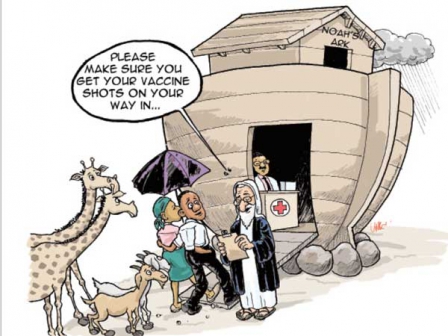 This year has been a challenging one for the health sector. As the country moved from one health worker strike to another, critical services were affected. Indeed many children went unimmunized, more mothers opted to deliver at home and many patients missed their TB and ARV medications. The country was therefore exposed to the risk of epidemics and resistance to medications.
There was a real concern therefore that the great strides Kenya had made in health were being reversed. This necessitated several partners led by the Ministry of Health to conduct catch-up campaigns to ensure that Kenyans and in particular the most vulnerable such as pregnant mothers and children got access to life saving services.
Immediate concerns
Much as the health sector is now stable, with healthcare workers resuming duty, there are immediate concerns we must address as a nation.
The short rains are now with us. They are a blessing and will undoubtedly enhance food security and boost incomes for farmers and traders. However, as we go through this rainy season, there are many dangers ahead. Waterborne diseases such as cholera and typhoid may rebound, and other diseases such as hepatitis A, influenza, Rift Valley Fever and Dengue could pose a threat to Kenyans.
Already the country is witnessing destructive flooding leading to burst sewers and water shortages. Further still, there is a high risk of a large increase in the mosquito population either during or immediately after the end of the short rains. In many areas in the country visibility on the roads is reduced and the risk of accidents is high.
Spread of malaria
Recently and as result of rains in August and September there was an upsurge of malaria cases in Baringo, Marsabit and Turkana in which at least 10 people lost their lives. It was gratifying to note the swift response from both national and county governments to bring the situation under control and these regions now have adequate stock of supplies to deal with any emergency.
However every Kenyan should be vigilant. To all communities of Kenya, it is paramount to maintain good hygiene, including handwashing; to sleep under insecticide treated nets and to ensure that drinking water is safe. Still, Kenyans should be cautious on the roads which are slippery, and should take other measures to prevent deaths and injuries caused by accidents due to reduced visibility, floods and landslides.
To county governments, all their contingency plans should be ready and they should ensure that the necessary commodities are available at the right place and the right time. Further, county governments are strongly advised to have their rapid response teams on alert and ready for deployment at the shortest notice. In the short to medium term, counties should invest substantially to improve their water and sanitation infrastructure as well as step up efforts of routine inspection of food joints and restaurants.
During this season, it would be desirable for development partners to support counties to be ready to deal with any possible epidemic and natural disasters that may arise during or after the short rains. Specifically we count on these partners to assist in deploying logistics and emergency care centers whenever called upon.
All is not lost
As we come to the end of this year, which was notable for cholera outbreaks in which a total of 3,244 cases were reported resulting in 60 deaths, it is time to reflect and act appropriately as a nation. It is noteworthy that these deaths and suffering can be avoided through good sanitation and hygiene practices. Collectively we do not have to suffer as a result of natural phenomena such as rain.
Let this rainy season be full of hope and optimism and I am confident that together as Kenyans, we shall deal with any health-related challenges that may arise.
Dr Cleopa Mailu, EGH is the Cabinet Secretary, Ministry of Health
Early release of KCPE results evidence reforms taking root
The speedy release of the 2017 Kenya Certificate of Primary Education (KCPE) examination results, only three weeks after the conclusion of the tests, is an affirmation of the root and branch changes in the administration of exams in the country.