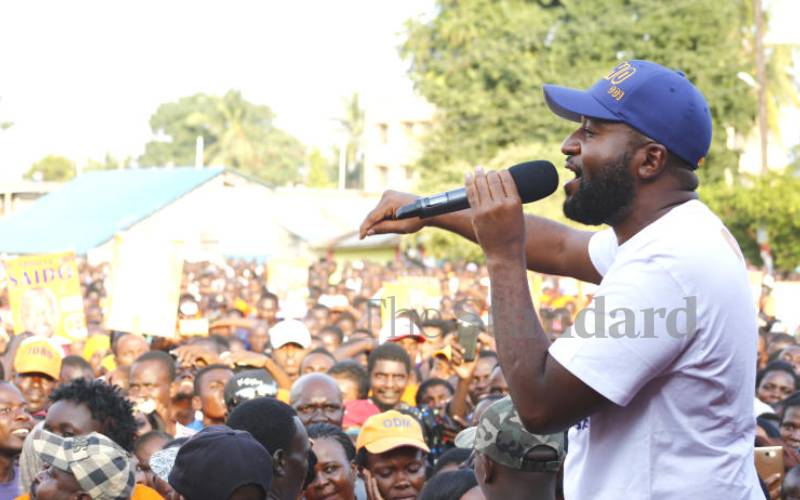 Mombasa Governor Hassan Joho had to negotiate the hefty petition fees he was slapped with in 2005.
Joho had petitioned the election of Ananiah Mwaboza in the Kisauni by-election but lost.
According to court files, Joho was ordered to pay Sh40 million as the cost of the petition.
Yesterday, Mwaboza said Joho's lawyers approached his legal team for negotiations and they settled on Sh10 million, an amount he said went to the lawyers.
The by-election in Kisauni was as a result of the death of then Tourism Minister Karisa Maitha in 2004.
And former Mombasa Senator Hassan Omar was slapped with a Sh8 million costs after he lost a petition against the re-election of Joho in 2017.
Yesterday, Omar said election petitions should be viewed as public interest litigation and every party should bear its own cost. He said the hefty awards choke democracy.
He said once a petition goes to full trial, it should not attract costs. He commended the courts for reviewing the election petition rules to allow each party bear its own costs.
Mombasa lawyer Abubakar Yusuf said the costs against Omar was among the highest since the courts reviewed the costs awarded against the election petitioners.
"Omar was slapped with Sh8 million after his petition against Governor Hassan Joho' was dismissed. It is one of the highest," said Yusuf who has handled several petitions.
In the judgement, Justice Lydia Achode awarded Joho Sh4 million and a similar amount to the Independent Electoral and Boundary Commission (IEBC). When the matter went to the Court of Appeal, the parties requested to withdraw the case and reach consensus.
Omar and his running mate Linda Mariwa Shuma cited irregularities as the basis for their petition.
In 2018, the Court of Appeal directed a petitioner against Changamwe MP Omar Mwinyi's win to pay Sh2 million.
Justices Alnashir Visram, W. Karanja and Martha Koome ordered that Mohamed Mahamud Ali pay Omar's lawyers Sh1.5 million and IEBC Sh500,000 after he lost the appeal.
Mwinyi's and IEBC's lawyers had demanded Sh8 million from Ali. However, the court slashed it to Sh2 million.
In November 5, 2018, former Likoni MP Masoud Mwahima shocked the courts after he went to beg for the release of Sh250,000 he had deposited as security for an election petition.
Mwahima, now deceased, said he was bankrupt and wanted the money to pay school fees for his children. This was despite the fact that he had lost the petition against Likoni MP Mishi Mboko's win in the 2017 polls.
Justice Erick Ogola had on March 2, 2018, ordered Mwahima to pay Sh2.5 million to IEBC and Mboko as the cost of the petition. Mwahima's case lifted the veil on the burden of election petitions. He lamented that he had paid colossal sums of money to his lawyers.