Dumna: Old Coast sport slowly losing fame, avid fans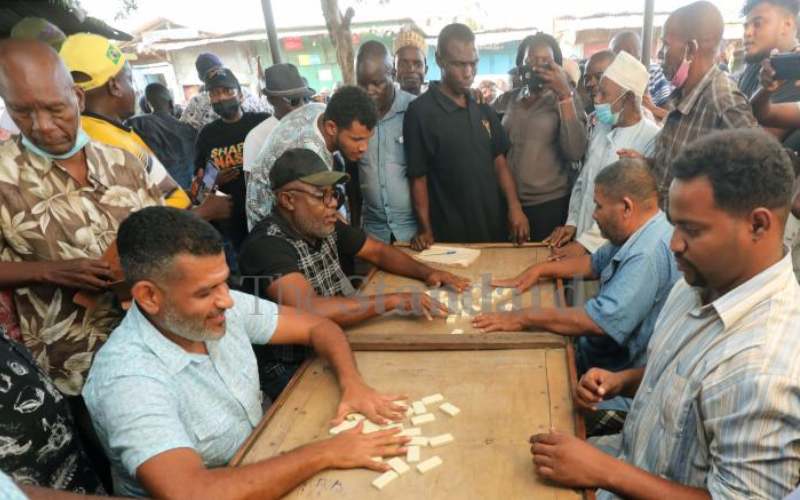 Playing the game until his sunset years, he spent most of his free time with some of his constituents on cool verandahs as he gathered information on projects he needed to prioritise.
It is on the dominoes or dumna game that former Coast KANU supremo and former Cabinet minister, the late Shariff Nassir, mingled with Mombasa residents. It is during such games that he gained grassroots support, notably because he was arguably one of the finest players.
However, the board game, played with dotted tiles pitting players against one or several opponents that started before the advent of football in Mombasa is facing extinction, with only two clubs out of 50 remaining active at the Coast.
Mzee Harun Mohamed, 85, who is the secretary of Mombasa's oldest Dumna club, Kongowea, said the game is part of the Swahili culture and a way of life. But things have not been the same since Nassir died in 2005.
"It is said that after his death in 2005, no leader took over the mantle. Nassir, who was the patron, used to sponsor local and even regional tournaments. Currently, we have only two active clubs," said Mohamed.
He said the Kongowea Dumna Club was started in 1955 before others like Mvita Club, Half London, Old Town, Kibokoni, Aswan and Ndovu Clubs joined the list.
They had a league and even competed against Tanzanian clubs.
"He played the game to relieve himself of stress. It was therapy for him as he could come very quiet, but leave a very jovial man," said Mohamed.
Emperor of dumna game
Family, relatives and friends, who knew Mzee Nassir, said he was the emperor of the dumna game in the region. He played the game even when he was a Minister.
His children, who include the current Mvita MP Abdulswamad Shariff Nassir and Abdulwahid Shariff Nassir alias Akasha, would take turns to play with their father at their homes in Nairobi and Mombasa.
''In Mombasa, he used to play at the Shikamoo Hotel, while in Nairobi, he would go to Pangani and Majengo areas to indulge in the sport,'' Abdulwahid said.
Suleiman Abed, 76, said the then Mombasa-based clubs represented the country in a tournament against a Tanzanian club which visited Kenya in the 1970s.
"Nassir sponsored an international match that was played on a round-robin basis, pitting Mombasa club against the club from Tanzania,'' he said.
"Kenyan clubs roundly defeated the Tanzanians, who later arranged for a re-match in Dar Es Salaam. Nassir had pledged to sponsor the Mombasa players to travel for the matches in Dar-Es-Salaam, but the trip never materialised until his demise,'' he said.
Mombasa Senator, Mombasa Faki, and businessman-cum-politician, Mohamed Saidoo, have assisted in the construction of a clubhouse belonging to Kongowea Dumna Club.
"As a young lawyer, I would pass by Mvita at the Shikamoo Hotel, where Mzee Nassir would invite me to play alongside him,'' Faki said.
Keep sport alive
Ismail Peter said that they have requested the Nassir family to consider sponsoring some dumna tournaments to keep the sport alive.
"We hope our request will receive favourable support from the former leader's family,'' he said.
On a recent meet-the-people tour, the Mvita MP made a surprise visit to the Kongowea Dumna Club where he took on Hamza Mohamed in a game that lasted five minutes.
"It is true these old sports that bring people together during peaceful times should be supported by all to ensure they do not become extinct,'' the MP said.
Abdulswamad said one way of ensuring the sport thrives is to sponsor periodic tournaments bringing together several clubs.
Dumna is a family of tile-based games played with gaming pieces or dominoes.