Kwale's hot springs are nature's wonder for locals and visitors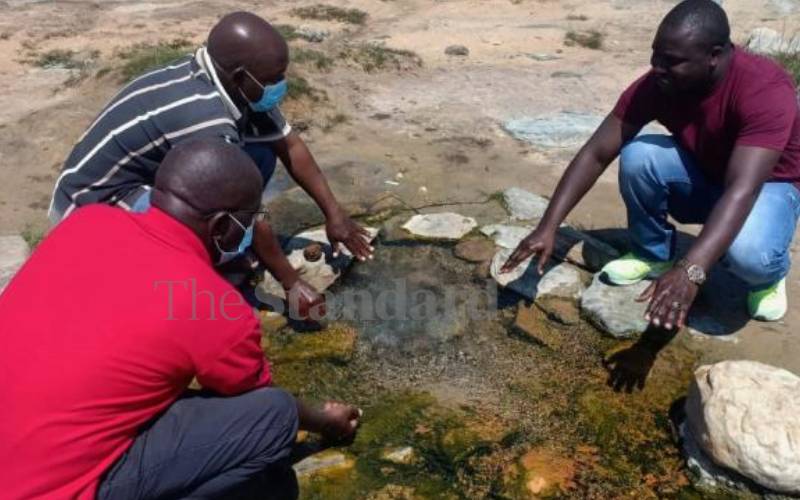 Kwale County is endowed with many attractions and historical sites that people usually marvel at. Majimoto, a Kiswahili word for hot water, is no exception.
Sitting on 300 acres of land, Majimoto boasts of four hot springs; two on plain land, a third one in the swamp, and another one embedded on the bedrock of the river.
And not just the hot springs; the place also has two shrines where residents frequent to offer sacrifices and prayers. It is located in Kikoneni area of Lunga Lunga Sub-county in rural Kwale County.
Hamadi Hamisi Zonzo, 67, and Kassim Mwabedi have witnessed this marvel since they were born.
Most of the area is swampy and there is a myth that many years ago a huge elephant was swallowed by the soil.
"I was born when these hot springs were already here. My grandfather told me that he also found them here and could tell how they came about. It is all magical," says Mwabedi.
Mzee Zonzo adds an interesting angle about how the springs were during his youthful era. He says the water is so hot they would use it to boil cassava or eggs.
"I was born when these hot springs were there and during that time we could put here like five eggs but surprisingly three would be found already cooked but two would disappear," he says.
The springs are regarded by many as a mystery and nature's wonder in the entire Kwale County.
Zonzo says when he was barely 15 years old, the entire place was all bushy and women in the menstrual period were not allowed to enter, but now things have changed and anyone can get closer.
"This place was a shrine where prayers were offered because our ancestors believed that all this magic was from god," he says.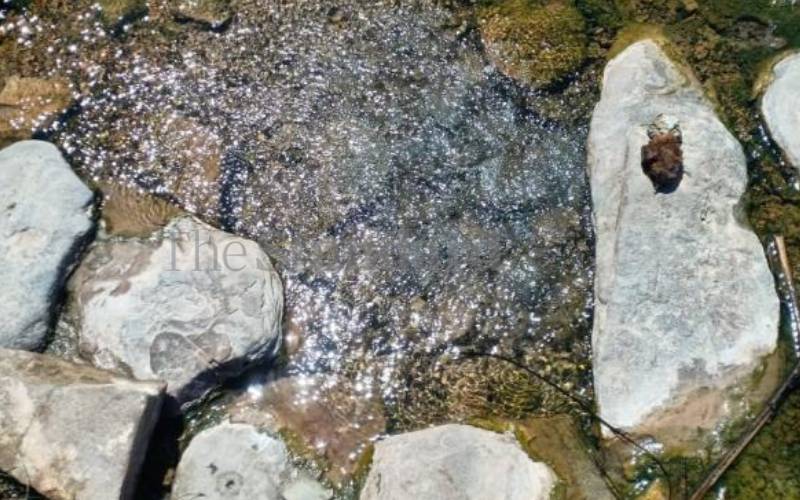 During the drought seasons, they would organise a dance called berwa where elders move through the entire village dancing while water is poured on them. The following day, he says, they would receive heavy rains.
The springs have never dried up come rain or shine, yet the river around them dries every time there is a drought.
The two elders claim the steam water from the hot springs is medicinal and cures body rashes and malaria.
"When you wash your body with this water, it clears everything and makes the body smooth. You don't even need to apply oil," says Mwabedi.
Two of the four shrines are classified as male and female. During sacrifices white and black chickens are slaughtered at the male and female shrines, respectively.
At the male shrine, there is a baobab tree that has had stunted growth for many decades. It is less than two metres tall.
"This pot that you are seeing has been there since I was born. Many people frequent here, especially on Mondays and Thursdays. You won't believe it but sometimes people come to pray here and later call to tell us that their prayers were answered," says Zonzo.
A part of the slaughtered chicken is left for the unseen spirits while a bigger chunk is eaten up by the elders.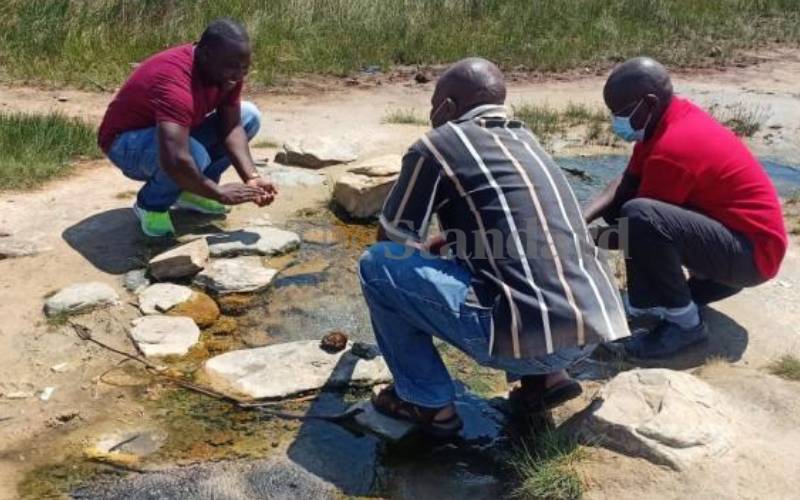 Though no proper answer is given on the source of the springs, the custodians believe the nearby mountains might have been the source during their formations.
"President Mzee Jomo Kenyatta paid us a visit around 1972 and promised to come back but he never did until he died. We know that when a president visits somewhere the place has to be preserved well," says Zonzo. No crops can be planted on the land as it is salty.
Kwale County Director of Tourism Paul Musila says they are constructing a hotel to accommodate guests visiting the hot springs. He said they will also build a trail for visitors to use while marvelling at nature.
"Down the river where hot and cold water meets, we are planning to put up a swimming pool so that tourists will enjoy a warm swim and get the medicine that the elders have talked about," said Musila.
He says the essence of the project is to attract tourists to the area and benefit villagers.