Why Raila, Ruto are no longer at ease over politics in Coast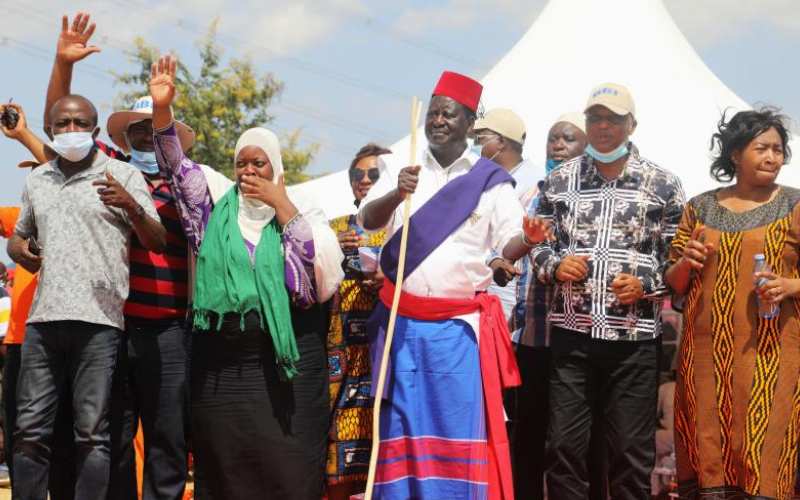 Unrelenting forays by ODM leader Raila Odinga and Deputy President William Ruto into Coast have stirred a debate over the political future of the region ahead of the 2022 polls.
On Friday, Raila completed his five-day tour in four coastal counties barely 14-days after Ruto's visit, in what is now being touted as the scramble for the region's 2.4 million-odd votes.
As Raila left on Friday, Kanu chair and Baringo Senator Gideon Moi also arrived in Taita Taveta County to drum up support for the BBI. Last month, Moi also held rallies in Lamu.
Governors Hassan Joho (Mombasa) and Amason Kingi (Kilifi) are also engaged in a supremacy war in Coast.
The DP, who increased his tours after the Handshake between President Uhuru Kenyatta and Raila in 2018, appears to have been emboldened by Feisal Bader's win in Msambweni the by-election.
He has held rallies and funds drives in Kwale, Taita Taveta, Kilifi and Mombasa counties, which were also the target of Raila's tour.
But Raila also appeared to be on a fire-fighting mission in his own ODM party which has had a firm grip on Coast politics since 2007.
This is after his point men, Joho and Kingi, turned down his overtures, including a proposal to the latter to drop the plan to form a Coast-based party.
Joho also shrugged off calls from Raila's allies, led by Embakasi East MP Babu Owino, to drop his bid for the party's presidential candidate ticket.
Raila was, however, successful in his quest to consolidate his support base after most of the leaders that had earlier joined the DP's camp trouped back to ODM.
Political dynamics
Ms Maimuna Mwidau, an analyst of Coast politics, says the political dynamics in the region were rapidly shifting but not in Raila's favour.
"If I were Raila, I will not be a happy man with what is happening now in Coast because it is taking away a lot of support he has enjoyed since 2007," says Mwidau.
Up to the 2002 elections, the Coast was a Kanu bastion even after the introduction of the multiparty elections in 1992. In 1997, it scooped 17 out of 20 parliamentary seats in Coast.
In 2002, the biggest political change occurred in the region after the opposition Narc won all the parliamentary seats in Mombasa and Kilifi. Other than Kinango seat, Narc also swept Kwale.
But since 2007, the ODM leader has enjoyed an unwavering support from the region. In the 2012, five of the six governors from the Coast were ODM flagbearers.
In 2018, all the seven MPs in Kilifi, governor, senator, woman rep and 32 out of 35 MCAs were all ODM flagbearers.
In Mombasa, 27 out of 30 MCA were also elected on ODM ticket.
Political analysts in Coast are now debating whether the ODM leader will enjoy the same fanatical following in 2022 or the region was turning to be to a toss-up vote bloc.
But they say that given the ethnic, racial and religious diversity in Coast, the up-country parties will continue to dominate the region's politics in the 2022 General Election.
Others say that increasing ethinicisation of Kenyan politics could eventually result in a degree of autonomy for the Coast, especially along religious lines.
"It is true that Coast is the most heterogeneous region. Mono-ethic population does not necessarily give rise to unity. Look at Western region," said Salim Ahmed, a PhD student.
External penetration
Ahmed, however, said that a huge number of upcountry votes in Coast makes it vulnerable to manipulation by external forces.
Coast Gema chair Waithaka Macharia estimates that there are over 250,000 people from Mt Kenya living in the region, with most of them in Mpeketoni in Lamu and Mtwapa in Kilifi.
Mwidau said the dismissive attitude by Ruto and Raila towards the plan to form a Coast-based political outfit has emboldened its proponents and galvanised the masses to support the idea.
"The question people are now asking is why is it that when Coast wants to unite under a party, it is seen as a threat to national security," said Mwidau.
So serious has Kingi been that he is said to have courted Kwale Governor Salim Mvurya of Jubilee to join him in o uniting the Coast under a new outfit.
The Sunday Standard has established that Kingi and Mvurya met in Mvurya's office last Sunday to deliberate on the party idea.
"People will be shocked with an alliance Kingi has established," said a close ally of Mvurya.
Two weeks ago, Kingi also skipped a meeting convened by Joho in Lamu and instead chose to hold a meeting with ward reps to plan the formation of the Coast political outfit.
Although Raila and Ruto have had sharp differences on most issues at the Coast, they have both opposed the quest by the region's leaders to establish a Coast-based political party.
At a leaders' meeting in Kilifi a fortnight ago, Ruto directed his lieutenants in Coast to drop the plan, asking them to instead join United Democratic Alliance (UDA).
Kilifi North MP Owen Baya, a proponent of a Coast party, has since dropped his push for a local party and accepted the DP's offer to join UDA as its interim secretary general.
Initially, Baya and Malindi's Aisha Jumwa had planned to join and rejuvenate Kadu-Asili or establish a new political outfit to negotiate for power with Ruto.
"I have worked with Kingi for long in ODM. Why is he looking for a Coast political party while he is in ODM which is a national party?" Raila posed in Kilifi last Wednesday.
Kingi said he had already taken off with his plan and needed time to consult the people who had pushed him to form a coalition of Coast-based parties.
"We have already resolved to chart our own political destiny as Coast people. We will meet and consult over your advice," Kingi told Raila.
It is not clear whether Kingi has the support of any of the 27 MPs, senators and woman reps from the Coast.
Real faces
But Changamwe MP Omar Mwinyi has questioned Kingi's motive, saying the Coast people were not aware of the 'real' faces behind a Coast party or a coalition of parties.
Mvita MP Abdulswamad Nassir said there was the Coast Peoples Party in pre-independence days but it failed to get national clout because its agenda was narrow.
He said he could not abandon ODM for a Coast party or a coalition whose agenda was not yet clear.
"Going for a Coast party is a not a new thing. There was once a Coast Peoples Party and it failed to garner support," he said, insisting they were not for the plan of leaving ODM.
Likoni MP Mishi Mboko, Mombasa Woman Representative Asha Hussein and Jomvu MP Badi Twalib have also opposed Kingi's plan.
In Kwale County, Senator Issa Boy and Woman Representative Zuleikha Hassan have also vowed to stick with Raila.
"I do not know what prompted my elder brother governor Kingi to go for a Coast party.
"It is ODM that made him win two terms as governor and even his brother (Michael Thoya Kingi) was elected Magarini MP. I urge him to rescind his decision and return to the party where he belongs," Ms Hassan said.
Matuga MP Kassim Tandaza, who is allied to Joho, argued that the plan to form a Coast party was secondary as the problem the region faces has been lack of a leader to move it forward.
No leader
"I am totally opposed to the formation of a Coast party because the region has had up to seven parties. Although it is not a bad idea to forge a coalition of parties, this has not been the main problem for this region.
"Our problem is lack of a clear leader who can steer the unity of the region and take us forward," he argued.
Former Kisauni MP Ananiah Mwabodza said several factors, among them the fact that there was no Mijikenda in Cabinet, have fueled the push for a Coast party.
"We want a party that will also represent us directly. We do not want to be represented by someone from outside the region at the national table," he said.
"We recently saw President Kenyatta meeting party leaders in State House to discuss the BBI campaigns. Coast was not represented because we do not have a strong party."