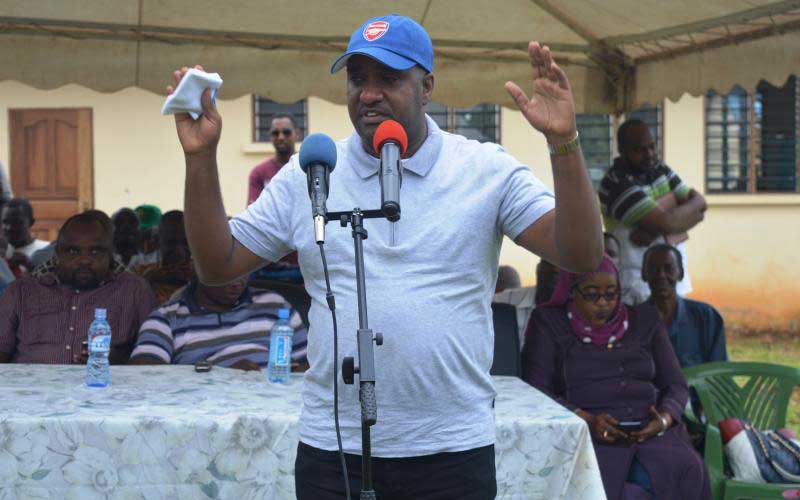 Intensive lobbying for the Msambweni parliamentary seat which fell vacant following the sudden death of MP Suleiman Dori on Monday has started in earnest.
Orange Democratic Movement (ODM) chairman John Mbadi said several people were already jostling for the party ticket even before the seat is officially declared vacant.
"I have already been approached by some people who want the Msambweni seat but I have asked them to wait until the right time," Mbadi said.
Allies of Deputy President William Ruto and those of ODM leader Raila Odinga have vowed to battle for the seat, with both sides claiming the loyalty of the late Dori.
Read More
Dominant party
Speaker of the National Assembly Justin Muturi is yet to declare the seat vacant.
Several factors may determine the outcome of the by-election, with the popularity of the political party said to be key.
ODM has been a dominant party in Kwale, Mombasa and Kilifi counties and it remains to be seen how Jubilee and other parties will fight it out to grab it from the Orange party.
In the 2017 election, ODM won two of the four parliamentary seats in Kwale County: one through Dori and the other through Benjamin Tayari of Kinango constituency.
Jubilee recouped the Lunga Lunga seat through Khatib Mwashetani as Kassim Tandaza won the Matuga seat through Amani National Congress (ANC).
Pwani University lecturer Hassan Mwakimako said the political party and new entrants could be the main determinants of the poll outcome.
"The contest is likely to be between ODM and Jubilee faction led by Deputy President William Ruto in this by-election. It will be politics of the handshake, although new entrants may complicate the race," Prof Mwakimako said.
Dori, who was elected on the ODM ticket, decamped to Jubilee but made an about turn after he was threatened with expulsion by the party.
Local pundits argue that the land problem remains a thorny issue in Msambweni. In 2016, Dori clashed with President Uhuru Kenyatta in defense of squatters.
At Dori's Gazi village, hundreds of villagers have lived as squatters around the so called Gema farm, Kinondo-Diani area as well as the titanium-rich sites where Base Titanium seeks to extend its mining activity.
Kwale Governor Salim Mvurya said Dori brought long-lasting cabro roads to the tourist town of Diani.
"He also championed the construction of many roads and schools in Msambweni," Mr Mvurya said.
Prof Mwakimako also said that the unity of the big parties like ODM and Jubilee will depend on how they handle their primaries.
Already there are murmurs in the ODM on the preferred formula to pick the candidate. Most people prefer universal suffrage, others consensus while some are rooting for direct nomination.
Senate Minority Leader James Orengo said the people of Msambweni will have their final say during the nominations. Kwale's ODM presidential election campaigner Sheikh Hamisi Banda said residents will not accept a candidate forced down their throat.
"We won't accept a situation like that of Senator Juma Boy in Kwale and Imran Okoth in Kibra who were handpicked. We want an open nomination process to give party members a chance to pick their best," Banda said.
Direct nomination
ODM Kwale branch chairman Hassan Mohamed Mwanyoha said more than 15 people have expressed interest in the party ticket.
"We are still mourning and consulting with constituents and I am appealing to hopefuls to wait until the seat is declared vacant," Mwanyoha said. Mwanyoha revealed that ODM will hold a consultative meeting on Monday.
One of those reported to be interested in the ODM ticket is former Bongwe/Gombato MCA and 2017 Independent candidate Omar Iddi Boga.
Other ODM party bigwigs are fronting Dori's cousin and former personal assistant Feisal Abdallah Bader. Those pushing for Bader are rooting for direct nomination.
Another new entrant is Ms Sharlet Mariam who runs a community-based organisation in Msambweni. The 29-year-old used to work in the office of Nairobi Governor Mike Sonko and National Construction Authority (NCA).
Also said to be interested in the seat are Kwale County Finance Executive Bakari Sebe, 2017 ODM gubernatorial candidate Issa Chipera and a board member of Coast Development Authority (CDA) and former Kwale County Council Chairman Mshenga Ruga.
Mr Ruga, who has been a long-time ally of Ruto, was in Mvurya's campaign team. He also unsuccessfully contested for the Msambweni seat in 2013 on a United Republican Party (URP) ticket.
Former Mombasa County Secretary and Governor Hassan Joho's ally Hamisi Mwaguya, who failed to capture the Mombasa senatorial seat in 2017, is contemplating joining the race.
Another ally of Governor Mvurya and now Diani/Ukunda Urban Municipality Manager Khamis Omar Mwandaro, who came close to Mr Dori in the 2013 general election when he vied on a Chama Cha Uzalendo, ticket is likely to vie.
The Msambweni Kenya National Union of Teachers (Knut) Executive Secretary Mr Bashir Kilalo is also eyeing the seat as is former Msambweni MP Omar Mbwana Zonga who in 2017 unsuccessfully challenged Lunga Lunga MP Khatib Mwashetani on an ODM ticket.
Another former Msambweni MP Marere Wamwachai and Ukunda businessman Peter Nzuki also want to test the waters again.