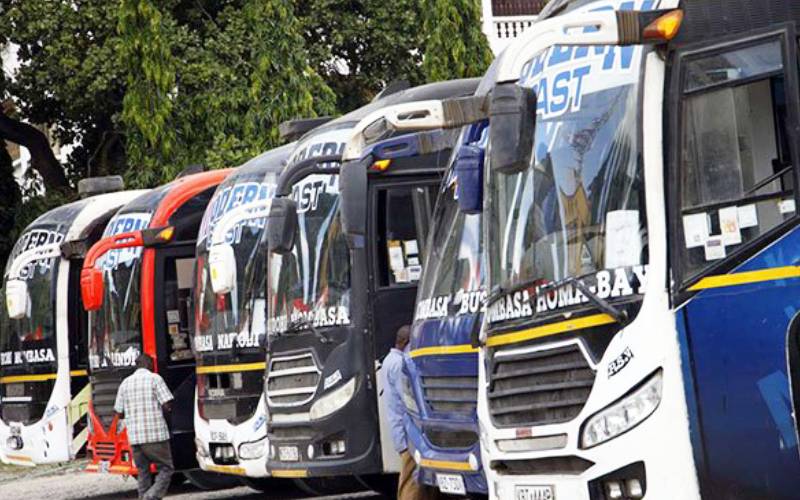 There was confusion yesterday at Modern Coast Bus Express offices in Mombasa, with travelers demanding to know if the bus company had resumed operations.
Earlier yesterday, Modern Coast announced on its website that it had received an alert lifting the suspension of its licence from the National Transport and Safety Authority (NTSA).
Moments later, NTSA denied lifting the ban, leaving dozens of passengers at the bus company's Mwembe Tayari offices in Mombasa stranded.
Many were traveling upcountry. "We would like to clarify that we received a letter from NTSA lifting our suspension, hence the resumption of our operations," read part of the bus company's post on its website.
Read More
NTSA, however, countered Modern Coast's assertion, saying on its twitter handle: "This is to notify members of the public that the suspension of Modern Coast Express has not been lifted."
A spot check by The Standard yesterday at the bus company's terminus at around 3pm showed a fleet lined up ready for travel. There were at least six buses ready.
Attendants were busy directing passengers on rules they should follow while boarding the buses.
"Those who had booked to travel today will have their buses ready. Those who booked to travel three days ago will have their money refunded," an attendant could be heard telling passengers.
Elijah Otieno, who had booked to travel from Mombasa to Kisumu for Christmas festivities, said he was disturbed by the conflicting information, not knowing who was telling the truth.
"I paid Sh2,000 to travel, but by the look of things, I don't know if I will travel," he said.
The bus company's licence was suspended following an accident involving one of its buses, in which seven people were killed. The accident occurred at Salama area on the Mombasa-Nairobi highway.