Anti Counterfeit Authority destroys counterfeit goods in Mombasa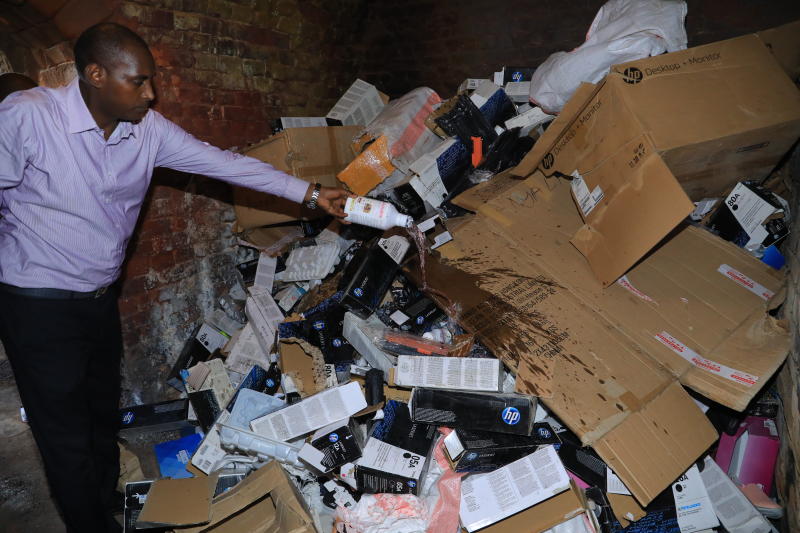 Anti Counterfeit Authority (ACA) over the weekend destroyed an assortment of counterfeit goods worth Sh5 million in Mombasa.
According to chair of the Board of ACA, Ms Flora Mutahi, the condemned goods that were destroyed through burning at the Coast Clay Works ,Changamwe, Mombasa County consisted of various items ranging from fast moving goods like footwear, clothing, electronic goods like circuit breakers ,cosmetics and stationaries, which were replicas of some popular local and international brands.
''This is a clear violation of the Anti -Counterfeit Act 2008 law of Kenya,'' Mutahi who was flanked by ACA CEO ,Mr Elama Halake and Mr Yusuf Osman, Coast Regional Manager said.
She said that they had taken their time out of a busy working schedule in Mombasa where the board is on a retreat to oversee the destruction of the counterfeited goods.
Mutahi added that continued impounding and destruction of counterfeit goods that mostly find their way into the country through the various ports of entry is proof of ACA's seriousness and commitment to rid the local market of counterfeit products.
She expressed confidence that the series of high profile seizures being carried out by ACA would go along way in planting the seed of fear and uncertainity in the hearts and minds of counterfeiters.
''We now have a road map to implement through National Action Plan against illicit trade . I will be at the forefront to reinforce our institutional links. We at ACA want to further open up to the private sectors to assist in law enforcement and consumer awareness programms to cut the demand side of counterfeiting,'' she said.
Mutahi appealed to stakeholders especially the brand owners to share knowledge , offer assistance and collaborate with enforcement agencies to achieve an environmental friendly disposal and destruction operation.
At the sametime, Mutahi said that ACA wants to send the right message out there that Kenya has both legal and institutional frameworks to fight counterfeits and hence a conducive investment environment.
''With increased investment, Kenya will definately have a more vibrant and strong growing economy , employment and development. We also want to send a stern warning to counterfeiters to cease and desist from trade in counterfeit ,'' she added.