Taib: The man cut out for fight to nail Henry Rotich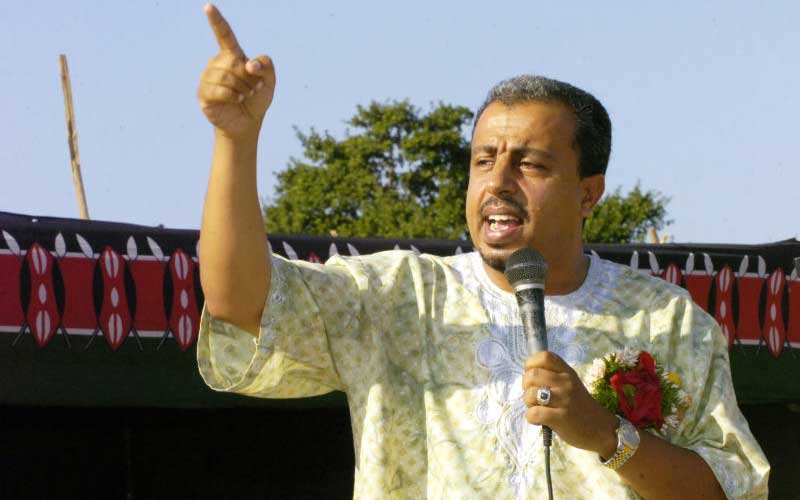 When he turned up in court with a long, bushy beard to take on the country's disgraced money-man Henry Rotich very few people could put name to Taib Ali Taib's face.
Now cut out for a battle of his lifetime, the former Mombasa mayor has undergone a complete metamorphosis. He says he is now ripe for the battles ahead.
In an exclusive interview with the Sunday Standard, Taib spoke of readiness to tackle his first case as a special prosecutor.
"I'm now an elder and old unlike the time I was the Mombasa mayor," he said, laughing at the question of his bushy beards.
The 55-year-old has practiced law for more than 30 years. In the recent past, he has floored the Director of Public Prosecution Noordin Haji, the man who hired him, in ivory case involving businessman Feisal Mohammed and another one in Mpeketoni killings.
Careful not to reveal his strategy, he is however clear that the cases won't drag on for long.
Those who expected him to adopt the predictable confrontational line of prosecutors were surprised when he put very little fight against the bail terms for suspects.
Labeled as dissidents
"I can't discuss the strategy we will use but we are ready to prosecute these cases", he said.
A charismatic and fluent speaker of English, Swahili, Akamba and Arabic, Taib shot to the limelight in early 90's when as a young lawyer he decided to represent Islamic Party of Kenya (IPK) rebels in court.
Some of the IPK officials he represented include fiery Islamic preacher Sheikh Khalid Balala, who the state had labeled as dissidents and slapped them with treason charges.
Sakina Mosque which at the time was the hotbed of Islamic militancy associated with IPK came under heavy crackdown by state security agencies. When it became too hot, the "IPK political revolutionaries" moved to the Musa mosque which was built by the patriarch of Taib's family.
After the death of the family patriarch, affairs and management of the mosque were left in the hands of Taib's brother.
But the family relinquished the mosque to a committee which was later overpowered by religious radicals including the late Aboud Rogo, Sheikh Ibrahim Amur and Mohamed Fazul Abdullah.
"In times of adversity, I turn to my God, first and foremost, to pray.. I believe nothing is impossible with God. My first bastion is prayer, then action, but in a decisive manner," Taib told a recruitment panel three years ago.
His worst fears came to pass after he was arrested and charged with possession of subversive documents, which in his past interview, he claimed were planted on him by police officers.
Taib's bravery also paid off when in 1993 he was elected vice chairman of the Law Society of Kenya (LSK) deputising former Chief Justice Willy Mutunga.
His studious and aggressive demeanor in legal practice and politics, some say, was sharpened during his stint at LSK.
Later between 2003 and 2006, Taib weaved through the political maze that is Mombasa politics to become mayor. He admitted to the Sunday Standard that his mentor at the time was the late minister Karisa Maitha.
"I was drawn into politics because the line defining the practice of law and activism in the struggle (of multiparty democracy) was blurred," Taib once said.
Born in Kitui, Taib studied in Nairobi School before he joined the University of Nairobi where he graduated with a law degree. He later joined Kenya School of Law before he was admitted to the bar.
"One of the regrets is that after I graduated from the University of Nairobi I had the chance to join Harvard University for my PhD but I did not because of excitement to start practicing," said Taib in a past interview.
The lawyer is a fierce critic of religious fundamentalism and is unapologetic about his fight against human rights violations.
Taib not only practises constitutional and human rights law but also family law and succession, criminal or general law and defamation and media law.
Some of the cases he has litigated include representing four suspects that were charged with the June 15, 2014 killings in Mpeketoni and Hindi in Lamu County.
Mahadi Swaleh Mahadi alias Jesus and Suleiman Ahmed Diana who were charged with 60 counts of murder walked free after the cases were dismissed by Justice Martin Muya.