Government now wants Kwekwe's killers jailed, wealth seized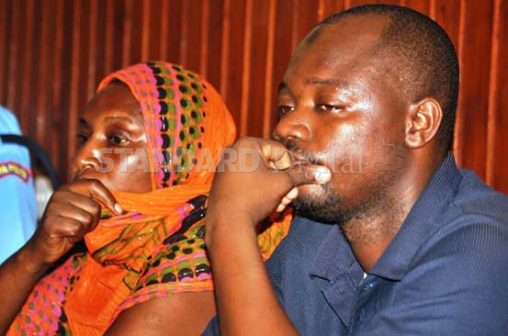 The Director of Public Prosecutions (DPP) wants the two police officers charged with killing a girl in Kwale convicted and forced to compensate the family of the deceased.
Justice Martin Muya was set to read sentence against Inspector Veronica Gitahi and Police constable Issah Mzee who have been linked to the killing of Kwekwe Mwandaza yesterday, but postponed it till Monday.
This was done following a new application by Assistant Director of Public Prosecution Alexander Muteti and Harun Ndubi regarding the sentence.
"Under the Victims Protection Act of 2014 and in the interest of public and the family we apply for an order of compensation against the defendants who are merited to be given custodial sentence after being convicted of manslaughter," Muteti said in court.
Muteti made a case for compensation to the family following the trauma the death of Kwekwe had caused them.
PUBLIC INTEREST
"These two children will get traumatized forever. That trauma will also affect the mother because she was her only [biological] child," said Muteti who asked the judge to consider the public interest in making a decision.
Ndubi supported Muteti's argument for compensation stating Kwekwe's family has suffered physical and psychological anguish and incurred financial losses through court motions, exhumation and autopsies.
But the accused' lawyer Jared Magolo opposed the DPP's application arguing there was no need to compensate the victims because his clients had also suffered.
He appealed for the judge's sense of mercy arguing that his clients were "totally remorseful and rehabilitated" in the course of the tragedy and trial. Magolo pleaded that Gitahi is a diabetic single mother who had worked diligently in the force and rose to become DCIO.
Magolo also argued that the application made by Muteti and Ndubi is untenable if the convicts are in detention or are given a custodial sentence.
On Wednesday, Justice Martin Muya sitting in the High Court of Mombasa convicted the two police officers of manslaughter. Kwekwe was killed on August 22, 2014 in Kinango, Kwale County.
During the trial, the court heard that the accused were among police officers who were divided in two groups, one of which went to raid the house of a man suspected to be a criminal.
When they appeared in the dock yesterday, the two officers stared blankly, as court proceedings went on.
On the other side of the court sat Umazi Zani, Kwekwe's mother, looking distraught and lost in her world.
Build from this summit to enrich devolution
This past week, President Uhuru Kenyatta held frank discussions with county governors as they took stock of how well service is delivered to the public under the devolved governance structure.