Tears flow as man recounts how family lost land at NLC hearings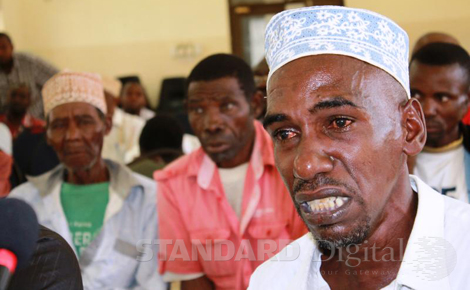 Mohammed Hemmed breaks into tears as he narrates to the National Land Commission how their ancestral land was allegedly grabbed by an Italian man, Thursday. [PHOTO: GIDEON MAUNDU/STANDARD]
MALINDI: A man on Thursday burst into tears during the National Land Commission (NLC) hearings as he recounted how their family land was allegedly secretly acquired by a man of Italian origin at Ngomeni in Malindi.
Mr Mohamed Hemed Kale briefly disrupted the proceedings, which are on their fourth day, as he wailed, narrating how the 14-acre prime beach plot was allegedly seized from his family in 2007.
Dressed in a flowing Islamic white robe and cap, Kale broke down claiming the ancestral land was issued to one Mr Paul after their father, Mr Hamed Kale, died in 2006.
"We have been seeking justice over the family land for the last eight years in vain. We have suffered because we are poor," Mohamed said.
His sister, Mariam Kale, claimed the family had grants of plot number 576 and 577 in March 2011, but Paul allegedly acquired title deeds in 2007 for the same land, leading to the protracted dispute.
Mariam claimed Mr Paul's father, Herbert, was a long-time friend of his father and leased part of the family land as a fish land site at Sh10,000 a month, but the family never sold the parcel.
Documents presented to the NLC by the family show plot number 576 under the grant measures 36.4 acres while plot 577 covers 67 acres.
However, Paul's lawyer Omagwa Angima said his client followed due process when he bought plot number 576 of five acres and plot number 577 measuring nine acres, making up 14 acres whose title was issued in 2007.
Mr Angima said his client bought the prime land at Sh1.05 million and promised to table documents before the commission within one week.
"My client is also capable of crying before this commission. He has documents to prove he bought the land. He is also suffering the stigma of being branded a grabber. He, therefore, demands justice," Angima argued amid laughter from the packed hall.
But this did not go down well with NLC Vice Chairperson Abigael Mbagaya Mukolwe who told Angima to concentrate on matters of importance and not a crying contest.
DEMOLITION RISKS
During the hearing, a lawyer representing Mtwapa Educational Institute, Robinson Malombo, claimed the public institution faced demolition after private developers were allocated the land.
Malombo, flanked by headteacher Patrick Mzungu, Mombasa Anglican Bishop Julius Kalu, school chairman Ibrahim Khamis and Mijikenda community elders told the agency that donors for the Sahajanand Special School had pulled out following frustration.
Malombo claimed six new title deeds had been issued to different individuals with political influence and were threatening to demolish the public schools.
"We are appealing to the commission to treat this matter with urgency because the donor has pulled out and there is no electricity and water for the school," he said.
Mzungu explained the school complex was established in 1985 and that the special school had 600 children with special needs.
Meanwhile, NLC chairman Muhammad Swazuri said 10 public schools had so far given status reports for their parcels or applied for registration following a presidential directive. They are Lang'ata Secondary, Pangani Girls, Arya, Nairobi and Eldoro schools, among others.