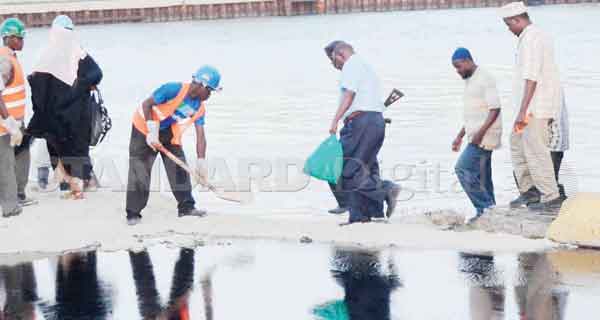 Port workers battle to contain an oil spill after a tanker overturned at the Kenya Ports Authority in Mombasa Thursday. [Photo: Kevin Odit/Standard]
By Joackim Bwana
Mombasa, Kenya: A tanker carrying 20,000 litres of fuel overturned at the Kenya Ports Authority in Mombasa and spilled oil on a road, making it impassible.
Port workers made frantic efforts to stop the oil from flowing into the ocean. The tanker reportedly encountered a traffic jam while going up a steep by-pass, specifically constructed for loaded trucks. The driver is said to have applied emergence brakes and lost control, veering off the road and hitting barriers before overturning.
Captain Twalib Khamis, head of marine operations, said the emergency braking made the tanker, which was not full to capacity, to lose control.
"When you apply sudden brakes and the tank is not full, the liquid in the truck tends to make it unstable. This is what made the truck veer off the road," he explained. The Acting Managing Director of Marine Operations Muthoni Gatheri said it was not immediately possible to ascertain the extent of loss occasioned by the accident.
She, however, revealed that three quarters of the fuel in the tank had spilled. She said officials were doing everything possible to stop the oil from reaching the ocean. The road leading to the port was closed for the clean-up to take place, inconveniencing motorists who were forced to use the longer route through Kibarani to enter the port.
No causalities
"Right now our number one priority is to contain the oil from spilling into the ocean before we can open up the road. We will assess the cost of damage later.
We have opened Gate 18 for those entering the port," Ms Gatheri said. She accused the driver of the truck of flaunting rules that ban loaded trucks from going up the hill.
There were no causalities in the incident that caused a heavy traffic jam along the roads leading to the port.
Muthoni said that the owner of the truck will pay for the expenses incurred in cleaning up the spill, cranes used to remove the tanker, sand used to contain the oil, labour and the time wasted.