Listen to doctors, ignore political analysts and go for Covid vaccine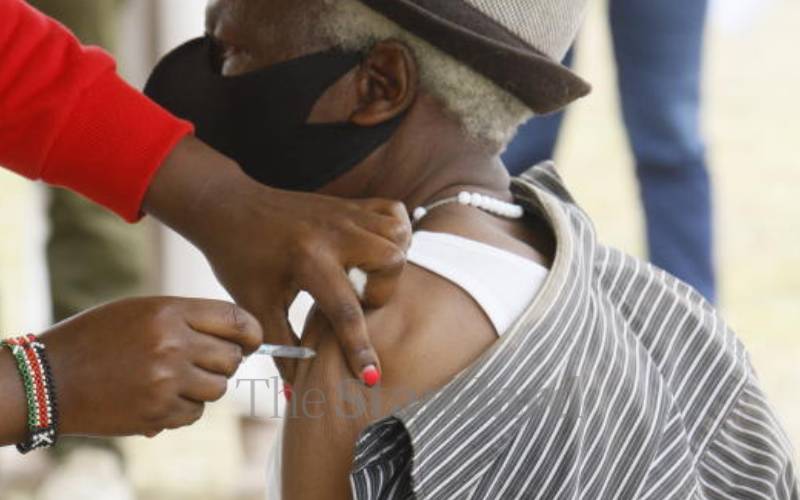 Since the first case of coronavirus was detected in Kenya in March 2020, Kenyans' emotions have been on a rollercoaster due to several reasons one of which is misinformation spread by political analysts.
At times, Kenyans' collective spirit is lifted and many are the times that it has been in the dumps, mainly due to economic factors. All measures put in place to fight coronavirus, have hampered economic activities.
Years of warped skewed policies and corruption, finally caught up with Kenya, and the government found a perfect excuse, the pandemic, as the outcomes of years of lopsided fiscal policies were blamed on the coronavirus.
For a people who want the government to declare whose individual interests it is serving with every move, their skepticism increased as the State rolled out half-hearted measures to contain the virus and cushion the suffering victims of its skewed decisions.
That is how, and when a second pandemic of misinformation and disinformation - thanks to Kenya's legion of political analysts - started sweeping across the country and proving to be as destructive as the Covid-19 pandemic.
As Thomas Huxley said, science is simply common sense - yet political analysis, especially as applied in Kenya, is not a science but total guesswork backed by arrant nonsense and lacking any meaningful grounding.
It is easy to blame some Kenyans for believing the disinformation, but this is a country where politicians in successive administrations have forever been economical with the truth, and would rather die than admit to any wrongdoing. Kenyans have always been denied the right information, and what they get, is at some point denied or twisted by the same people who issued it.
As such, every statement or any communication regarding the coronavirus that the State puts out has been met with derision and often considered half-truth or a white lie.
When the Ministry of Health started announcing Covid-19 cases, the self-styled political analysts, were skeptical. They said the figures were either inflated or lowered and did not mirror the reality on the ground. Their zealous followers, upcoming political analysts, so to write, swallowed that, and started spitting it out to their friends and folks.
Sadly, none of them can explain why the government would fake up numbers, and neither can they give correct figures because they have none.
Government's argument is that its figures, and any measures, are informed by data from Kenyan scientists, as such, the restrictions would only be done away with when doctors advise.
Such an explanation has never been enough for Kenya's masters and mistresses of convolution and peddlers of prevarications. They have had to give a political angle to the curfew, movement restrictions and other measures even if it means poisoning the minds of their relatives and other Kenyans and working against the advice of scientists who know better.
For a dissatisfied citizenry whose government, through acts of corruption keeps proving to them that it is a guilty party until proven innocent, conspiracies about coronavirus-related matters peddled by political analysts, is gospel truth.
Of course, Kenyans have every right to question the government because its communication strategy and messaging are for hoodwinking the public. At the same time, they have a right not to swallow every word from the government even if it is issued by scientists.
However, when it is deliberately twisted to fit certain narratives, then how can the twisters be any different from the conniving pathological liars who are State operatives and politicians?
What is the end game when they spread half-truths about the Covid-19 vaccine?
It is not a secret that the government's handling of the Covid-19 vaccination programme - starting with acquisition of the vaccine - has been below par, but why spread lies about its efficacy and side effects without scientific data, yet castigate the government when Kenyans hesitate to go for the jab?
What will Kenya's political analysts gain by contradicting what the scientists have said about the vaccine, and making people fail to go for the doses that are available?
This rampant spreading of conspiracy theories needs to stop at some point, for, it not only exposes how hypocritical these political analysts are, but the losers will not be the unlikeable State or government officials, but poor Kenyans whose rights the conspiracy theorists claim to be fighting for.
So Kenyans, go for the vaccine wherever it is available. No matter how bad it is, it is still better than what you have endured in this country, including political analysts.