You endorse graft when you pay a bribe to get a government job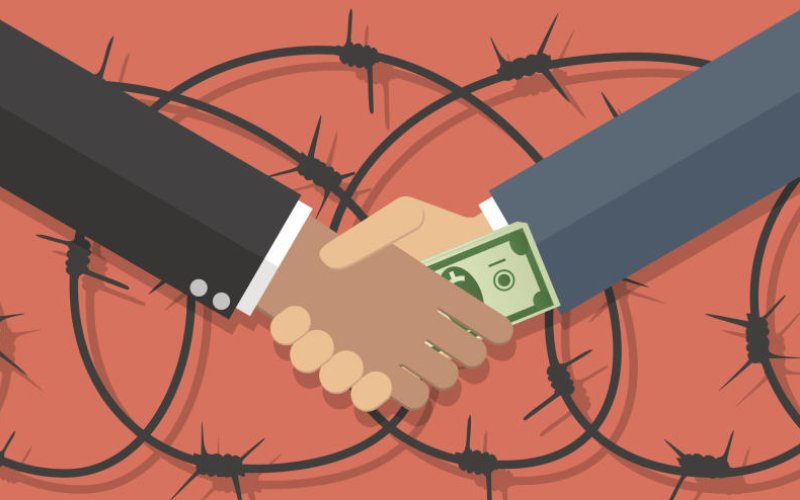 If there is an issue Kenyans at all levels of the economy love talking and complaining about, it is corruption. Voters and corrupt politicians talk about corruption at every opportunity, and the latter often swear to end it but they know they will never do that because they thrive in it.
Fighting corruption has become a campaign plank but what Kenyans have been numbed not to admit is that political campaigns and the attendant philanthropic acts are themselves funded by proceeds of corrupt dealings.
Even if they are not paid for through underhand dealings now, going forward, that will happen because in Kenya, philanthropy is non-existent and it is public funds that get stolen and voters are made to believe that their lives are being improved even as they go to sleep on empty stomachs.
The idea of politicians helping Kenyans with their own resources is as old as the country itself, and Kenyans are used to being helped so much so that when it comes to even getting jobs in government, they hate following the right procedure and seek people who can sneak them in through the backdoor. Probably the right procedure as it were does not exist for government jobs and that is why Kenyans have resigned themselves to the fact that without the help of an insider or someone who knows an insider, a jobseeker is doomed.
This is never truer when it comes to getting recruited in the police service or the military. Seeking help from other quarters has been normalised that some families even take loans for greasing the palms of recruiters so their sons and daughters can get opportunity to serve their country or just to earn a living. At times, these matters end up in courts of law when the not-so-innocent bribe givers fail to secure jobs then rush to corridors of justice when in the first place they were partners in criminality.
On Thursday, The Standard reported that a 21-year-old man told a court martial in Isiolo that a Kenya Defence Forces officer demanded Sh300,000 from his parents to secure him a job in the military. The young man provided no documentary evidence but confidently said they deposited the money in the account of the officer in December 2019 after KDF announced a recruitment drive. Whether he paid or not is not the issue. The fact that the case is in court is proof that military officers get paid and the military top brass is aware. They know and that is why on Friday, when the latest round of Kenya Defence Forces recruitment drive came to an end, the Department of Defence said it is investigating 12 suspects who may have been involved in malpractices.
While Kenyans praise and support giving bribes for government jobs because in Kenya what matters is the end and not the means, they are not ready to admit that they are perpetuating the same vice they bitterly complain about and which their corrupt leaders promise to eradicate forever and ever, amen.
Take a quick survey and help us improve our website!
Take a survey
Paying bribes for jobs in the police service or armed forces creates a vicious cycle of corruption, and poverty because often those who bribe are never financially stable and that is why they give bribes to get employed by the government.
Of course when they get the job — without any surety that they will rise through the ranks or how long it will take if it ever happens — they have to look for income streams other than their salaries to pay the debt they incurred to bribe recruiters. Even if it was from their savings, they will still have to fill the savings hole and that money will not come from their salaries either. It is not possible for one to pay a bribe to get a job and upon securing a position, turn into a saint who shuns underhand deals that can earn them an extra coin. Kenyans know it cannot happen even as they complain how runaway graft perpetuated by politicians in all government offices has affected service delivery, the economy, and consequently their lives and livelihoods.
It is ironical that the poor who pay bribes to secure jobs in the military or the police service are often victims of these forces, and not just physically, but financially because they are easy prey to bribe-seeking men and women in uniform.
Kenyans can wail all they want about corruption, and listen to their elected leaders' half-hearted promises of ending corruption, but they should remember that they will pay for the handouts from politicians who pass themselves off as philanthropists.
And as Kenyans gladly sing and dance themselves lame in appreciation, they should remember that the economy is in the dumps because their taxes were pilfered so they can be hoodwinked with goodies in this election cycle or to pay for freebies they were conned with previously.
Thus, when it comes to corruption, Kenyan voters must admit that their greed is their undoing — and that they are partners of corrupt politicians because they swallow their lies and goodies and vote for them then cry about poverty and poor service delivery and, well, corruption.
The writer is an editor at The Standard