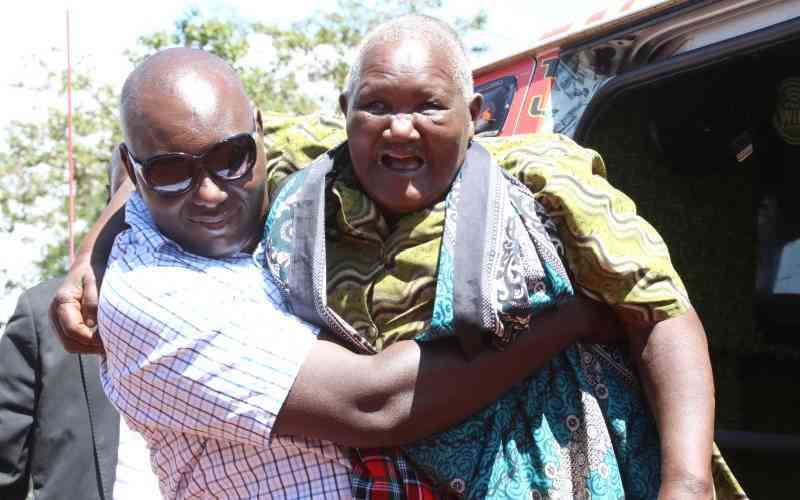 Oftentimes unbelievable voter turnout in the Mt Kenya region works for the leading candidate.
The region witnesses elaborate take-out-the-vote campaigns and this has been perfected from 2007 re-election of the late Mwai Kibaki and taken a notch higher by Uhuru and Ruto campaigns in 2013 and 2017.
Such important regional stakeholder groups as Mt Kenya Foundation lay elaborate strategies of sending scouts to map out the disabled and the aged who need logistical support to get to polling stations. They then recruit riders to ferry them.
"It is not by coincidence that photos of very aged voters casting their ballots usually emanate from the region," an insider in Mt Kenya Foundation said.
But that kind of excitement is missing this year. No radio and television spots on Gikuyu, Kiembu and Kimeru stations during the registration of new voters.
There were no rallies or road shows to call on voters to cast their ballot in this August election.
"The warning signs are all over. It started during the registration of voters and can only get worse if something is not done fast enough," The Service Party of Kenya (TSP) leader Mwangi Kiunjuri said.
"The truth is whoever will be able to mobilise a large number of voters will get away with this thing."
He said there will a good turnout in the crowded Nyeri Town parliamentary race. Where the competition is minimal, he predicts numbers will be less.
But he would not say that the lack of enthusiasm in the region is caused by the fact that it does not have a presidential candidate.
But Murang'a governor Mwangi wa Iria expects voter apathy in Mt Kenya during the August 9 elections.
"It has been caused by failure of the Independent Electoral and Boundaries Commission (IEBC) to clear the presidential candidates like myself and Jimi Wanjigi who were the face of the region and could have inspired large turnout," said Wa Iria yesterday.
Jubilee Meru governor candidate James Mithika agreed with Wa Iria, and said lack of a presidential candidate from the region means there is not much to stir emotions like it happened in 2017.
"Expect serious apathy and that can only hurt one man, the UDA presidential candidate who thinks he has the excitable youth vote in the region," said Mithika.
United Democratic Alliance (UDA) stalwarts Murang'a senator Irung'u Kangata who is in the governor race and Nyeri speaker John Kaguchia who is the party's parliamentary candidate for Mukurwe-ini are reading the situation differently.
Unhappiness with government
While Kaguchia argued that voter apathy would hurt all the parties equally, Kang'ata said that the voter turnout will be as high as it was in previous elections.
"There will be huge turnout because of unhappiness with government. We are mobilising people at the grassroots for this," Kang'ata said.
Ndiritu Muriithi, the Azimio Presidential Elections Campaign Board chairman and Laikipia governor, said voter apathy was not a concern for now.
"All the recent pollster results show a high willingness by voters to participate in the August elections throughout Mt Kenya," said Muriithi.
"The pollsters are talking of 99 per cent of voters intending to vote. If UDA primaries had very few people participating, it is because it is not a popular party in this region."
Muriithi said that his interactions at the grassroots indicate that the turnout will as high as it was in 2017 and "they will vote for Azimio."
But Linford Mutembei of the Azimio allied Mt Kenya Youth Foundation admitted there is generally an unstructured attempt to reach out to the committed voting bloc.
Mutembei said squabbling leadership of Azimio campaigns in the region means presidential vote canvasing is left to candidates who are fighting their own battles and have own interests.
"I would advise that the Raila campaigns have coordinators agreeable to all candidates at county levels," said Mutembei.
"Those could get him up to 60 per cent of the vote and completely wipe the Ruto side from the equation,"
It is intriguing that Mt Kenya Foundation has not laid formidable strategies compared to the last three elections and the 2010 referendum although it has publicly backed a Raila Odinga presidency.
Insiders said this is strategic since a low turnout will likely favour their candidate.
False narratives
"In the foundation, our view of the voter profile in the region is very interesting. We see the Azimio supporting vote as akin to a young lad at puberty, ripe, conscious and ready for initiation. Nothing will stop them from achieving their aim even if they are not facilitated," said an insider.
"On the other hand, we see the opposition support as based on euphoria and false narratives. They will soon have to reckon with the reality including voter apathy."
Latest IEBC gazette figures show the 10 Mt Kenya counties of Kiambu, Nakuru, Meru, Murang'a, Nyeri, Nyandarua, Kirinyaga, Embu, Laikipia and Tharaka Nithi have a combined total of 5,770,976 voters.
New voter registration in percentage was recorded in Meru, an increase of 10 per cent.
The second and third highest increase was in Tharaka Nithi and Embu while all the Mt Kenya West and the diaspora (Nakuru and Laikipia) increases were the lowest.
Former provincial commissioner Joseph Kaguthi who is not a Mt Kenya Foundation member said that the foundation may have scaled down its activities due to the muddled political environment being experienced in the region.
"I don't think they wish to be taken through the mud where some forces wish to see them as opposed to the rank and file in the region," said Kaguthi.
Political commentator Prof Gitile Naituli said that voter apathy will be national wide and not only in Mt Kenya.
"Kenyans don't believe they can change much by the vote. They are disappointed by Jubilee," said Prof Naituli.
"Their promises in 2003 were extensive. Kenyans believed in them. They hardly delivered anything. Mt Kenya people understand they are worse in Jubilee than any other regime."