Families in pain after losing land, property to shrewd shylocks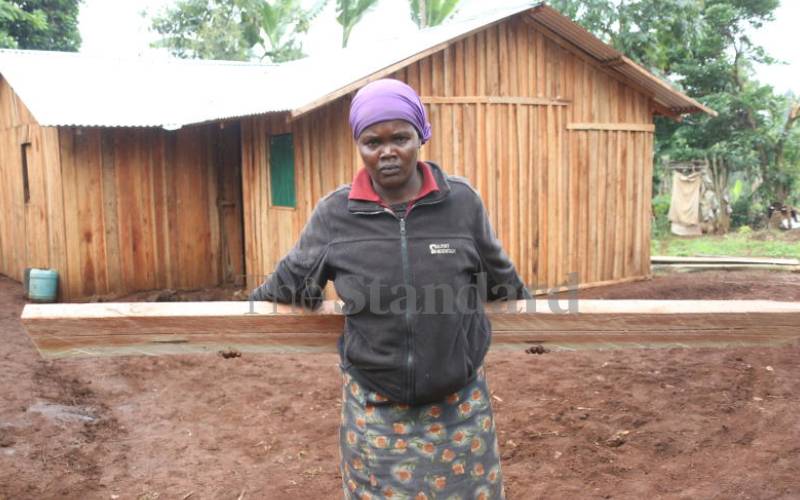 Leah Nyambura cannot forget the happenings of November 4 last year. A day that changed her life, for the worst. It is the day her journey to save her late husband's land started.
A relative, whom she trusted, took a loan from a shylock and used her land as security. Little did she know this was the beginning of her troubles.
On that particular day, Nyambura and one of her son's left for work on a nearby tea farm. In the evening, the mother of five, was eager to get home, but she was shocked when she found a group of youth demolishing her four-bedroom house.
"As they were destroying my house, the police officers stood guard. I tried to ask why they were demolishing my house, but I was pushed aside. I begged them to stop but none was listening to me. They reduced my house rubble. They also took away my property. They left me with nothing."
Nyambura's brother-in-law had used her land as collateral to take a loan from a shylock but failed to service it. The lender decided to take over the property and wants Nyambura out.
One of Nyambura's neighbours, Paul Githinji, said the family had been devastated by the turn of events and fears Nyambura might lose her land.
Nyambura's daughter Beatrice Muthoni is also worried that they may be kicked out of their father's land and scoffed at her uncle for using the land to obtain a loan he failed to pay.
Trouble started in 2015 when Nyambura's father-in-law, Githinji Ngari, underwent brain surgery that caused him severe memory loss. The family decided one of Ngari's sons, Muriuki, should take him in.
"Before the surgery, Ngari is said to have given instructions on how his sons would share his land. He went on to start the process by acquiring the green cards for the parcels of land he owned," said Nyambura said. A green card is a document that holds original records of a given piece of land and is used to produce title deeds.
She added: "Before the surgery, my father-in-law ordered that my children and I should take the land that belonged to his late son, my husband. My husband is buried is here and his final wishes were for us to inherit his share of the land."
Nyambura, Muthoni and Githinji said while Ngari was recovering after the surgery, Muriuki, who was housing him, tricked him into visiting a local moneylender, where he was asked to sign some documents.
According to the trio, Ngari was told that he was signing for a monthly government stipend under Inua Jamii programme.
What Ngari did not know was that he was entering an agreement with one Moses Mwangi for a loan of Sh200,000, money that was collected by Muriuki.
The documents seen by The Standard show Ngari was to refund the money with an interest of Sh60,000 within one month. "If the sum is not paid on July 26, 2015, the amount would attract an interest of Sh60,000 every month," the agreement states.
The lender and Muriuki agreed that the widow's land would be used as collateral.
Mwangi, the lender, would take over the property within three months in case Ngari defaulted on payment, according to the agreement. Muriuki is one of the four witnesses to the agreement.
Efforts to take over Nyambura's land started in 2016 when Ngari died. And this was being done behind her back. After all, she was not even aware her land had been used security to secure a loan
Mwangi now claims Nyambura's land is a gift Muriuki and his three brothers gave him.
In a letter by his lawyers Mathaiya Baru and Associates, Mwangi had demanded that Nyambura and her family must vacate the property immediately. He says he has since acquired the title deed to the land.
And in a twist of event, Mwangi also wants Muriuki's brothers Moses Gichuki and Peterson Ngibuine to leave, failure to which, they would face legal action. But, Nyambura has vowed to stay put.
Nyeri County Criminal Investigation Officer Benson Kasyoka said they are investigating the demolition of Nyambura's house and the burning of Muriuki's.
But Nyambura's is not the only such case in the region.
Many families are losing land to shylocks, who are taking advantage of the tough economic times to dangle loans and later take over property used as security.
Tea farmer Peter Ngure Mathenge is still trying to come to terms with losing six acres over a Sh 60,000 loan.
"I took the loan in 2019, and I was supposed to repay a total of Sh78,000 within a month," he said, adding, "This year, a gang descended on my coffee bushes and cut them down. Later, a woman showed up and said she now owns my land as she had been given the ownership documents by the person I owed," Ngure said.
After a search at the land registry, he found that his land had been transferred to the shylock. "I am looking for a lawyer to help me. I need to get my land back because I did not agree to this. I feel duped," he said.
At Kieni Solio Settlement Scheme, James Maina is fighting to save land belonging to his 101-year-old mother Nyawira Mugo. Maina said a relative took advantage of his mother and made her sign documents transferring her property.
"My mother suffers from dementia. In 2016, one of our relatives showed up and asked her to sign for her monthly stipend from the government. She signed the documents without knowing she was transferring her land." Nyawira is said to have forgotten about the transaction until one year later when Maina decided to put her records in order.
"I visited the land registry and discovered an attempt to transfer my mother's land from to one of our relatives. By this time, there were two title deeds to the property. One had my mother's name dated 2016, and another, dated 2015 had another name," he said.
He said those who tried to snatch the land found it difficult because they lacked the original title. The relative had also made an error in the title that bore his name.
"I moved swiftly to the land's registry and reported the police, and exposed the fraud, saving my mother's land," he said.
Maina has urged residents who have lost property to take the matter to court.