Girls, women and the elderly bear brunt of severe drought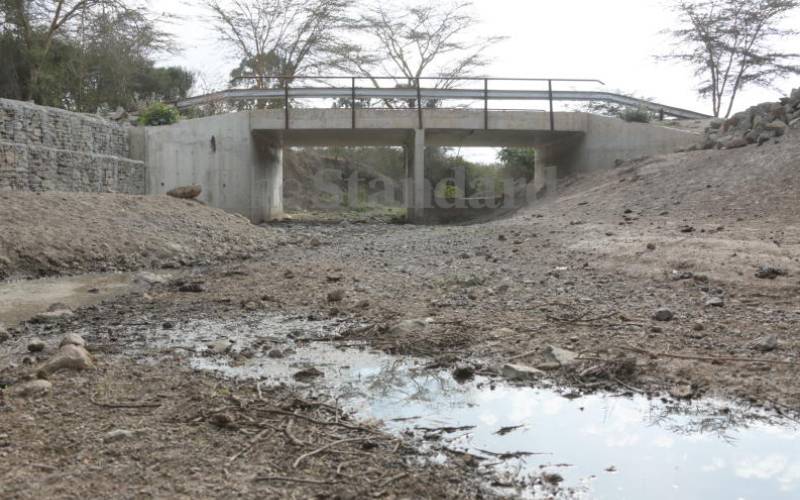 When Mary Wamuyu harvested 15 bags of maize last year, she hoped that it would sustain her and the six grandchildren she lives with. But she was not prepared for what has turned out to be a devastating and prolonged drought.
The granny, 76, from Kieni in Nyeri County depends on agriculture to fend for her grandchildren, after their parents separated.
Since schools were closed after the Covid-19 pandemic hit, the lifespan of her harvest was short-lived as the household consumed more food from her reserves.
When her food stock was over, Wamuyu started looking for casual labour to feed her grandchildren, but things got worse after drought hit the area.
"I was hoping that the situation would ease when the rainy season came. I borrowed money and bought seedlings without knowing there was looming drought," said Wamuyu.
To make matters worse, one of her grand-daughters who was barely 18 got pregnant, and the man responsible absconded. The girl is now a mother of a three-month-old baby. With a small child and a nursing mother in the house, Wamuyu's situation is getting more desperate by the day.
"I urge the government to bring us relief food because the situation is dire. We have no food and we depend on odd jobs and well-wishers for food," said the grandmother.
Wamuyu's plight mirrors that of thousands others in Kieni, who can barely afford a meal a day. The area has been hit by severe drought, and women and girls are bearing the brunt of it.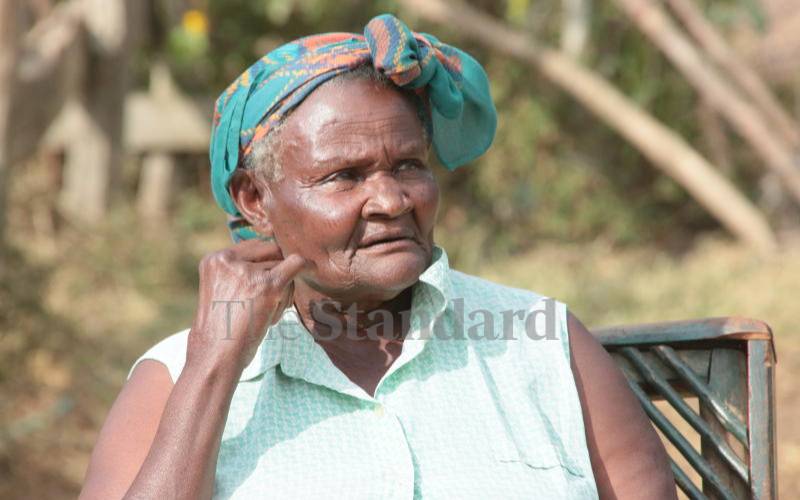 Lusoi area chief Lazarus Mugo Ngunjiri says lack of fees has seen many students being sent home from school. However, since most women will be up and about fending for their families, those entrusted to take care of the minors prey on them.
"There is an active case in court where a man defiled his own child while the wife was busy doing menial jobs to provide for the family. Another man has been jailed for five years for raping a woman. All these cases are as a result of the drought," the administrator said.
Pregnancy among minors is also on the rise, and cases of women engaging in transactional sex to secure odd jobs have also been reported.
Lending institutions have taken advantage of the drought situation by lending money to ignorant locals, who end up being auctioned when they are unable to settle the debts.
Rachel Mumbi, from Gatuamba village, narrated how lending has destroyed marriages in the area. She said separation between couples is on the increase in villages.
"When a member of a women's group is unable to repay her loan, the guarantors, who are the women group members, join hands with the financial institution and lead them to the borrower's home to auction her property. Then bad blood ensues," Mumbi said.
According to Mumbi, most of the time, the loanees do not inform their spouses that they intend to borrow money and when family investments are auctioned, the women flee their homes, leaving behind their children under the care of their in-laws.
An assessment report by the National Drought Management Authority (NDMA) has indicated that, as a result of drought, water availability and accessibility have been severely affected. As a result, women have been exposed to poor menstrual hygiene.
The report lists Kiahuko and Ruai villages in Lamuria and Karimenu sub-locations respectively as the areas facing acute water shortage, leaving locals with no option but to walk long distances in search of the commodity.
Rivers such as Gathurungai that feed close to 5,000 people have run dry, while dams such as Thungari, which feeds Solio, Baraka, Mathingira, Huhoini and Thongori are dry.
"Open water sources did not collect sufficient amounts of water and are about 20-40 per cent full. However, some water pans like Kienjaro dam, Ne City dam, Mikumbini dam, Githura dam, Kwambura dam, Msafiri pan and Biricha dam are dry,' the report carried out between July 12 and July 23 read in part.
This has resulted in a high cost of living, reduced livestock farming and decreased milk production due to lack of pasture.
Conflict between humans and wildlife has also been reported in Thungari and Karicheni areas in Thegu, with farmers suffering losses due to invasion of farms by elephants. It also poses a danger to women who leave their homes early in search of casual labour.
"We wake up at 5am so that we report at work by 8am. We are then released from work at 4pm and get back home by 7pm. This is the same time that elephants roam in search of pasture thus risking our lives," said Faith Nyawira, a resident.
Besides relief food, locals want the government to invest in the construction of dams and water harvesting facilities to enhance farming and livestock production.