Nyeri divers risk their lives to retrieve bodies and give families closure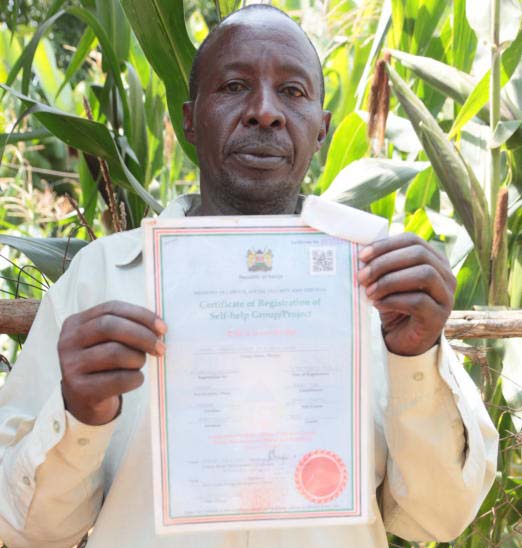 In Nyeri Town, a small group of divers has volunteered for years to dive into ice-cold rivers and dams within the region to retrieve victims of drowning.
Their diving expeditions come with high risks but give families of victims closure on the fate of their loved ones.
Patrick Gichuki, 49, grew up near Chania River in Nyeri County where swimming was a pastime.
"When we were children, I remember the river was so clear you could see the bottom. The white settlers would throw coins into the river for us to retrieve for fun," he recalled.
So even though he perfected his swimming skills from growing up near the river, he never put his diving skills to use until his best friend was murdered and his body dumped in a river.
"In 2014, my best friend went missing. I heard that he was last spotted by the river bank, and I found that odd that he could have drowned as he was an experienced swimmer," he said.
After days of searching for his friend's body and many false leads, Gichuki and a group of divers finally found his friend's remains stuffed in a sack and buried in the riverbank.
"I was so devastated by what the killers had done to him, and I vowed to never turn away a family searching for their kin in the river," he noted.
While tragedy led Gichuki to his passion, his dedication and skill have helped him to nurture a small team of divers who are now registered as a self-help group.
"We mostly volunteer our services because many families cannot afford to pay and our skills are in high demand because the rivers and dams in this region are dangerous and difficult to navigate," he noted.
Jagged rocks, strong currents, fast-flowing rivers, and cold temperatures make diving in the Central Kenya waterways a dangerous endeavour.
They dive into the water with no equipment and have to hold their breath underwater as they search the river bed with their hands and limited vision.
"I have two instances where I almost died, in Sagana River and at Muruguru Falls it was by sheer luck that I survived after I nearly drowned," he recalled.
The challenge with Sagana River is that it is deep, has strong undercurrents and murky, hence divers cannot see while swimming underwater.
"In our free time we meet up at a dam and share our skills, it's the only way to improve," Gichuki explained.
While Gichuki has volunteered for years to dive in search of drowning victims, one case still haunts him to date; a family friend approached him to find their Class Six pupil who had fallen into Chania River in Kangemi Estate.
"I searched for that boy for days to the point I was psychologically affected by the situation, I couldn't sleep or eat, obsessed with finding him, but we never recovered his body," he said.
His fellow diver, Dennis Maina, 28, is the youngest of the lot and he admits that was one case that haunts them all to date.
"We were devastated that we could not retrieve the boy, despite diving and letting the river current drift us over five kilometres away from the site," he noted.
Maina who has been a diver since 2014, met up with Gichuki when they were looking for the murdered man.
"We were encouraged to form a group to get some government support and at the start, we had 30 members but after years of working with no payment we are now only seven active members," he noted.
The divers are called upon by the county government but have never been contracted or employed and are treated as casual labourers.
"The county pays Sh500 per day which is often sent to us months later, we were promised employment and some support to acquire equipment but we have not received it," he said.
Nyeri Gender, Youth and Social Services Executive Esther Ndungu said, the divers are paid as casual workers because they were not recognised in the staff establishment.
"We are in the process of introducing this job description so we can advertise and hire them but for now we cannot hire them because of government procedure," she said.
Aside from the risk of death during their diving efforts, the psychological and physical trauma on the divers is a pressing concern.
"Many of us have fallen sick due to our job, the cold water can cause, hypothermia, pneumonia and also holding our breath for extended periods of time can lead to hernia and other complications, we often have to foot our own hospital bills," Maina said.
While the job has been financially taxing and physically exhausting, their calling to help families in their darkest hour has seen them show up, take a deep breath and dive in every time.