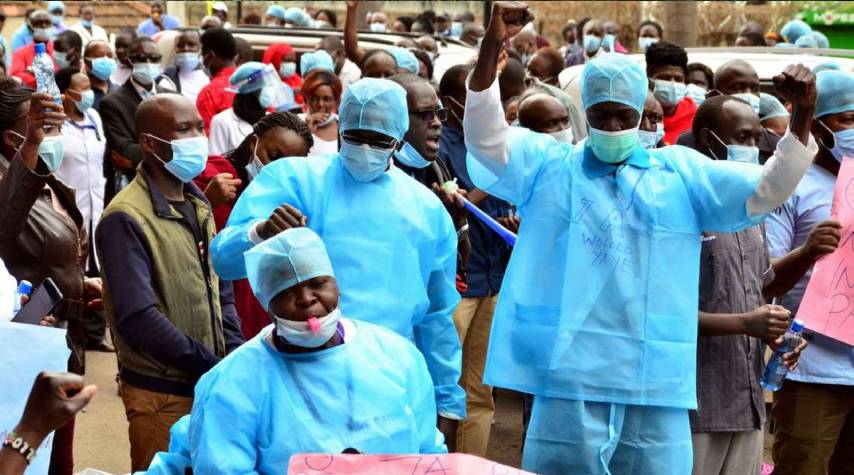 The Kenyatta National Hospital (KNH) is set for another storm, after University of Nairobi lecturers, attached to the Medical School at the hospital, withdrew their services.
The lecturers who double up as tutors and medics at KNH have attributed their move to unpaid allowances, and incessant disputes with the university.
"We will not report to work until our demands are met, and the 2017 doctors Collective Bargaining Agreement is implemented fully," said one of the dons, who sought anonymity.
"We fought to have our allowances paid. But even after winning the three-year-old battle, the university thought otherwise," added the source.
Read More
According to the Kenya Medical Practitioners and Dentists Union (KMPDU), the lecturers who also serve as doctors at the hospital were granted their allowances three months ago, but they are yet to receive the monies from the university.
The doctors who are set to get a maximum of Sh 190,000 per month in cumulative allowances, depending on their job groups, feel aggrieved since they are paid equally with their colleagues outside the hospital environment, despite putting in the extra effort.
On its side, the Kenya Medical Practitioners and Dentists Union, (KMPDU), has endorsed the strike, terming the withdrawal of clinical allowances as unfair.
"All doctors, (Medical Practitioners, Pharmacists, and Dentists) should withdraw their services immediately until the union communicates the next course of action," read a KMPDU statement in part.
The Union has now directed all its members, and their officials in KNH and Mathare Teaching and Referral Hospital, to stay away from work until their matters are resolved.
KMPDU will now have a meeting with all the members this Friday to assess the strike situation and bring updates to the members.
"KMPDU will hold a members assembly on Friday 16th October 2020, beginning 9 am, at the College of Health Sciences, University of Nairobi," said Chibanzi Mwachonda, KMPDU's Secretary-General.
Speaking exclusively to Standard Digital, the University Vice-Chancellor Professor Stephen Kiama refuted the claims by the lecturers, saying all of them had been paid their dues.
"We have paid all of them their allowances. Those who are complaining have not been working and we cannot pay people who don't work, " stated the VC.
Patients at KNH will now have to brace for a protracted battle, as the push and pull between the union and the university continues, barely two weeks after another strike by doctors at the hospital.
The demonstrations which paralyzed services at the hospital were only stopped after the Employment and Labour Relations Court intervened suspending the strike.
The Kenya National Union of Nurses (KNUN) Secretary-General Seth Panyako, said union leaders had come to a consensus to change the tact of fighting for the interest of the hospital workers and would obey the court's ruling.