Thieves break into bank in attempted heist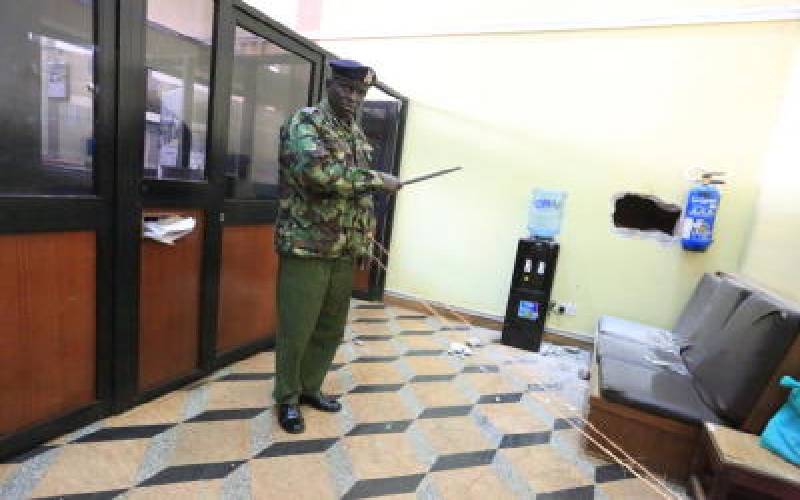 Workers at a bank in Kikuyu woke up to a rude shock when they found a gaping hole in the bank's wall allegedly made by thieves.
K Unity Bank staff in Kikuyu town held their breath after finding the hole.
The bank officials informed Kikuyu police station officers posted a few yards from the bank. Detectives from the station moved to the bank to investigate.
Police said a man rented a house adjacent to the bank to allegedly start a small business. The thieves in turn used the small house to plan and execute the heist.
The detectives further added that to mask the sound of the drilling, he pretended to be partitioning the rented house.
On Saturday afternoon, an alarm in the bank was triggered, with police showing up but found nothing unusual.
It turns out that it was on that day that the thieves were getting closer to their target.
The hole that measured approximately 3x2 feet was proof that the men worked tirelessly to gain access.
The police had to use crowbars, hammers and a hacksaw to force open the house that the thieves used adjacent to the bank.
Confirming the incident,Kiambu county police commandant Ali Nuno said the owner of the rental house is in police custody to help police with investigations.
"The man we have arrested is the owner of the rental house where the thugs used to break into the bank. He did not have records of the client as is the norm."
Nuno added that the bank informed him that no money was stolen.
The police chief advised financial institutions adjacent to rental houses to be on the lookout for suspicious noise and unusual movement, saying criminals are getting smarter.