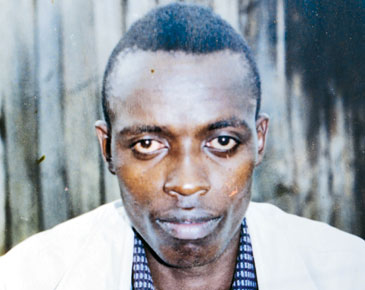 Daniel Weru was among 29 people killed by Mungiki
By PATRICK MATHANGANI and JOB WERU
Kirinyaga, Kenya:
One could say that Mutitu, a hamlet of mostly timber houses under banana groves in Kirinyaga County, is Kenya's saddest village. Set in an area blessed with good soils and rains, the greenery shrouds the hate and anger that boils in the hearts of residents five years since a bloody war between a vigilante group and Mungiki split once good neighbours down the middle. In Mutitu alone, elders say up to 30 young men accused of being Mungiki members were banished in 2009. They have never returned after the vigilantes vowed to kill them if they did. Scores of other people were dragged from their houses and hacked to death with machetes or forced to commit suicide.
SEE ALSO: 544 test positive for Covid-19 as Kenya registers 13 new deaths
Combined with nearby villages where the vigilantes roamed and hunted down Mungiki suspects, an estimated 100 men were forced to flee their homes. The violence against the suspects precipitated a revenge attack in Gathaithi-Kiangumara village in neighbouring Nyeri where 29 people were slaughtered on April 21, 2009. About 100 people were killed as the fighting between the two gangs escalated. In Mutitu, we walked on rain-soaked paths to Grace Njoki's homestead, where a cow nibbled lazily at the spot where her son's house once stood. It was razed by a marauding gang that accused him of being a member of Mungiki. "He can't come back home. If he did and they learnt about it, I'd have to start preparing to bury him," said Njoki, referring to her son Samuel Gachari. "Even if I died, he wouldn't attend my funeral. If I was admitted in hospital, he wouldn't come to see me." Njoki's fears capture those of many other parents and their children. Gachari was a carpenter who made furniture for residents at a fee and also built houses.
SEE ALSO: Covid-19 deaths inch closer to 400 as five more die
Personal wars
Residents say after the vigilantes took control of the area with the support of the Government, many people used them to fight personal wars. Family members tussling over land found a way to eliminate opponents. One of the vigilante leaders took advantage of the mayhem to grab a man's wife after eliminating him. In the ensuing lawlessness, many innocent people were killed or banished. It created enmity as brother turned against brother and neighbour against neighbour. "Let's tell the truth. My son was a good person," said Njoki. "That's what I told them," interjected an elder, Owen Mwangi. "He was a good man and a carpenter."
SEE ALSO: Highest death toll at 23 as 'too sick but healthy' warned
However, he declined to discuss how Njoki's son became a target of the gangs. But he said following accusations that Mungiki members were raping women and collecting illegal taxes, locals resolved to form vigilante groups to flush them out. Mwangi is one of the village elders recognised by the Government and issued with identification cards. "They slaughtered my goat," he said. "I demanded to know why and I was told it had been eaten by wazee." He said locals were fed up with Mungiki and planned to stop their operations. The Government supported the vigilantes in a bid to end runaway insecurity. But people were targeted without any formal investigations. "We knew them. They were from this area and they used to sniff tobacco. That's how we identified them." At the time, the vigilantes would be escorted by police as they waved axes and machetes. Unable to deal with the outlawed Mungiki sect, the Provincial Administration and the police allowed the vigilantes to take the law into their own hands. Residents said the police kept vigil as houses were torched and sometimes shot in the air to scare anyone who tried to rescue the suspects. But this backfired on April 23, 2009, when a Mungiki squad waylaid vigilantes in Gathaithi-Kiangumara village, killing 29 in a gory fashion. Many were beheaded and others burnt to death as they slept. Lesson learnt: You cannot use gangs to fight gangs. Mungiki was forcing people, including students, to join its ranks. But the vigilantes who had set up a kangaroo court passed the death sentence even for those who had joined the sect under duress. One such person was Peter Kinyua, 18, a student of Mutitu Secondary School. We had met his father, Paul Wanjohi, at his home in 2009, about a month after the boy's brutal murder at the kangaroo court the vigilantes had christened The Hague. The name was in reference to the International Criminal Court, a court of last resort when local authorities fail to deal with serious crimes. Last week, Wanjohi emerged from his mabati house, appearing startled that we had come back after so long. "Whatever happened was terrible," he said. The vigilantes had summoned him together with two other parents whose children had been forced to join Mungiki. The vigilante officials had told them that the boys would be forgiven if they confessed to being sect members. But they were killed as soon they made the confessions. "I stood there and said, 'Even if he has done something wrong, why don't you forgive him and give him a chance?'" Wanjohi said. "I was told no, go and find a place to bury him. From that moment, I knew they would kill the child so I started leaving. When they told the children to sit down so they could kill them, I left because I didn't want to hear him cry." Other boys killed on the same night were Jason Mureithi and Reuben Mureithi. "They beat them up and hacked them with axes. The injuries on the bodies were terrible." Wanjohi said even today, he lives in fear as most of the people who attacked and killed the young boys are well known and roaming free. This, he said, has prevented healing.
Butchered with machetes
But for him, life has to go on as he tries to forget the past. "God gave us this little one," he said, pointing at a little boy born two-and-a-half years after his first-born son was butchered. "He is Job Mutugi and we were very happy when he was born." Mutugi is Kikuyu for "the generous one." Efforts to erase the bloody past are yet to bear fruit. Residents said when some elders were called to a meeting in Embu to discuss reconciliation, they were summoned by vigilante officials and beaten up. A tree where suspects would be forced to hang themselves along the Keruguya-Kagio road has since been cut down. At 'The Hague', an open field formerly used as a communal cattle dip for residents of Kamuiru village, we found children playing at the spot where vigilante doused suspects with petrol and set them alight. Others were butchered with machetes after being asked to say how they would prefer to die. A dispensary has been built at the spot, a symbol of progress meant to facilitate healing. But it is not operational yet. Local MP Joseph Gitari said the facility is expected to bridge the gap between groups and erase the memories. "We want to rewrite the history of the county and we shall begin with Kamuiru, which was known by the entire country for the bloody reasons we all know. I believe that the opposite of killing is healing," Mr Gitari said earlier in an interview with The Standard on Saturday. At Mutitu Chief's Camp, a notice pointed to an unmanned customer care desk, an ironic symbol of the absence of Government in improving people's welfare. It was a Saturday and workers said the chief was away attending to official matters. For people whose relatives were killed or forced to vacate the village, the Government has never initiated reconciliation efforts or justice. At Mzee Stephen Githinji's home, three of his sons – Joshua Muthee, Peterson Wanjohi and Josphat Kithaka – were forced to leave the area. Githinji died a few months after the vigilantes stormed his home and set his sons' houses ablaze. Villagers believe he died from stress. Later, Muthee's wife, Anne Kagendo, and Wanjohi's wife Beatrice Wambui also passed on. "We keep asking ourselves, how will all this end? Is this our life?" said John Njoka, a neighbour whose son, Bernard Githinji, was exiled. David Munene Nderi, another man whose son is in hiding, said people can only reconcile when parents of both aggressors and victims come together. They would then invite vigilante officials for peace talks. But a major problem, according to residents, is that the vigilantes appear to have been embraced by the new administration after they were identified as community policing groups to help fight cases of kidnappings. However, Kirinyaga County Police Commander Christine Mutua said: "There is no government in the whole world that can sit around a table for talks or negotiations with members of outlawed criminal gangs as is being suggested in the Kirinyaga case."