Firm demanding Sh1.5b to hand over eCitizen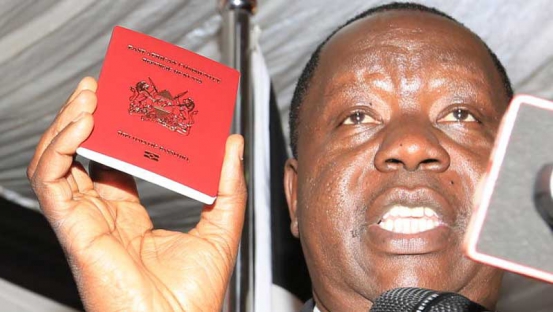 The developers of the Government's digital payment system are demanding Sh1.5 billion before handing it over to the State.
An alternative to the outright acquisition of the platform is payment of annual licence fees to the developers, as is the case with various softwares.
While technically it is the National Treasury that runs the eCitizen platform, Webmasters Kenya says it retains the intellectual property rights.
An estimated Sh30 billion has been transacted over the payment system for the hundreds of government services that are offered digitally, including renewal of driving licences.
James Ayugi, who owns the firm, said the State had taken over the platform he built and still supports, yet he had not received any funds from the proceeds it generates.
"Just like any other software, the intellectual property rights over eCitizen belong to the developers, who in this case are Webmasters," he said in an interview.
Withdrawal of support for the platform would cripple the service delivery and force Kenyans back to physically visiting various Government offices.
Discussions on how his firm would be compensated have dragged for years, Mr Ayugi added. Treasury's decision to withdraw convenience fees previously payable to Webmasters has complicated matters.
The firm previously received Sh50 for every transaction performed over the platform. Activist Okiya Omtatah challenged the amount in court, terming it too high.
Mr Omtatah also argued that the selection of Webmasters for the job was irregular and that there was no transparency on how the revenues collected from the digital platform were channelled and spent.
Cheikh Seydi, the Regional Director for the International Finance Corporation, has defended the selection, saying it was in accordance with the World Bank's procurement guidelines.
A ruling on the matter has yet to be made while the financial implications for the developers are huge.
"We are now forced to work from home because we cannot afford to continue renting offices," Ayugi said.
He was contracted by the World Bank to help digitise Government services and enable payments as a way of helping plug revenue leakages.
Webmasters was paid Sh7.5 million for implementing up to 10 services on the piloting phase.
About 200 services have since been added and can be accessed on the platform, forming the basis for the huge claim by Webmasters.
IFC told the Treasury that its support for the platform was for the piloting phase for up to 10 government services and licence application.
Webmasters would also roll out at least nine business services, including name search and registration, which was to be completed by July last year.
"Accordingly, IFC can also confirm that Webmasters Kenya completed all tasks required to be provided under its procurement contract with the World Bank Group and has been paid the agreed contract price…" Mr Seydi wrote.
More players eye cooking gas pie
Private companies are angling to benefit from growing use of cooking gas in the absence of investments by the State. They have already set up import a