More protests erupt against order to move cargo on SGR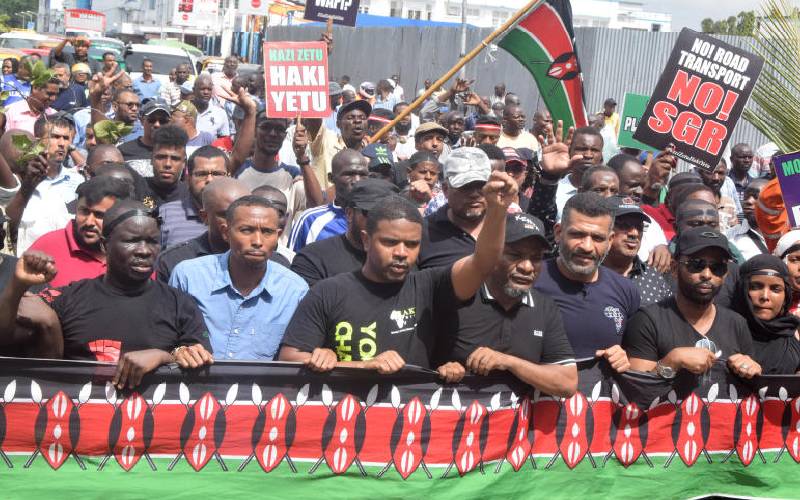 Fresh protests against a government directive to importers to move all containers headed to Nairobi by the Standard Gauge Railway (SGR) rocked Mombasa yesterday.
A number of MPs, activists and truck drivers said they would hold protests every Monday until the directive was rescinded.
"On paper, the policy was rescinded, but on the ground it is being implemented," said Mvita MP Abdulswamad Nassir, who joined the protestors on Moi Avenue.
Mr Nassir refuted claims that Coast legislators were financing the protestors who had announced plans to mobilise residents to boycott this year's Mashujaa Day to be presided over by President Uhuru Kenyatta at the newly refurbished Mama Ngina Grounds in Mombasa.
Yesterday, Changamwe MP Omar Mwinyi claimed Mombasa residents had nothing to celebrate, given that most businesses had collapsed due to the transport directive by the State.
"All our businesses have died. We will, therefore, mobilise our people to boycott Mashujaa Day celebrations," he said.
Senator Mohamed Faki also supported the calls to boycott Mashujaa Day, while Nassir hoped the issue would be resolved before October 20.
"We will not relent. We will use all available means to make sure that we are not deprived of our livelihoods. We will move all the way to the Supreme Court and use street protests to fight this battle," said Faki.
Nyali MP Mohamed Ali criticised unnamed Mombasa leaders of secretly working with the national government to enforce SGR's monopoly. "Some people with us here are hypocrites who have been sitting with people keen to kill Mombasa's economy," said Ali.
Last week, traders organised another massive demonstration from Kibarani to Changamwe to protest the loss of businesses as a result of SGR.
The protest was organised by a group known as Fat Action Business Community Movement, which said jobs and business opportunities had shrunk since the State issued the SGR policy. The group's chairman Salim Karama said Mombasa's economy was on its deathbed because of emerging SGR monopoly over cargo transport.
"Upon the verification exercise of cargo, the importers must be allowed to choose the mode of transport they prefer to transport their cargo," said Karama in a petition to the office of president.
"The directive that all cargo landing in the port of Mombasa be transported by SGR must be withdrawn," he wrote.