France move to make trade inroads in Kenya and region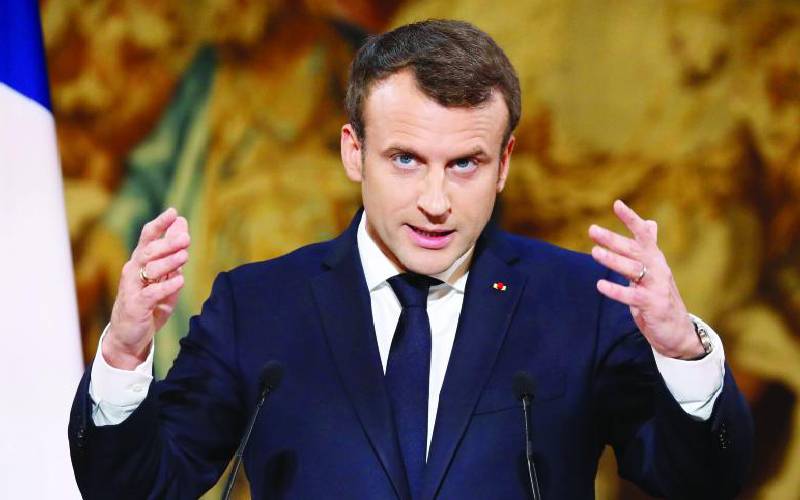 French president Emmanuel Macron brought his unlikely charm offensive to East Africa, a region perceived to be fast shifting towards options that lie further eats to drive its development agenda.
Accompanied by a group of French business leaders and the French President pursued to boost the role of French businesses in the region, and countering China's growing dominance the continent.
In seeking to establish the French in the region, Macron's mission was well cut out based on his unreserved assertion that China-African relations is debt trap.
In his just concluded maiden trip to Kenya, the first by a sitting French president, Macron sought to place his country in a strategic position aimed at deepening economic and political ties.
Currently, France is the 17th largest trading partner with Kenya and both President Uhuru Kenyatta and Macron have underscored the need for the two countries to strengthening their ties for mutual benefits in areas security infrastructure, education, environment, energy and petroleum and creative deals.
Macron said France will work closely with Kenya on green energy. He said Kenya delivered "tremendous results in the fight against climate change."
Macron's office said that Kenya is the only African nation to reach the goal of making renewable energy 75 per cent of its energy mix.
On French exports to Kenya in 2017, it amounted to between $170 million and $225.80 million, while China, remains Kenya's number one trading partner, with exported goods worth $3.8 billion.
"France has supported Kenya for several years in development projects but we are not sufficiently economically and industrially," acknowledged Macron at news conference with Kenyatta on Wednesday night.
French businesses however account for just a 1.4 percent market share. Days before Macron's arrival, French Carrier Air France announced and additional two flights to the Nairobi -Paris route.
Besides Air France, the noticeable French brands include Danone Alcatel, Total oil, Alstom Grid, Sanofi, Ballore, L'Oreal East Africa, Fairmont and Siemens.
Others are Veritas, Geva Animal Health, Thales, Michelin, Sagem and Egis group.
Kenya is East Africa's most advanced economy with a liberal business environment and entrepreneurial culture.
The historic visit by Macron at Statehouse Nairobi for the bilateral talks was climaxed with the unveiling of a locally assembled French motor manufacturer Peugeot 3008 SUV.
''I would like to restate that as part of the government's policy to promote the philosophy of "Buy Kenya, Build Kenya" among our people, all government entities will be expected to buy and use locally assembled vehicles and spare parts for all official use, 'President Kenyatta said during a joint press conference, immediately after he chauffeured Macron in a short test drive amidst cheers from the delegation in the full glare of the media.
Mr Macron and Mr Kenyatta signed deals worth over Sh300billion, which include construction of a commuter rail from the central business district to the main international airport, Jomo Kenyatta International Airport (JKIA) in Nairobi.
The project is part of Jubilee government's effort to decongest the capital and to improve transport systems.
The two leaders witnessed the signing of infrastructure contracts worth more than Sh250billion on Thursday.
The deals include a 1.6 billion euro (Sh181 billion) 30-year concession for a Vinci-led consortium to operate a highway between Nairobi and Mau Summit in Western Kenya.
Renewables firm Voltalia also sealed a 70 million euro (Sh7.9billion) contract for two solar power plants, while an Airbus-led consortium won a 200 million euro (Sh 22.6billion) contract for coastal and maritime surveillance among others.
Macron also pledged greater partnerships with Kenya in economic development and efforts to improve the environment and to battle regional extremist violence.
While Kenyatta said he expects Macron's visit to have a positive impact on tourism and business.
They signed new agreements to development public and private partnerships.
On security and counter-terrorism, the two countries want to enhance cooperation in the fight against terrorism and extremist activities.
"We want to improve the cooperation in the region from the security and defense point of view," he said.
Kenya is among the African Union countries contributing troops to reinforce Somalia's weak army against an insurgency the Islamic extremist rebels of Al-Shabab, which is affiliated to by al-Qaida.
Kenya has suffered the most of Al-Shabab attacks outside Somalia.
Macron also established a presidential council that comprises prominent African civil society members advising him on which key sectors to engage in Africa.
On Wednesday, the nine-member team was present in Nairobi, where the French gaming school Rubika signed its first African partnership with the Nairobi-based African Digital Media Institute.
The French development agency's Africa director, Rima Le Coguic said they were backing the deal to boost the creative and technical skills of students because it's "one of the most important sectors for the future of Africa, especially in terms of creating employment."
Rubika school director Stéphane André said Africa was a market they were looking to tap, and wanted to not only invest but also learn from:
"It's a dream to be here."