Project freeze cuts Sh14b from ministries' budgets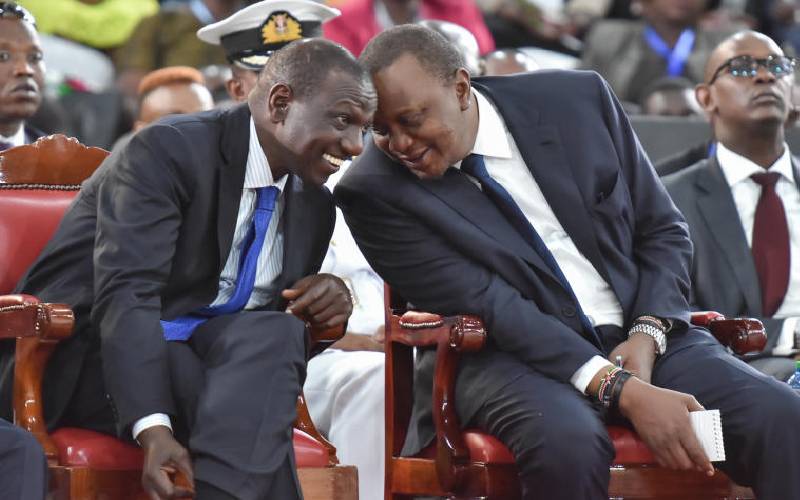 The Government's cost-cutting measures are biting hard as 13 departments did not receive a penny in the first half of the current financial year for their development budget.
This is after President Uhuru Kenyatta's directive that all new capital expenditure besides those related to his Big Four Agenda, be frozen until those ongoing are completed.
The total amount that was due to the ministries, departments and agencies (MDAs) - including Tourism and Defence - is Sh13.7 billion.
Ministry of Defence was the biggest casualty, according to latest statement from The Treasury on government revenue and expenditure which appeared in a Gazette Notice of January 25.
Not a coin of the Sh4 billion it expected for its 'modernisation programme' had been disbursed by December. Governments of Italy and Netherlands are the main financiers of the project.
Austerity measures
Other big losers in the Government's austerity measures include State Department for Tourism (Sh2.5 billion), State Department for Public Works (Sh1.9 billion) and State Department for Correctional Services (Sh1.8 billion) (See table for a full list).
In July last year, as part of his war against graft and wastage in state agencies, Uhuru ordered a freeze on all new development projects.
"There will be no new projects that will be embarked on until you complete those that are ongoing," he said. Only the Big Four Agenda projects were exempt from the freeze but even then there must be written authorisation from the National Treasury.
"Even if new projects are aligned to the Big Four, they cannot be started without express authority from the Cabinet Secretary or Principal Secretary of the National Treasury," said the president.
Some analysts have questioned the legality of the President Uhuru's directive as Parliament had given the nod to the spending by approving the Budget.
Treasury has so far disbursed Sh116.9 billion for development spending, with State Department of Infrastructure receiving the biggest fraction at Sh28.9 billion.
Other major recipients of development cash include State Department of Energy at Sh17.3 billion and State Department of Devolution which has received Sh6.3 billion. In total, Treasury has disbursed Sh1 trillion against a budget of Sh2.6 trillion for the financial year ending June. A big fraction of this cash has been for recurrent expenditure for ministries, departments and agencies which have received Sh415 billion for salaries and other administrative costs.
Kenya's budget deficit in the 2018/19 financial year was estimated at Sh558.9 billion which would be plugged through foreign sources at Sh250.3 billion and domestic financing of Sh271.9 billion.
Of these loans, about Sh287.1 billion will be from commercial banks and sovereign bonds, more likely the Eurobond.
Kenya is yet to take any commercial loans in the current financial year, but there are reports that Treasury is working on a new Eurobond of Sh250 billion which would be used to refinance another maturing Eurobond and two syndicated loans.
Domestic market
Until December 2018, Kenya has received Sh195 billion from the domestic market through Government paper. Treasury expects to raise Sh537 billion by issuing Treasury bills and bonds. During the period under review, the Kenya Revenue Authority (KRA) collected Sh681 billion against a 12-month revised target of Sh1.6 trillion.
The taxman fell short of its target in the first five months of the current financial year after poor performance in excise taxes and import duty, according to National Treasury Cabinet Secretary Henry Rotich in the Draft 2019 Budget Policy Statement.
The Treasury is banking on new taxes to bridge a deficit of Sh28 billion in revenue collection in the first half. Mr Rotich said income tax from corporations also recorded negative growth as at November.
Last year, the government introduced a number of taxes, most of which were viewed as punitive, in a bid to finance the Sh2.6 trillion budget.
KRA recently said it wanted to raise Sh6 trillion in taxes in the next three years. However, they need the Government to guarantee an allocation of at least Sh103.69 billion to enable them grow incomes by 12 per cent over the period.
"The Government has got ambitious plans to invest in other areas so naturally we are competing for resources," said Commissioner-General John Njiraini during the launch of KRA's seventh corporate plan in Nairobi.
"We may not get to where we want, but we have reached a level of understanding of how we should prioritise allocation to KRA and look for a way the funding can be ring-fenced."