China now controls 66 per cent of Kenya's bilateral debt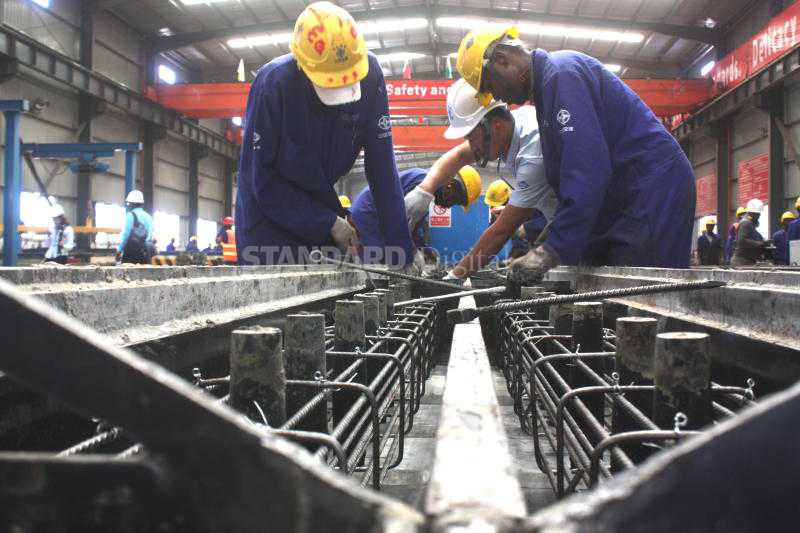 China tightened its grip on Kenya's economy, extending about Sh165 billion in loans last year, latest data shows.
This saw the Asian country stretch its lead as the country's largest bilateral lender, with its debt stock increasing by 52.8 per cent to Sh478.6 billion in 2017, from Sh313.1 billion in 2016.
The world's second-largest economy now controls 66 per cent of Kenya's total bilateral debt, which stood at Sh722.6 billion as at June 2017.
This rivals multinational institutions such as the World Bank and United Nations, whose combined debt stock stood at Sh526.6 billion last year.
China's debt stock is almost certain to increase further this year as construction of the Standard Gauge Railway (SGR) enters its second phase, with Kenya said to have borrowed a further Sh165 billion for the extension of the railway line from Nairobi to Naivasha.
Kenya, which spent over Sh440 billion on SGR from Mombasa to Nairobi, is expected to pump a total of Sh1 trillion into the railway by the time it terminates at the border town of Malaba.
"In bilateral debt category, the stock of debt from the People's Republic of China grew by 52.8 per cent to Sh478.6 billion, accounting for 12.1 per cent of the total national government's debt position," said the Kenya National Bureau of Statistics in its 2018 Economic Survey.
China's s debt to Kenya has increased more than seven times from Sh63 billion in 2013, overtaking Japan as the country's leading bilateral lender to Kenya.
By 2010, China had lent Kenya a paltry Sh14 billion, trailing Japan (Sh62 billion), France (Sh28 billion), and Germany (Sh16 billion). Japan would continue holding the pole position until 2013, when China deposed it.
The change was largely driven by China's increased interest in the development of Kenya's infrastructure, with the game changer being the construction of the SGR.
The new railway's financing pushed up China's debt stock from Sh252 billion in 2015 to Sh465 billion in 2016.
Debt stock
Japan's loans to Kenya, as at June 2017, stood at Sh91.4 billion, down from Sh94.4 billion a year before, according to the Economic Survey.
France, which has lately been also making inroads into the country, is the third largest bilateral lender, having extended to the Kenyan Government loans valued at Sh63.2 billion by last year, up from Sh59.4 billion a year earlier.
Worryingly, the stock of China's relatively expensive loans is fast catching up with concessionary loans given by multilateral organisations such as the World Bank and IMF. Last year, Kenya's debt to multilateral institutions increased modestly from Sh798.8 billion in 2016 to Sh844.4 billion.
With a debt stock of Sh526.6 billion, the World Bank and the United Nations combined are the largest lenders to Kenya, through the World Bank's International Development Assistance and the UN's International Fund for Agricultural Development.
Largest lenders
The stock of debt from the African Development Bank grew by 10.2 per cent to Sh197.5 billion from Sh179.2 billion.
Commercial loans from foreign banks rose by 64 per cent from Sh154.3 billion in 2016 to Sh426.7 billion, pushing up the country's cost of servicing debt.
Uptake of expensive loans, with short maturity period, has added to the country's burden of servicing debts, the survey shows.
Making the best out of rainy days
If rainy weather leaves you trapped indoors, then this is the perfect season to beautify your home so as to beat the cabin fever syndrome