Kenya faces expenditure pressure to sustain growth above 5 percent, analysts say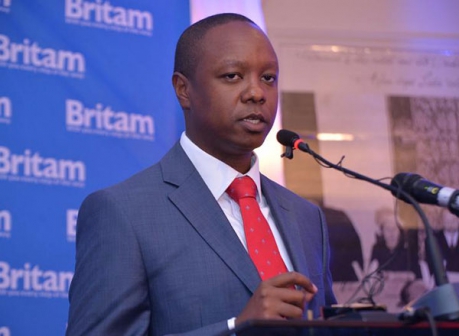 Britam Asset Managers CEO Kenneth Kaniu. [PHOTO:WILBERFORCE OKWIRI/STANDARD]
The Government will come under immense pressure to spend more on development to compensate for slowed private sector growth.
This will be necessary to keep economic growth above five per cent, Britam analysts have said.
Britam Asset Managers, who currently manage assets valued at over Sh109 billion, said subdued growth in private sector as a result of borrowing sinking to a 10-year low means more pressure on Government.
"If banks are not lending, businesses will not have money to invest and grow the economy. In 2017, the Government will have to step in and support GDP growth. We believe this is necessary to sustain growth above 5 per cent," said Brian Chege, Senior Investment Analyst at Britam.
The slowdown in private sector credit growth to just five per cent in the third quarter of 2016 from a remarkable 18 per cent in the fourth quarter of 2015 has dampened the potential of private sector to stimulate growth. Britam asset managers told the Press yesterday that introducing a cap on interest rates had triggered credit rationing and only Government can bring a positive balance by spending more.
The country has historically underperformed on development expenditure relative to recurrent expenditure.
Against a target of 10.4 per cent development expenditure as a percentage of GDP, the Government only met 7.4 per cent in the 2015/16 financial year. However, for current expenditure, they surpassed the 15.8 per cent target to post 16.8 per cent.
Low absorption record
In the wake of strikes in key sectors such as education and health, Britam noted that there may be an increased temptation by Government to redirect resources away from infrastructure and other development projects.
With Kenya's previous election years having seen low GDP growth, except in the 2013 election, Britam warns that the country may face a risk of delayed private investments due to political uncertainty.
"As elections draw near, the extent of political temperatures will be a significant guide on how elections will influence economic growth this year," said Kelvin Mutai, also an investment analyst at Britam. Speaking yesterday at Sarova Stanley Hotel in their macroeconomic outlook for 2017 themed 'Sustaining growth in a resilient economy', the asset managers also projected the economy to grow at between five per cent and 5.7 per cent.
This is hinged on Government's plans to grow expenditure by 16.4 per cent in current fiscal year, supported by a 17.6 per cent increase in revenues. However, Britam cautions that election jitters, drought, inflation and low absorption record for development of funds may pose a threat to growth. According to Britam Asset Managers CEO Kenneth Kaniu, global developments especially from US-Presidency and Federal Reserve will have to be watched keenly. He adds that Federal Reserve is likely to put pressure on the shilling.
"Federal Reserve has in the past two years increased interest rates. We forecast at least three such increases this year and this will have pressure on shilling and our market," said Kaniu.