Witness says Malindi MP incited supporters but she was not armed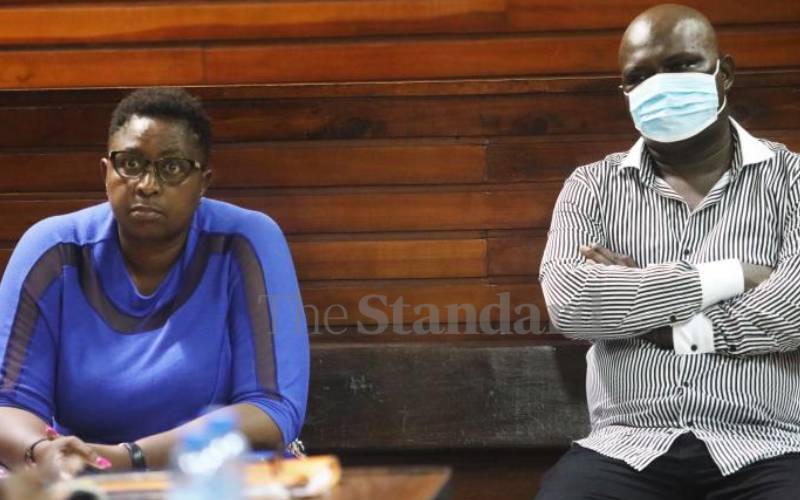 The first witness testifying against Malindi MP Aisha Jumwa has told the court the legislator incited violence at a homestead in Malindi, though she and her co-accused Geoffrey Okuto Otieno were not armed.
The witness, Alfred Kahindi, was testifying against the MP who has been charged alongside Mr Okuto for killing Mr Ngumbao Jola. Mr Kahindi told the court Ms Jumwa uttered inciting words after gatecrashing a meeting where she was not invited.
Ms Jumwa and Mr Okuto have denied shooting dead Mr Jola on October 15 at the home of current Ganda MCA Reuben Katana. Testifying before Mombasa High Court Judge Anne Ong'injo, Mr Kahindi said he was among the agents meeting at Mr Katana's home in Malindi, a day before the Ganda Ward by-election.
Mr Kahindi said before Ms Jumwa arrived at Mr Katana's home, two police vehicles had arrived and packed some distance from where they were meeting around 200 people.
The witness added that Ms Jumwa talked to the police and incited the people who accompanied her, saying the police had failed to do their work.
Mr Kahindi continued, saying among the people Ms Jumwa arrived with were two bodyguards. He saw Mr Okuto with the MP, but none of them were armed when they arrived at the homestead. The witness said only a few officers were armed.
"I heard the MP saying she could see that the police had failed to do what she had sent them to do. She told them she will show them she can do it," the witness told the court.
Mr Kahindi said Kilifi Woman Representative Gertrude Mbeyu tried calming the MP who at the time was approaching Mr Katana's home while inciting her team to attack the homestead. Violence ensued, forcing the police to fire and the guests to take cover. Mr Kahindi said after the chaos, he realised Mr Jola was bleeding.
"Since the police had left, we carried him in former Malindi MP Willy Mtengo's car to the hospital."
Mr Kahindi said he collected only one cartridge the following day despite police shooting several times in the air. He handed them over to Mr Mtengo who said he would hand it over to the police. The hearing continues.