'Black white man (Njonjo) and white black man (Leakey)': The passing of bossom buddies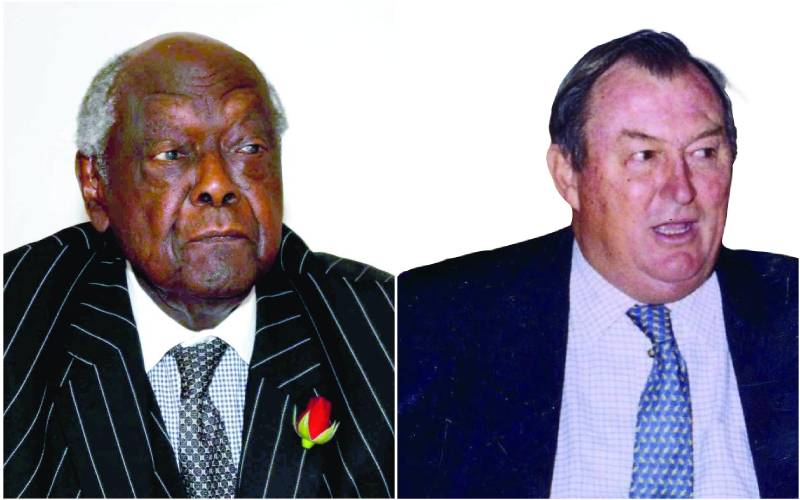 On January 2, 2022, two Kenyan men died within hours of each other. One, Charles Mugane Njonjo, son of pioneer colonial chief, Josiah Njonjo Mugane, was black. The other, Richard Leakey, grandson of Church Missionary Society (CMS) operator Harry Leakey, was white.
Locally known as Giteru, Harry had inherited the CMS mission station at Kabete from McGregor in 1902 after McGregor moved to Weithaga, Murang'a, to found a new CMS mission.
Njonjo Mugane, aged roughly 14, joined Giteru at Kabete in 1904, was baptised Josiah, and became close to Giteru's young son, Louis or 'Wakaruigi'. The two deviated from the religions of their fathers. Louis became an atheist and acquired expertise in archaeology and colonial 'native' matters.
Josiah also deviated from his father's religion, became a devout Anglican, and a colonial chief. The sons of Josiah and Louis, Charles and Richard, followed the footsteps of their fathers one as Anglican and the other as an atheist; both served the state. The two families represent elite inter-racial interactions, sons of chiefs and missionaries in Kenya, with the whites having the upper hand.
Charles and Richard bonded strongly in post-colonial times and became symbols of continuing British interests in Kenya and identity socio-cultural contradiction. Njonjo, struggled to deny his blackness in favour of being British; Leakey worked to identify with Africans. For Leakey, only his skin was white; for Njonjo, only his skin was black. Both, however, were post-colonial movers and shakers, they were buddies till death and had the backing of British establishment.
Postcolonial Kenya was good to colonial officials, chiefs, preachers, and their children; it was very good to Njonjo and Leakey. As AG, Njonjo was the custodian of the law and he developed unique personal powers that few could match. He probably had a role in Joseph Murumbi leaving the vice presidency and mocked him, 'you are finished Joe'. Once Joe was finished, Njonjo suggested former Kadu man Daniel arap Moi as a suitable replacement.
He had a hand in the successful 1968 change the constitution moves that introduced detention without trial and abolished independent candidates in elections. Going against the grain, he suggested that Kenya recognise apartheid South Africa only for Munyua Waiyaki to go ballistic with his 'over my dead body' remark.
He sent fear among politicians by decreeing that it was treasonous to imagine that a president can die. He reportedly celebrated when the EAC collapsed in 1977. His luck ran out after he pushed through Parliament Section 2A in June 1982 only to be followed by the August 1982 attempted coup. He fell from grace when Raila Odinga implicated him in the coup attempt.
Leakey attracted even more attention outside Kenya. He distinguished himself as an archaeologist by showing that humans originated in Turkana. After Kanu youth wingers landed whips on his back for dabbling in politics, Mombasa Kanu boss Sharif Nassir was satisfied that the mzungu had received a few strokes. Foreign Affairs minister Kalonzo Musyoka accused Leakey of faking the beating to gain international sympathy.
After his death Leakey received wide international coverage; he was, after all, white and of English descent. Despite his aspiration to be culturally English, the global media virtually ignored Njonjo; he was just a 'native'.