Of Njonjo's guns, imported oranges, army copter and other bizarre stories
NATIONAL
By Nzau Musau | Jan 9th 2022 | 9 min read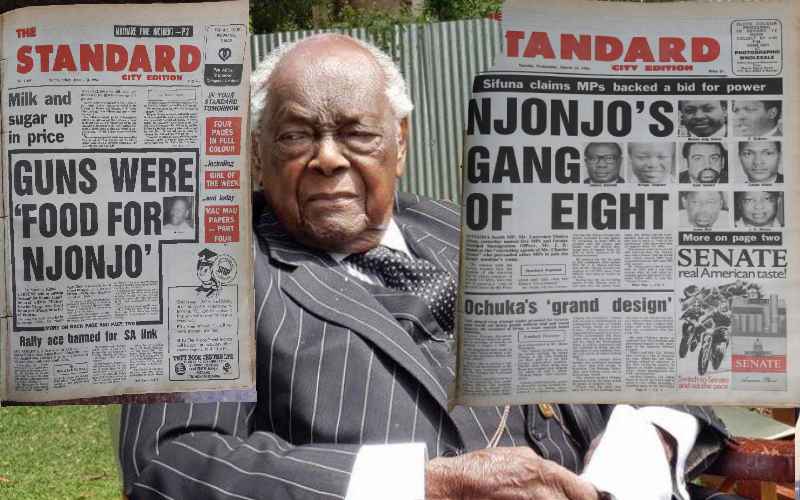 So given to quality and Western culture was former Attorney General Charles Njonjo that he regularly imported apples, oranges, juices and toys for his family, the Judicial Commission of Inquiry probing him was told.
Between 1966 and 1972, every month, Njonjo's official driver Kabucho Wakori picked one suitcase from the airport, laden with fruits for the then senior bachelor's personal use.
Then on November 20, 1972 Njonjo married the love of his life, Margaret Bryson, and the suitcases increased to "two or three a month", according to the driver's testimony at the inquiry.
In the new regime, the content of Njonjo's suitcases, said to have measured 26 inches in length, 18 inches in width and 7.5 inches in depth, changed slightly to include toys.
Between 1972 and 1983 when he fell from grace, Njonjo's illiterate driver had made so many trips to the airport to collect these suitcases that he became friends with airport taxi drivers who assisted in reading out stuff for him.
From the airport, the suitcases would be driven straight to Njonjo's home from where they would be emptied, and sent back to their origin to fetch more stuff for the next month.
Kabucho told the inquiry that when going back, the smaller suitcases would be put inside the bigger ones for ease of travel.
But toys are not all that Njonjo brought into the country. In fact, the evidence adduced at the inquiry put doubt as to whether the suitcases were all about apples and oranges.
"Njonjo's extra heavy baggage," screamed the main headline of The Standard of January 19, 1984.
Sometimes in May 1980, Njonjo's friend originally called Lim Poo Hin but who later changed his name to Yani Haryanto and his accomplices brought into the country a large amount of ammunition and 17 firearms.
Kabucho, using Njonjo's Mercedes Benz car registration number KVD 710, went to the airport to fetch them. As the Haryantos lounged in the VIP room chatting with the country's Chief Licensing Officer of the Central Firearms Bureau Douglas Alan Walker, Kabucho sneaked the cache out of the airport.
The inquiry would later talk of "unpardonable incompetence" on the part of Walker who followed the cache to Haryantos' home on Lenana Road and issued their import licences there. When he appeared before the commission, Walker could not recall how many guns he saw nor did he bother to compare the guns imported and the ones he was issuing licences to.
"I regret I cannot explain it. I simply accepted what they produced as the firearms they had imported. I accepted their own declaration about it," he said.
Before leaving the Haryantos' home, however, Walker and Kabucho walked away with two guns as gifts. Yet he claimed before the commission that he did not render any special service to the Haryantos to warrant a gift of that kind.
Again on the night of March 31, 1981, a large consignment brought in by two American friends of Njonjo- Kent Crane and a Theodore and declared as "food for Njonjo, and fishing rods and camping equipment" was found to have been guns when inspected.
"Guns were food for Njonjo," screamed The Standard headline of January 20, 1984.
Kabucho, Walker and a friend called Mohamed Bashir had gone to the airport to receive the Americans and their baggage. They accessed the VIP lounge as usual, and were about to take away the baggage when a stubborn airport official called Martin Sitati spoiled the party for them.
After listening to the fishing rods story, Sitati insisted on opening it.
"The carton was found to contain a rifle. The other baggage was also opened. It contained two shotguns with telescopic sights, some more rifles and about 5,000 rounds of ammunition. Among the firearms was also a 7.62 mm military rifle which civilians are absolutely prohibited by law to import," the official report says.
Before the Americans could explain their lie, Walker jumped forward and said he had been sent there by Njonjo to issue an import permit for the arms. As the customs officials stood there bewildered, Walker pulled a permit book out of his pocket and began to write a permit for them.
When this was brought to the attention of the then police boss Ben Gethi, he directed the consignment to be re-exported because they contained an illegal military rifle.
"The military 7.62 mm rifle could not by any stretch of imagination be brought into the country by a civilian for any legitimate purpose," the inquiry affirmed.
The inquiry, after piecing together pieces of information and evidence, concluded that the consignment never quite left the country as directed, and as claimed by Walker. The inquiry concluded that "wherever they are in Kenya, they are there illegally and Njonjo must know where they are."
While all these activities attracted the eyes of intelligence officials, which in turn fed to Moi, Njonjo cared little. From the evidence adduced at the commission, it was clear that Njonjo did not expect Moi to last long. Moi appears to have looked the other way, encouraging the man to fry in his own fat.
He was allowed to resign as Attorney General, and to bribe his away to Parliament. Moi even appointed him a Cabinet minister and watched over him as he began to ruthlessly mobilise MPs to his side, using threats and money.
To be evil, the commission claimed, is an art in itself. And Njonjo had proved quite artistic in his methods to consolidate power around him, except that Moi was the more artistic in dismantling him.
So confident was Njonjo that he could afford to tell Francis arap Mutwol to go ask Moi to remove the then Vice President Mwai Kibaki and if he did not do so, the Kalenjin would live to regret it.
"Njonjo also said the Kalenjin knew how to look after cattle but not human beings. He also told Mutwol again personally to tell the president in his own Kalenjin language that if he did not remove the vice president, the Kalenjin would live to regret it," the official report reads.
When he was courting Mutwol to his side, he attended the MP's fundraiser on September 19, 1981 in Kapcheriot in "a huge army helicopter," the commission heard. Eleven days earlier, an army helicopter had flown to locate where Kapcheriot was located.
The following week he was asking Mutwol if he had ever seen any other minister going to a harambee in an army helicopter. When he replied in the negative, Njonjo asked him to tell his fellow MPs "to see where the light was."
But Njonjo could get nasty as well when his overtures were rejected. It was either his way or the highway. When Mashengu wa Mwachofi, the then Wundanyi MP turned him down, Njonjo went to his constituency to donate a piano to a church but also to describe him as ungodly and untidy, all because he kept a beard.
Before that, Njonjo had looked at him so much in Parliament, that Mwachofi wondered whether Njonjo was not going to hurt his neck because he was always constantly turning around from front bench to look at him at the backbench.
"You people tell me repeatedly that Njonjo loves me. Do you think I am a girl that I am going to get married to him?" Mwachofi once reportedly told fellow MP Juma Boy and Said Hemed, after they kept pushing him to Njonjo's side.
Once in Parliament, Njonjo moved to the backbench to sit with Mwachofi, wondering why he never came to him for help yet he had helped most of his "idiot" friends. Mwachofi found it strange that Njonjo wanted him to go to him and become one of the idiots. What he did not know was that in Njonjo's books he was already an idiot.
Another MP, Wasike Ndombi, attempted to revive the ghosts of a matter Njonjo thought had been buried; the vetoing of the prosecution of Stanley Githunguri. He moved a motion, claiming Njonjo had ordered the file closed when he was serving as AG.
Through third parties, Njonjo intimidated Ndombi into withdrawing the motion. Later when Njonjo was cut to size, an attempt would be made to prosecute Githunguri on the same matter, leading to the famous Criminal Application NO. 271 of 1985 whose proceedings, the judges said, had earned so much notoriety that the laurels had withered:
"Stanley Munga Githunguri! You have been beseeching the court for order of prohibition. Take the order. This court gives it to you. When you leave here raise your eyes up the hills. Utter a prayer of thankfulness that your fundamental rights are protected under the juridical system of Kenya," the judges ruled in 1986.
The Commission of Inquiry was told of the inner circle of Njonjo which stretched from Parliament, to passport control office, to the Chief Licensing Officer, Prisons bosses and wealthy businessmen.
"Njonjo's gang of eight," read the main headline of The Standard headline of March 14, 1984, with mugshots of former MPs Moses arap Keino, Jackson Kalweo, Said Hemed, Laban Kitele, Juma Boy, Otieno Ambala, Stephen Kiragu and former principal immigration officer James.K Mutua.
Njonjo thought he was so powerful that he could afford to threaten ministers. When Foreign Affairs Minister Robert Ouko blasted the South African apartheid regime in a speech in 1980, Njonjo reprimanded him. Ouko told him he must have been joking. Njonjo replied:"You have been warned and you had better heed my warning," Njonjo then hang up on him.
At that time, Njonjo was not even in government having resigned to contest for MP. When he was eventually appointed a minister, he continued to rebel against the official government policy on the South African regime, granting numerous of its national safe passage into Kenya.
On April 29, 1980, four days after he had ditched Sheria House, he had two ex-MPs Jesse Gachago and Godfrey Muchiri who had been jailed two years before, brought to his home and released there. The inquiry could not believe it.
"He had the audacity to order prisoners to be taken to his house in order to effect their actual release himself…" the report reads.
But the MPs were not the only ones. Njonjo released convicted armed robbers from his Kikuyu constituency. In fact, through his manoeuvres, Njonjo got one murder convict to walk to freedom courtesy of presidential clemency.
He did so by simply inserting his name in the official list of convicts deserving presidential clemency:
"His name had been added at the bottom of the page, in between the names of two other prisoners No's 1126 and 1127. There was no number against his name. His name had been added using a different typewriter from the one used to prepare the original list," the commission heard.
For his bravado, and show of might, Njonjo was humbled with a yearlong inquiry, which was prominently covered in the media. He himself admitted he had been humbled:
"I would like to say how very sorry I am that these proceedings became necessary. It is now over a year since the inquiry was set up and we have 102 days of hearings. This has naturally been an unpleasant and sad and indeed a humbling experience for me."
He then proceeded to address the president, crediting his Christian wisdom and expressing trust in the "wisdom and fairness of His Excellency the President."
The commissioners were not impressed. In their report, they said in this statement, Njonjo did not appear concerned with the proceedings of the inquiry, but rather with sweet talking the president.