Government's doublespeak on home ownership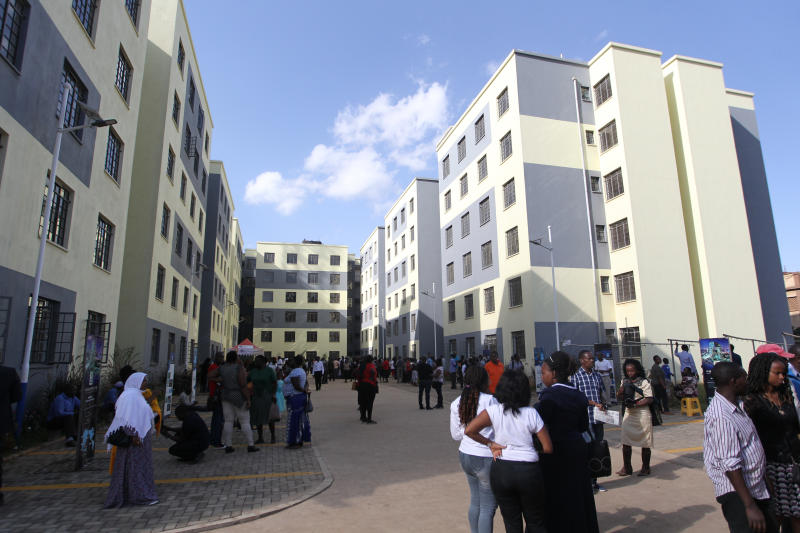 When he reads the Budget Statement in Parliament next week, Treasury Cabinet Secretary Ukur Yatani will present proposals that could make home ownership a distant dream for many Kenyans.
Already, high building costs and lack of cheap mortgages have ensured many Kenyans tumble through the most productive years of their lives without owning a home.
Mr Yatani has already made his proposals clear through the Finance Bill 2020, as well as through his measly allocations to different government agencies at the forefront of building cheap houses.
What has also become apparent is the fact that his proposals contradict policies mooted by other ministries meant to ensure Kenyans own homes.
The government has in the past tried to make it possible for Kenyans to own homes, with the boldest of such efforts being the ambitious plan to put up half a million affordable houses by 2022; an initiative enshrined in the Big Four Agenda.
The houses are to be put up by both government and private entities. When Yatani reads the Budget Statement, he will throw such housing plans into disarray.
Some of the proposals are seeking more taxes from Kenyans saving for their future homes, while others are fronting budgetary cuts for state entities charged with overseeing that the 500,000 affordable homes are constructed.
The budgetary allocation for the State Department for Housing and Urban Development has been slashed by more than 50 per cent.
Take a quick survey and help us improve our website!
Take a survey
The department has been allocated Sh14.14 billion for the 2020-21 financial year, which is Sh17 billion lower than the Sh31.5 billion that department received in the 2019-20 financial year.
County governments
The department, housed by the Ministry of Transport, Infrastructure, Housing, Urban Development and Public Works, is among the critical government entities tasked with the delivery of the Big Four Agenda's housing dream.
To begin with, the department is charged with overseeing affordable houses are constructed by other government agencies including county governments.
It is also tasked with creating an enabling atmosphere for real estate developers who plan to privately put up the houses in the struggle to ensure the 500,000 units are put up.
One of the boldest indications that Yatani has so far made that Kenyans will be waiting for a longer period before they can own houses is contained in the Finance Bill 2020.
The Bill is up for debate in Parliament in the coming weeks.
It proposes that Home Ownership Saving Plans (HOSPs) be subjected to income tax.
HOSPs are savings plans that are exempt from taxes, and are aimed at enabling people keen to buy houses to put away money that they can use in acquiring a home.
They were introduced in 1995. At the time, only some banks and mortgage lenders were allowed to manage such saving plans.
Last year, the Finance Act 2019 allowed fund managers and investment banks to be included in the management of HOSPs in the hope that this would spur interest among Kenyans to save for homes.
While HOSPs may not have been a runaway success in the two decades they have existed, subjecting them to income tax, according to analysts, might kill them all together.
The Bill proposes to delete sections of the Income Tax Act that allows tax deduction for HOSP contributions up to a limit of Sh96 000 per year.
The Act currently exempts interest income earned by a depositor on such deposits up to a maximum of Sh3 million.
Treasury is so intent on taxing these plans that it had earlier put the proposal in the Tax Laws (amendment) Act, 2020 which was rejected by Parliament.
"If passed, these proposals will discourage savings for homes through HOSPs. These proposals were previously included in the Tax Laws (Amendment) Act, 2020 but were subsequently rejected by Parliament," said Ernst & Young in a review of the Bill.
In an analysis of the Finance Bill, KPMG noted that the move contradicts the push by the government for home ownership among Kenyans.
"Deletion of this section will discourage home ownership savings, forcing potential home owners to shift to loans which are still eligible for mortgage relief… it discourages savings to invest in the housing sector which contradicts the Big Four agenda on affordable housing," said the analysis by KPMG.
"This proposal seeks to subject to tax income earned by financial institutions, fund managers, investment banks and building societies with respect to HOSP deposits. This will reduce the income available for distribution to depositors as interest, negatively impacting their ability to purchase homes."