Decade-long haemorrhage that put National Bank on deathbed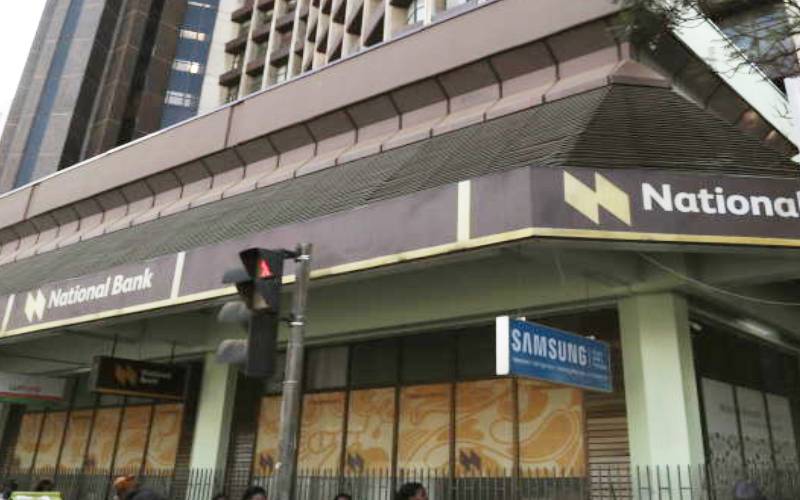 After years of pillage, unreliable financial statements, sale of the property and waning shareholder confidence, the real value of the National Bank of Kenya (NBK) appears uncertain.
Members of National Assembly's Finance Committee, perhaps listening to the whispers of interested parties, have put the value of the lender at between Sh9 billion and Sh15 billion, while its liabilities stand at Sh6.9 billion. They may not be the impartial yardstick as market valuation puts its worth at Sh1.5 billion in capitalisation, with shares trading at Sh4.44.
The market had once valued it at Sh14.4 billion in 2011 when its shares traded at a decade-high of Sh42.73.
Central Bank of Kenya (CBK) Governor Patrick Njoroge recently told Parliament that NBK was valued at Sh10 billion three years ago but had since plummeted to Sh2 billion.
Even NBK's current management led by Chief Executive Wilfred Musau managed to daze MPs when he said he does not know the worth of the lender and what KCB would offer, but reckoned that details would be made available when KCB makes a formal offer. "You are actually not telling us the truth. Why are you calling for an Annual General Meeting, to talk about what you don't have? You are not being truthful at all. That is why you are taking us round like children," charged Joseph Limo who chairs the committee.
Mr Musau later informed the Financial Standard that the bank received the intention-to-acquire letter on April 18, 2019, and an offeror's statement to acquire 100 per cent of the ordinary shares of the company on May 6, 2019.
"The details of the bid will be contained in a detailed takeover bid document. Upon receipt, National Bank will prepare and issue a subsequent circular to its shareholders with all the details of the transaction," he said via email. Under the proposal to give NBK shareholders a single share of KCB for every 10 held, given that KCB shares are trading at Sh39.60, NBK's shares would be valued at about Sh1.3 billion.
National Social Security Fund and Treasury control nearly 93.2 per cent of NBK after the resolution of the preferential shares are factored.
The plunder of the lender run deep gushes in its books and CBK says the only way to save it is to hand it over to KCB, a better run bank. Mr Musau, however, admits that the bank has been operating below core capital since 2013, while a cursory look at its books show that core capital to deposits - the money the bank has stored to keep it functioning through all the risky transactions, has declined from 17 per cent of deposits in 2012 to a mere 2.1 per cent yet CBK requires a minimum of eight per cent.
But how has the lender been able to report profits and play to the public gallery? NBK books show an interesting corporate circus.
The lender made a profit of Sh736 million in 2012, the next year, it rose to Sh1.1 billion, then it dipped to Sh870 million in 2014 before plunging to a massive loss of Sh1.1 billion in 2015.
In 2016, it restated its books from Sh162 million profits to Sh70 million. In 2017, it delivered Sh410 million profits before plunging again to a single digit profit of Sh7 million last year.
The profit drama does not end there, last year the bank opened the first quarter with a shocking loss of 278 million, in three months, the lender had widened the loss to Sh282 million. But as the investor digested this, NBK swung back on the third quarter with Sh21 million profit before dashing hopes by closing the year with a modest Sh7 million earnings.
Did they give the shareholders time to digest what these numbers meant? NBK issued a profit warning on March 26th, this year and released results on March 29, yet the board should issue a warning one day after noticing that profits will fall significantly.
"Some factors may arise necessitating changes to the financial statement within a short time before the publication date falls due. This may cause issuers to publish profit warnings late," the Capital Markets Authority (CMA) explained.
"While the Authority is against late publication of profit warnings when an issuer provides a reasonable explanation on the contributing factors, the Authority may consider. For example, new requirements in the IFRS9, which became effective in January 2018 may occasion such a case."
But was it? Mr Musau said with IFRS 9, banks are required to record interest on bad loans and simultaneously record the impairment expense where amounts are not recoverable, hence increased provisions compared to previous years which however did not affect profits. "The policy change has no impact on the bottom line and profit before tax and profit after tax remains unchanged between IFRS 9 and CBK reports published," he said.
Curiously, from March this year, NBK impaired a Sh544.9 million under exceptional items which reduced to Sh533.2 million by year-end and from its profit warning, it indicated the matter was known since then, for some time. In its profit warning notice, the lender said it had difficulties in recovering bad loans and impaired charges after realising that initial projections on the value of loans recoverable were not realistic or the value of the collateral was lower than expected.
"NBK earnings for the period ended December 31, 2018, will be at least 25 per cent lower due to… increased loan impairment charges beyond initial projections due to a revision of the valuation and values recoverable from the non-performing loan portfolio," said Company Secretary Habil Waswani.
"During the year, the group incurred a one-off restructuring cost (voluntary early retirement programme) as part of wider business alignment, the full benefit will be realised in 2019," Musau said. NBK management had changed hands from Munir Ahmed to Musau.
The regulator says NBK managers helped bring down the State-owned lender - whittling its value by 80 per cent. Dr Njoroge said reforms started in 2016 after audit identified weaknesses in its financial system. The audit revealed that its IT system had been messed up and that the numbers it claimed to have were not accurate.
He told the National Assembly's Finance and National Planning Committee that CBK supports the takeover since NBK's current management was weak and unable to inspire confidence. He noted that it lacks the required leadership to attract new capital injections.
"Nobody wants to work with a weak bank and having seen the management at NBK, strengthening is unlikely. Leadership is key and the bank needs a team that can turn around this institution. For this to happen, you do not need an economist to run the bank but a banker and less of political appointments," he said. The bank could not attract the much-needed Sh4.2 billion bailout money from principal owners who wrangled over preferential shares, while the lender ran on empty.
"The bank's management has received very strong support from its shareholders. Both the National Treasury and NSSF have assured the management of their backing of the options available to recapitalise the bank," Musau said in response to the latest accusations.
According to CMA, the scheme that has brought the lender down involved fictitious companies drawing blank cheques and backdating cash from the sale of the property to run the fraud.
Edge Capital Consultancy and Advest Company Ltd were singled out. These firms schemed the bank Sh991 million and claimed they had brought State agencies on board. The State agencies said denied meeting the said mobilisers.
The lender owned largely by the government hid 11 non-performing loans by simply claiming they had been restructured and overstated profits by hiding bad loans amounting to Sh2.5 billion in June and September numbers and only made good its books at the end of December 2015.
The bank sold off branches and made Sh847 million by June only for the figure to be scaled down to Sh111 million by December.