Strategy: Meet turnaround CEO hired to fly Kenya Airways out of turbulence
FINANCIAL STANDARD
By Paul Wafula | September 26th 2017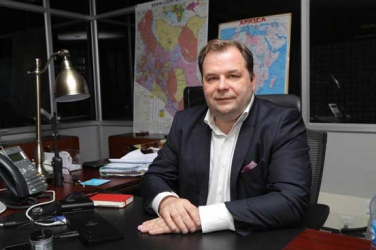 NAIROBI, KENYA: Sebastian Mikosz brought his two dogs to Nairobi, perhaps an indication of a man up to the task of sniffing out possibilities from unlikely situations.
And possibilities are the only thing the 44-year old sees when looking outside the window of his third floor office at the Kenya Airways (KQ) headquarters in Nairobi's Embakasi estate.
The well-lit, thickly carpeted office has a deceptive calm. Here, at least two of his predecessors met their waterloo. At first glance, Mikosz cuts the image of the bubbly uncle who is always the life of the party.
The one adored by truant nephews and unreasonable nieces. A closer look however reveals little tale-tale signs of the kind of man he is at work.
He wears a dark blue fitting suit and a cream shirt-power move.
His neck is missing a tie, as if telling the person in front of him that when push comes to shove, he will without the batting of an eyelid jump into the mud with you and wrestle.
For his first interview, he does not want cameras in the room.
He has been the KQ boss for about 100 days, and the man whose reputation as a ruthlessness no-nonsense executive says he has not come to be popular.
When he first walked into this office on June 1, this year, he met a labyrinth of reports that pointed fingers at everything that is wrong with the airline. "I met a room full of analyses," he says.
Mikosz uses lots of gestures to drive his point home. He talks a little more than his predecessors. He asks himself questions and then to answers them. He is passionate but does not underestimate the job around him.
This is the expat KQ board head-hunted and tasked with flying the national carrier out of its current doldrums.
"We went through a long exhaustive process. We were looking for someone with the character that would help us turn around KQ to become once more the pride of Africa," the airline's board chair Michael Joseph said.
"He is here to make it a profitable airline, and operationally a much bigger airline." When Mikosz answered the board's call, he didn't come alone. Apart from the dogs, with him were three sons, a wife and a team of five polish executives, all former colleagues at LOT airline, as wingmen for the task ahead.
The decision to bring in expats to turnaround the airline has been defended by the board but it is still causing anxiety within the KQ top management team which is still struggling to pronounce their names.
"When you know the airline industry, this is like music. You know a good musician that plays a violin in Chicago, so you bring him to Nairobi for a while," Mikosz explained.
"This is exactly what I did. The advantage of these guys is that I trust them and I have worked with them and they could hit the ground within three weeks. Will they stay... will they not? That is not decided," he said of his entourage.
The five seen as part of the dream team being assembled to inject fresh ideas into the airline have joined the Transformation Office and are said to have accomplished similar goals before at LOT Polish Airlines.
But this in not LOT Polish Airlines, where he held the position of chief executive twice and is credited with conducting an in depth turnaround strategy that led to its first positive results in years.
Mikosz is taking over of an airline that has not made profit in five years. Cumulatively, the airline made losses of Sh73.2 billion in the last five years. The biggest loss was reported in 2015 when the airline lost Sh26.2 billion.
He will be expected to cut off excess fat from an airline which has already had two rounds of staff retrenchment in three years, not to mention the predatory nature of the Middle East carriers that have over the years cannibalised the national carrier to the bone. "We cannot let them (Middle East carriers) eat our lunch," Joseph says.
Rival airlines
Lately, they have been going after KQ's best pilots and engineers voraciously. One of the reports on his desk showed that the airline has lost 89 pilots and hundreds of engineers to rival airlines, a brain drain that has left it with a shortage of at least 10 pilots.
In the year ending March 2017, the airline reported the highest number of pilot exits in the last five years after 55 quit. This were 32 captains and 19 first officers, some of the most experienced and highly sought after staff.
In the last two years, a total of 89 put in their resignation letters, in what left the airline with just 434 pilots against a requirement of 444. "As KQ we cannot stop this movement.
They (Middle East airlines) are offering tax free jobs and loans. If you are a pilot and you have such an offer, at a certain moment you just take it. We cannot go to the board every time and say we will match these salaries," Mikosz says.
The other headache, and the most pressing problem, is the pile of debt that is choking the national flag carrier.
The ballooning debts crossed the Sh150 billion mark in March this year and are threatening to sink the remaining part of the airline that is still functioning.
"We will be making some decisions in future about management and adapting. Some of them will attract your attention, some will not. But I cannot hide that there are huge challenges in front of us in terms of operational excellence, on time performance, service quality, luggage and so on," he said.
Mikosz seems to anticipate almost every question in the room and apart from a few which he passes to his board chairman, who accompanied him to this 'introduction meeting'.
"The job of the CEO is that I implement sometimes some unpopular decisions. I will be very open and transparent, but I will not pull back because that is why I was hired. My job is to deliver the financial results... period!" Mikosz says.
The new CEO seems to be intrigued, almost excited by the complexity of KQ's problems. He describes the turnaround task as a 'fabulous professional project' and with an almost school boy excitement and notes that there are several good surprises he found at the airline.
"I used to work for banks. I also worked for consulting companies but the job that counts the most in my today's role is at LOT Polish Airlines," he says.
LOT is the national carrier of Poland that has 88 years of history and is one of the oldest airlines in the world. He says he was surprised at the quality of talent he found at the national carrier.
Unlike at Polish airline where he had to worry about the ability of staff to speak English, here all staff easily speak English and this is a big plus for the aviation industry. The CEO says Kenya Airways pilots also do not have a problem with speaking to passengers like was the case at his previous station. Talent is the biggest asset.
"I have people who have studied in Manchester, New York and I meet them in the hangars. They have the same training and can do the same things that Ethiopian, LOT or United airlines do," he says.
Like many Kenyan organisations, the problem for KQ lies not in the talent, but in culture and way of doing things.
Particularly in an era in which painful decisions will have to be made. "The difference is execution and it will be sometimes be very tough. It's about implementing decisions which people will not like," he says.
The new management seem to have narrowed down on culture as one of the biggest setbacks for the airline. "There is a response I get around here. This is the way we do it in Africa. This is something I do not accept. There is no African way of doing things. There is a good way of doing, or bad way of doing," he says.
He also says there is a serious lack of trust which makes delegation of duties very hard. To fix this, he says he will build a culture of accountability.
Making decisions
He does not expect to be the most popular employee at the airline in the coming months and he is also not afraid of making decisions, even if some of them may be wrong. "Not everyone likes you but I hope when the financial results come out, there will be a better understanding of this is what we needed to do. It does not mean that there will be no mistakes. Out of the ten decisions that I am going to make, two might be a mistake," reckoned Mikosz.
He also says he has been shocked by the number of similarities between KQ and LOT Airlines. "I am surprised how similar LOT and Kenya Airways are. Kenya and Poland are also very similar. It goes from small things like the size of the country, the size of the population to big things like the GDP growth, investment in infrastructure and the state of the airline," Mikosz says.
He observes that these similarities made him feel at home, adding that he is already benefiting from the work put in place by his immediate predecessor, Mbuvi Ngunze, as part of the turnaroundstrategy dubbed 'Operation Pride.'.
He points out that he found the company in the middle of a financial restructuring process that is now on its tail end. The process already has the support of the airlines' two biggest shareholders – the Kenyan government and the KLM.
"There is a tremendous amount of work that was done before I arrived. The financial situation is very much improving and I am in a much easier position. But is it enough? No it is not enough and I believe that my role is to continue this," he says.
"Off course I will bring my new ideas, revamp some projects, close some of them but we need to continue in delivering the financial improvement and I do not even want to change the name because I believe operation pride is a good name for it," he adds.
He explains that he found about 650 different projects that were part of the turnaround plan, some that have now been completed with others pending. The CEO says they are changing from a wider approach to focusing on five or ten big projects. There are projects that are being closed because they are done.
One of the first decisions he found on his desk was to pull the airline from two loss making Chinese routes.
"The board has taken the decision to withdraw from Hanoi and Hong Kong allowing us to have a much more consistent product in Bangkok and Guangzhou," he says. This has released some large body aircraft that can be used to plan for its new routes including the US next year.
The board is also counting on the new team to double the size of the airline in the shortest time possible. But to get here, he must stop the bleeding and cruise the back into profitability.
"What we are doing as management is that we go through the PL (Profit and Loss) line and say which are the areas of the projects that can be done."
There are a lot of invisible things. How do we buy fuel? How do we buy spare parts? How do we manage our outstations? he asked. KQ boss says there is a five-year plan approved by the board and have to prove to the stakeholders that the team can deliver.
"I know that the turnaround will be made from numerous tough decisions, but we also have to compete. The market of Kenya is not just in Kenya but East Africa and generally speaking from everywhere in the world," he says.