Fresh battle at Kenya Airports Authority over hangars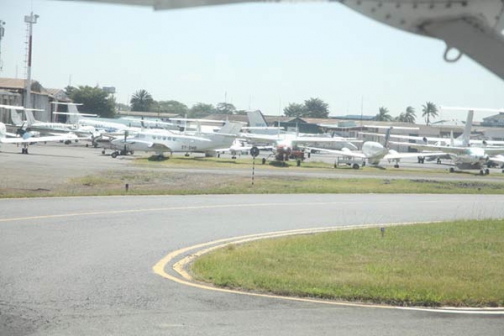 Nairobi, Kenya: Even before the dust settles over the conflict-ridden award of a contract to controversial businessman Kamlesh Pattni by Kenya Airports Authority, the institution has yet again sunk into fresh wrangles over allocation of hangars.
A hangar is a closed building structure to hold aircraft, spacecraft or military tanks in protective storage.
This facility is of great significance to aviation operators because it reduces the cost of operations especially in regard to security.
Trouble started when Kenya Airports Authority allocated at least five Hangars to five different firms that never applied for them.
Further, the KAA officer who is documented as having approved the allocation plan that was used to make the said allocations had long left the organization.
Document in our possession show that Eng P.O Chamwada approved Hanger allocation plan at Wilson airport in February 2016 while indeed the same officer had left KAA in July 2015, 7 months before the said approval.
The allocation has elicited immense anger amongst senior officials at the ministry of Transport who have termed the move as an 'illegal and unprocedural engagement."
Speaking to the Standard on Sunday, Mwadebo said, "I could not have approved any document at this time. I left KAA in July 2015," he said.
At least 18 different firms had applied for the same but none of those were requested to submit their bids. Among those bidders is Kenya Wildlife Services which was similarly disregarded.
KAA procedure of Hanger allocation is such that firms interested in a hanger submit their applications. Whenever a hanger becomes available, the firms that would have applied as at the time that hanger became available are requested to submit their bids competitively.
The highest evaluated bidder is then allocated the hangar. This process is undertaken in order to give KAA the highest economic return possible.
In this case however, no such procedures were followed the consequence of which saw 4 firms allocated a Hanger each at Wilson airport.
The 18 firms that had submitted their bids and who were never given an opportunity to participate include flex air cargo, Fly 540 aviation, Global Air Charter Ltd, sac(k) Ltd, Wilkens, Kasas ltd, 748 air service, Peak air ltd, Helicopter International, Midland Global network, Kenya Wildlife Services, Fly SAX, Acer Aviation and capital airlines Limited.
Others are Silverstone air services ltd, Planes for Africa and Pro Aviation.
For instance, a lease agreement between one of the firms controversially allocated the hanger and KAA, a copy of which we obtained reads in part, "The Kenya Airports Authority (hereinafter referred to as 'the authority') wishes to grant you a lease to develop and manage an Aircraft Hangar facility ('the facility") at the Wilson Airport ('the airport'). The services whose scope is outlined herein below shall be operated at the space to be occupied in the airport as per the following terms and conditions, and subject to a lease agreement to be entered into by parties," reads the ten year lease signed William Simbah on behalf of Acting managing director Yatich Kangugo.
Reached for a comment, Simbah would not comment except to say, "Contact the MD. He is the person authorized to speak on behalf of the authority."
Our frantic effort to secure a comment from KAA managing Director Yatich Kangugo were fruitless as our calls went unanswered neither did he respond to text messages sent to him.
IG Boinett orders NACADA Chairman Mututho to report to the nearest police station to record statement after he alleged that police are protecting drug gangs at UoN.