JKUAT: Government urged to support commercialization of local Covid-19 innovations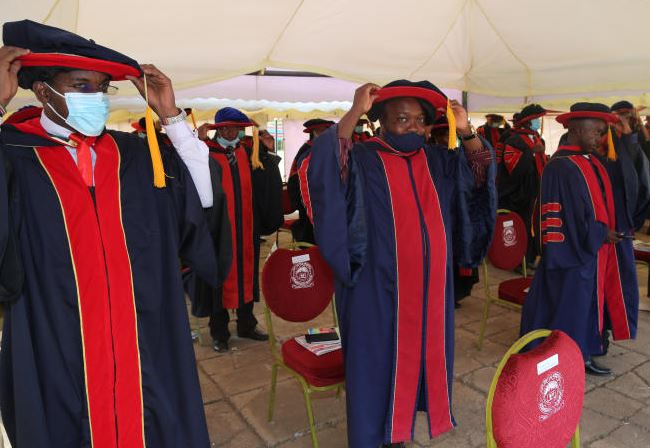 The government and players in various industries have been urged to closely work with academic institutions to commercialise innovations by students.
Jomo Kenyatta University of Science and Technology (Jkuat) Chancellor Prof Joseph Mathu yesterday recognised various innovators that have been in the frontline with Covid-19 solutions.
"Among the inventions are ventilators, hand washing machines and Covid-19 dashboard used in predicting infection trends," Mathu said.
Mathu spoke at Jkuat grounds during the institution's 35th and Pan African University's (PAU) 6th joint graduation ceremony which was held virtually with a select number of attendees.
The institutions were holding their first ever virtual graduation ceremony since the Covid-19 pandemic hit Kenya in March this year.
Local innovations
Noting that the deadly virus may be here to stay, he said inventions made locally largely remain underutilised.
"We have to support every effort towards winning this war. We need to win it at the earliest for institutions to resume normal research which has been largely interrupted," said Mathu.
Meanwhile, some 1,891 undergraduates, 88 postgraduate diplomas, 719 Masters and 79 PhDs, 32 Masters and 13 PhD from Pan African Universisty graduated during a ceremony held under strict observance of Covid-19 regulations.
Academic staff, select government officials, PhD graduands and those in the Health Sciences Department were allowed to attend the main event.
The rest of the graduands and their families followed the live event on KTN Home and virtual meeting platforms.
Education Cabinet Secretary Prof George Magoha expressed the government's commitment towards supporting universities to commercialise their new inventions.
In a speech read by Deputy Director for Research, Science and Technology in the State Department of University Education Dr Gideon Kivengea, Magoha lauded universities for the inventions.
"2020 has been a difficult year. Academic programmes have been interrupted forcing institutions to realign their operations with health protocols. Despite this, we recognise various innovations made," said Kivengea.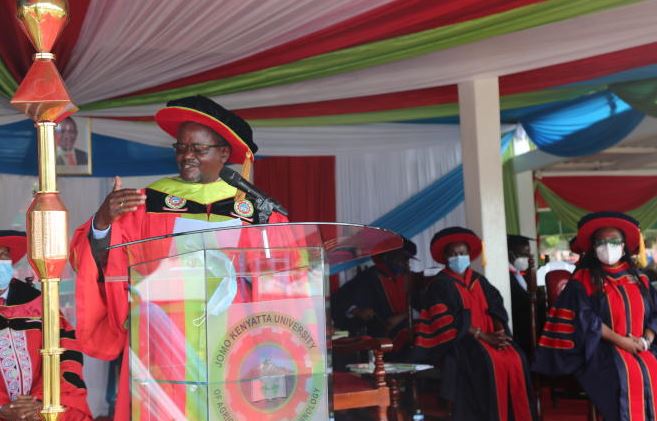 Financial constraints
He blamed the slow uptake of the innovations on financial constraints in government but assured the innovators of State support.
"The government has been facing financial constraints worsened by the pandemic. As we seek funds to upscale production of the innovations, we urge institutions to expand their scope of income generation," he challenged.
Newly appointed Jkuat council chairman Amb Mahboub Maalim thanked development partners who have come to the aid of learning institutions during this tough pandemic season.
"In January we shall be launching a new lab funded by JICA. More learning facilities are also under construction to enable us enforce social distancing in our lecture halls," said Maalim.
He pointed out that the university had rolled out a digital literacy programme in 21 counties in an attempt to enhance e-learning and save students time lost due to pandemic interruptions.
The university has also been at the forefront in training health workers on health informatics and data analytics on Covid-19 in the counties.