Olkaria V ground-breaking expected in August
The procurement phase of the Sh40 billion Olakaria V geothermal power plant project is complete. Japan Deputy Ambassador Mikio Mori confirmed this, saying construction of the 140 megawatt plant will begin this year as scheduled.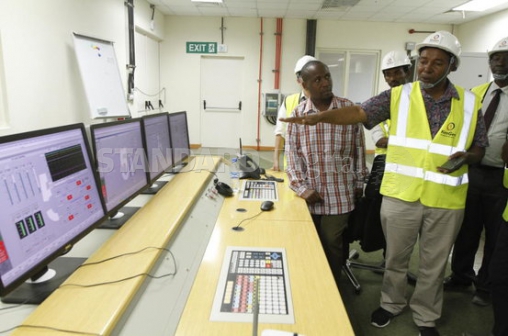 "Bids have been sent to three applicants who were successful in the request for proposal stage. We expect construction works on the power plant to start in five months," said Mori. He, however, did not disclose the three applicants. Three 14-megawatt wells have been sunk for testing before the winning bidder is given the go-ahead for construction. A well has a lifespan of 25 years and costs Sh700 million to drill.
"Just like Japan, Kenya's dependence on hydro-power is not reliable due to climate change, which calls for the two countries to explore geothermal as the most dependable source," noted the Ambassador. Japan is said to have the third richest reserves of geothermal power globally. It currently produces over 270,000MW.
Kenya hopes to attain 33,000mw by 2030 from its 23 sites with a geothermal power potential of 10,000MW located along the Great Rift Valley. "We expect the actual ground-breaking for the Olkaria V to be done before the upcoming Tokyo International Conference on African Development (Ticad vi) later in August, which will also give Kenya a chance to put forward its needs and aspirations in the energy sector for possible financing," said Mori.
On March 9, Japan International Corporation Agency (Jica) had signed a Sh40 billion agreement with Treasury for Olkaria V. The agreement stipulates a 10 year grace period and a 30-year repayment period at an interest rate of 0.2 per cent. "We decided to sign the agreement with the Treasury to avoid bottlenecks associated with Parliament approvals that would have delayed the project as witnessed in Olkaria I-IV," said Jica's consultant Evanson Njenga.
Njenga said Kenya Electricity Generating Company (Kengen) and the National Treasury are still expected to sign a sub-agreement later to actualise the construction process. Meanwhile, European Investment Bank has pledged Sh12 billion to add to Jica's Sh8 billion for the construction of the 70MW Olkaria one unit six. There are also plans to have Jica construct Olkaria VI, which will be fully owned by private power producers.