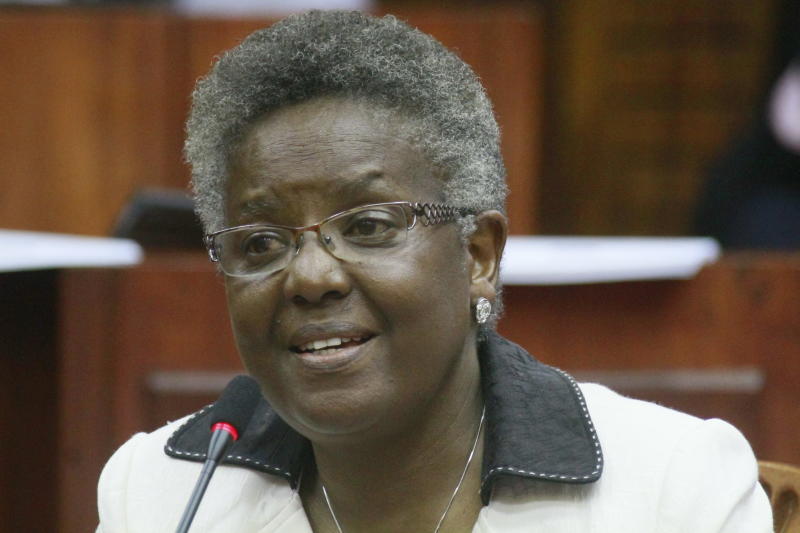 Gershom Otachi, a nominee for the chairmanship of the National Land Commission (NLC), could be blocked from the role for alleged failure to pay taxes. Mr Otachi who was being vetted by MPs yesterday produced a certificate of tax compliance issued by the taxman. But curiously, Kenya Revenue Authority (KRA) was quick to provide the National Assembly's Lands Committee that was vetting him with documents showing that he has not been paying taxes. Otachi said he used that same tax certificate dated June 12, 2019 to apply for the job.
SEE ALSO: Acacia employees fined Sh69m in tax evasion case
The committee chaired by Rachael Nyamai has summoned KRA Commissioner General James Mburu today morning to explain the contradicting documents. Otachi's tax compliance status was raised by Cherangany MP Joshua Kutuny. "There is a memorandum by KRA that you are not tax complaint. What do you have to say because that is a blemish on your integrity," said Mr Kutuny. Expressed surprise Otachi, however, expressed surprise at the turn of events, saying that he has been meeting his tax obligations and has a certificate of compliance to prove it. "I have with me my tax compliance certificate issued by KRA. I obtained it on June 12, 2019 when I was applying for this position," said Otachi
SEE ALSO: Former Chelsea striker Costa sentenced to six months in prison, fined Sh65m
"The fact that they gave me a certificate means that I have complied." Having a clean bill of health from KRA is mandatory for any public appointment. Ms Nyamai however insisted that KRA submitted the memorandum to the vetting team. Former Cabinet Minister Esther Murugi also had a tough time responding to questions from the lawmakers. Ms Murugi was pressed by the MPs to explain why she should be considered for a public job at her advanced age, when thousands of young people remain unemployed. She has been nominated as a commissioner. Kisauni MP Ali Mbogo said that the commission has many field events and Murugi, due to age, is not fit for the job. Murugi however defended herself saying she works out daily and was more fit that some people in their 30s. "I can walk, I can run. I go to the gym every day and I'm fit more than some 35 year olds," Murugi said. Former Egerton vice-chancellor James Tuitoek, a commission nominee, found it hard to defend himself from land grabbing claims. In a sworn affidavit, a Kilifi resident sought to bar Prof Tuitoek on claims that he benefited from Agricultural Development Corporation (ADC) land in Magarini. Mistaken identity Tuitoek however said it is a case of mistaken identity. He explained that he only shares a name with the person who is listed as having benefited from that land. "The acting ADC Managing Director has written a response indicating the beneficiary is James C Tuitoek and not James K Tuitoek," said the former university don. "One would wonder how James C Tuitoek amounts to Prof James K Tuitoek. I have not been to Magarini and I don't know where Magarini is for your information." The committee is now mulling over inviting the ADC boss to make a clarification on the name confusion. Another nominee, Gertrude Nduku Nguku, also found herself hard-pressed to explain an anomaly on her Identity Card concerning her date of birth. The committee had issues with Ms Nduku's ID which indicated that she was born on January 1, 1966 while her other documents show she was born on July 11, 1966. She told the MPs that her actual date of birth is July 11, explaining an error could have been introduced in her ID when she replaced it.