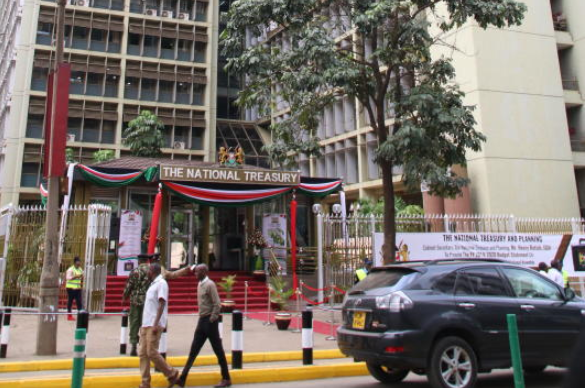 Business
Justify: Finance committee says banks continue to make huge profits
Parliament has for the second time rejected Treasury's bid to scrap the ceiling on interest rates, ensuring the continued flow of cheap loans to Kenyans. Through the Departmental Committee on Finance and National Planning, the lawmakers amended the Finance Bill, 2019 by re-introducing the provision on capping interest on loans which suspended Treasury Cabinet Secretary Henry Rotich had expunged. Should the National Assembly pass the Bill as it is, then it means that loans will still be priced at four percentage points above the Central Bank Rate, currently at nine per cent. "The committee rejected the proposed amendment in the Bill and observed that the banking industry continued to be profitable," said the committee led by Kipkelion East MP Joseph Limo.
SEE ALSO: Banks choke under the weight of unpaid loans
On the reduced credit to small enterprises, the legislators blamed it on increased borrowing by Government, which was crowding out private sector borrowers. Treasury had sought to repeal section 33B of the Banking (Amendment) Act, 2016 so as to enhance the flow of credit, strengthen financial access and monetary policy effectiveness. However, despite Mr Rotich's assurance that they had put in place some reforms to "optimise lending to the private sector," lawmakers were unconvinced that banks have learnt their lesson. Banks, through the Kenya Bankers Association (KBA), told the committee that the industry would be accountable to the public and Central Bank of Kenya on the commitments they made prior to the enactment of the interest capping law. "They stated that they were committed to maintaining the current performing customers' loan contracts within the existing contractual framework and it was only new loan contracts that will be risk-priced (after) the repeal of interest rate capping law," the committee said of KBA's proposal.
SEE ALSO: Co-op Bank retains profit at Sh3.6 billion
According to MPs, there is no assurance that banks will re-open the credit taps for small businesses. Credit to the private sector- households and businesses- has been growing, albeit at a slower pace since the rate cap came into effect on September 2016. However, the 5.2 per cent private sector credit growth as of June 2019 is a far cry from the close to 24 per cent in October 2014. Analysts have however argued that the slowdown in credit growth had already started even before the rate cap. Moreover, critics have argued, the slowdown has not been unique to Kenya. Private sector credit growth has been sluggish in Uganda and Tanzania as well.
SEE ALSO: Moody's raises red flag over Kenya's borrowing habits
A report by the International Monetary Fund, however, noted that the slowdown in private sector credit quickened after the interest rate cap, with the agricultural and trade sectors hit the hardest.