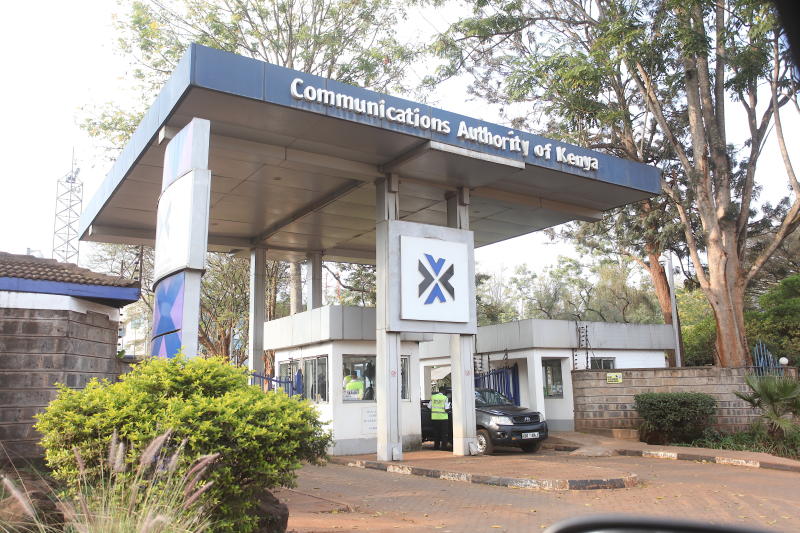 Business News
Outgoing boss says he does not want to go back to office but the legal tussle has made his exit uncertain.
The stand-off over the appointment of a new boss at the Communications Authority of Kenya (CA) continues with fresh concerns that critical decisions may risk being derailed. On Thursday, security at the CA headquarters was beefed up, with several security officers deployed in what insiders said was a bid to deter former Director General Francis Wangusi from accessing the premises. This came a day after the Employment and Labour Relations Court made a ruling nullifying the appointment of a new director general to the helm of the regulatory authority. "Orders of court as directed on August 16, 2019 are in force and order/action undertaken contrary to this orders are null and void," stated Lady Justice Hellen Wasilwa in her ruling dated 3rd September.
SEE ALSO: FKF set to receive Sh20 million virus relief cash from CAF
The court made the decision on a case filed by the Consumers Federation of Kenya (Cofek) last month challenging the replacement of the CA director general on grounds that the board of directors is not properly constituted. Justice Byram Ongaya of the Employment and Labour Relations Court on August 16 issued an order stopping the recruitment of Wangusi's successor and directed the status quo to be maintained. Last month, however, board chairman Ngene Gituku named the regulator's legal services director Mercy Wanjau as the interim director general, with ICT Cabinet secretary Joe Mucheru insisting Francis Wangusi's term had expired.
Recruitment of a new DG
"The court cannot give someone a new term of office once their mandate has expired and Wangusi's term in office came to an end on August 21, 2019," said Mucheru.
SEE ALSO: Transporters, Uganda reject GoK order to deposit cargo in Naivasha
In a statement last week, CA board chairman Gituku maintained that Wanjau's appointment was on an interim capacity and the recruitment of a new director general was on hold. "With the lapse of the term of the immediate former director general on 21st August 2019, Mrs Mercy Wanjau will continue to discharge the duties of the office on interim basis," said Mr Gituku in a statement. Former DG Wangusi says he does not want to go back to office but the legal tussle has made his exit uncertain. "I wanted to leave office quietly, but with the ongoing court case, I find myself being dragged back to the middle of everything," he said. "I do not want to go back because one does not go where they are not wanted," he said when asked if he wanted to head back to office. The stand-off has thrown operations at one of the country's crucial regulators in limbo, with a few months left to the close of the year.