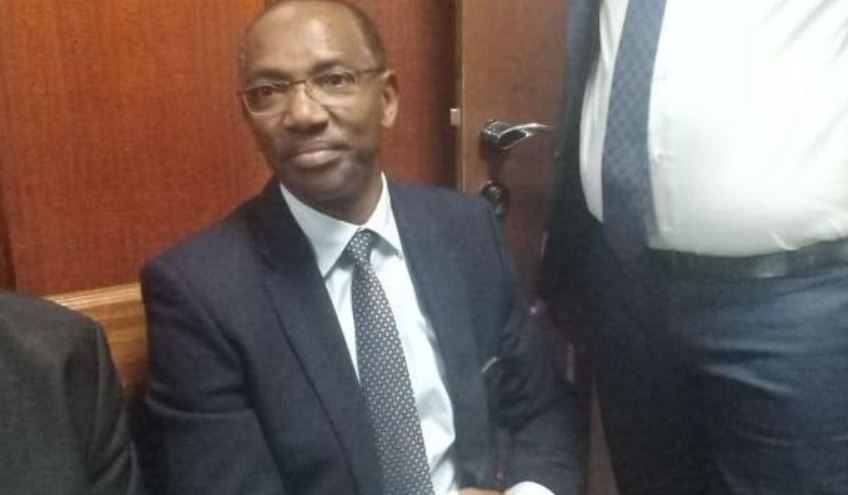 Billionaire Humphrey Kariuki has been granted Sh10 million cash bail and ordered to surrender his two
passports and appear before DCI in six hours. He resurfaced barely a month after being summoned to answer to several charges linked to his business empire. On Monday, the composed billionaire appeared at the Milimani Law Courts seen in the company of Lawyer Kioko Kilukumi to answer to charges l tax evasion charges. The billionaire and 10 others mainly drawn from Wow beverages and Africa Spirits are accused of among other things, evading tax amounting to over Sh41 billion.
SEE ALSO: Section of our staff Covid-19 positive, asymptomatic- DPP Haji
The Director of Public Prosecutions Noordin Haji said early this month he had gathered enough evidence to prosecute Humphrey Kariuki Ndegwa and Stuart Gerald (Directors WOW beverages), Peter Njenga Kuria (Director Africa Spirits), Robert Thinji Murithi (Director WOW beverages, Geofrey Kinoti (Director Africa Spirits). Others to face the seven separate charges include Sethu Prabhu (Assistant production manager Africa Spirits), Eric Nzomba (Driver), Kepha Gakure (Tax manager Africa Spirits). Besides the tax evasion charges, the DPP says the seven should be charged with being in possession of excisable goods affixed with counterfeit excise stamps, and fraud. " [A] KRA audit has revealed that Africa Spirits/WOW beverages had evaded payment of tax in the amount of over Sh41 billion between the period of 2014 and 2019," said Haji. "In addition, the audit revealed that there was evidence of tampering with the production system at the Africa Spirits factory that led to the submission of false declaration to KRA," he adds.
SEE ALSO: Gang defrauding Kenyans using branded vehicles arrested
Until the onset of the cases, Humphrey Kariuki chaired Janus Continental Group, which has an interest in the energy, real estate, hospitality and conservation matters. The group has an interest in key energy projects in Zambia, Kenya, Uganda, and Mozambique as well as dozens of others in incubation. Its business portfolio includes Dalbit Petroleum Services, aviation, mining, manufacturing, transport and humanitarian sectors in the African region. A statement signed by Janus Continental Group Chief Human Resource Officer Hellen Akello, said Kariuki stepped down as the chair of the board in light of development in the investigation process. "Humphrey Kariuki explained that this will allow him to focus his efforts on challenging claims in the courts," read a statement sent by the group to newsrooms last week.
SEE ALSO: Haji's remedy for missing files
"In the meantime, the Board has come to the decision that Managing Director Margaret Mbaka shall be stepping in as Acting Chair of the Board, with support of Chief Executive Officer Rikin Shah." Mr Kariuki's bank accounts have however been frozen following a court order.