Financial Standard
Analysts believe the deal will have little impact in challenging Safaricom's market leadership due to weaknesses in the operating strategies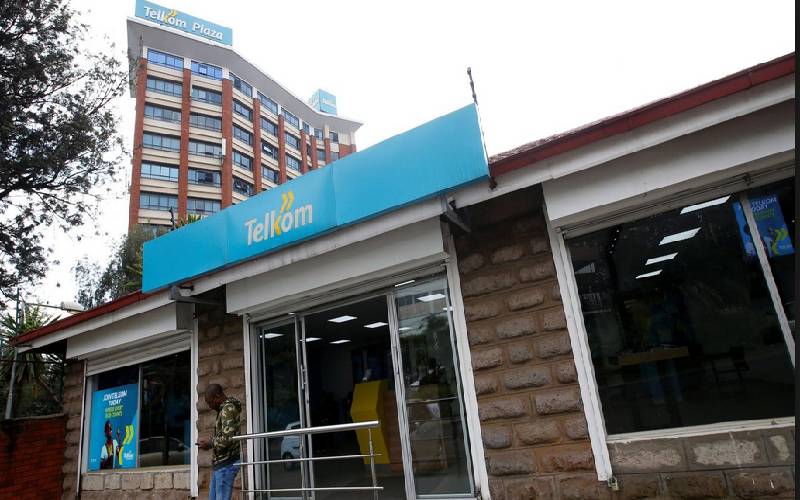 When Airtel Kenya and Telkom Kenya announced plans to merge operations last February, critics were quick to term the union "a marriage of dwarfs." Even as the merged entity is set to command 34 per cent of the market share, latest industry data from the Communications Authority of Kenya (CA) and Airtel Africa's regulatory filings with the London Stock Exchange, paints a gloomy picture. This raises questions as to whether the two companies are forming a formidable force to rival Safaricom or simply prolonging the inevitable while pushing the telecommunications sector closer towards a monopolistic setting. Telkom Kenya, which was expected to have sound financial standing than Airtel Kenya, has been faltering despite efforts by the new management to turn the company around following a rebrand two years ago.
SEE ALSO: Devil is in the detail on phones privacy ruling
According to the industry report by the CA, the firm lost 8.9 per cent of its subscribers in the first three months of this year. "Telkom Kenya Ltd's market share dropped to 7.9 per cent from 9.0 per cent reported in the previous quarter," said CA in its latest report on the status of the industry. The decline in the market share was due to a loss of 400,000 subscribers in the three months between January and March this year. As of March 31, the firm had 4.053 million customers, 8.9 per cent lower than the 4.44 customers it had as of December last year. This is in comparison to its competitors who saw their subscriber base expand by 15.2 per cent (Airtel) and 1.7 per cent (Safaricom). Finserve, the mobile virtual network operator owned by Equity Bank, also experienced a sharp drop in subscribers at 17 per cent during the quarter. Fewer customers meant lower voice traffic and fewer messages sent by its remaining customers. In a market where the operators are constantly reviewing downward their prices or giving their customers discounted prices through promotions, it is unlikely that Telkom Kenya will be growing revenues with a declining customer base. "Telkom Kenya Ltd's outgoing mobile voice traffic declined to 671.8 million minutes during the period under review from 706.5 million minutes recorded in the previous quarter," said the CA report. An estimate based on Telkom Kenya's average pricing for on-net and off-net voice calls means it lost at least Sh70 million in gross revenue in the three months.
SEE ALSO: Communications Authority raises alarm over SIM cards scam
T-Kash, the company's mobile money venture also posted poorer performance compared to last year, with customer numbers reducing. The service, however, recorded a slight uptick in the value of transactions and the number of agents. Looking at the data from the regulator, it would appear Telkom Kenya is scaling down activities or at the very least has gone into "autopilot mode" as it goes through the last stages of merging with rival operator Airtel. Telkom Kenya, however, insists it is still active in the market and executing its strategy, although the management remains vague on the reasons for the significant decline in customer numbers. "Delivering customer value is the core of our business," said the company in a statement to Financial Standard. "To this end, we have been on network expansion and optimisation programme, meant to boost our quality of service in Nairobi, Kisumu, Mombasa, Nakuru and Eldoret guided by customer demands in these areas." "We are also working closely with the industry regulator, the CA, to construct 14 GSM sites to cover 28 sub-locations in nine counties under the auspices of the Universal Service Fund that seeks to further network expansion across the country." "Telkom has adopted a more targeted approach toward product and service launches; with one such initiative being the Share Life campaign, which has enabled our customers to enjoy free night data, free WhatsApp and free minutes for Telkom-to-Telkom calls. We are confident that these and other ongoing initiatives will boost our numbers."
SEE ALSO: Google's loon dispatches more balloons to Kenya
Telkom Kenya also said the merger with Airtel Kenya is on course, with the two operators waiting for regulatory approvals. "Consultations are still ongoing with the regulatory authorities for the requisite approvals, which will enable the parties to proceed to the next stage of the process," said Telkom. However, analysts believe the merger will have little impact in presenting a strong challenge to Safaricom's market leadership, primarily based on the weaknesses in the operating strategies of the two. "Both Airtel and Telkom Kenya have focused primarily on pricing as their main customer acquisition strategy, ignoring the impact of product diversity," explained analysts at Sterling Capital. "Although this has been somewhat effective in the short-term, it has not delivered the desired impact in terms of business revenue growth and profitability." This was corroborated by Airtel Africa in its listing prospectus when it revealed the pricing strategy adopted to win over subscribers has in fact eroded the company's earnings. "The market ARPU (average revenue per user) has stabilised at around Sh460 ($4.6) per month, with the historical evolution driven by an increase of Safaricom's ARPU due to strong mobile data growth and decline in Airtel's ARPU attributable to an effort to grow its share of the market through attractive pricing," said the firm's prospectus in part.
SEE ALSO: Telkom pulls plug on nearly 25,000 mobile cash agents
"Voice ARPU has continued to gradually decline as a result of more intense price competition and growing contribution of mobile data and M-Pesa to the overall revenue mix," said the company. This is why the firm continues to report losses, booking a Sh1.2 billion loss in the last financial year despite recording the largest gain in subscriber numbers and market share. Data from the CA indicates Airtel Kenya recorded a 58 per cent increase in the number of subscribers, from 7.2 million in December 2017 to 11.4 million in December last year. The firm also doubled its market share in the voice and SMS market over the past year, with voice traffic doubling from 1.9 million minutes recorded in the three months ending September 2017 to 4.7 million reported over a similar period last year. However, the company's financial position remains precarious. Airtel Kenya's core capital as of December last year stood at negative Sh3.9 billion, against the Central Bank of Kenya's (CBK) requirement of Sh5 billion, making it technically insolvent. CBK sought to withdraw Airtel's operating licence if the firm failed to come up with a capital restructuring plan to convince the regulator its operations in the country and obligations to consumers were viable.
SEE ALSO: State agency orders pay TV firms to air school lessons
Airtel Kenya has proposed splitting its mobile money business from the telecommunication operations to create a new entity for financial services. The firm has also done enhancements on shareholder loans from Sh10 billion to Sh50 billion. CBK, however, says this is still inadequate. Airtel Kenya has until August 31 to raise Sh3.8 billion.