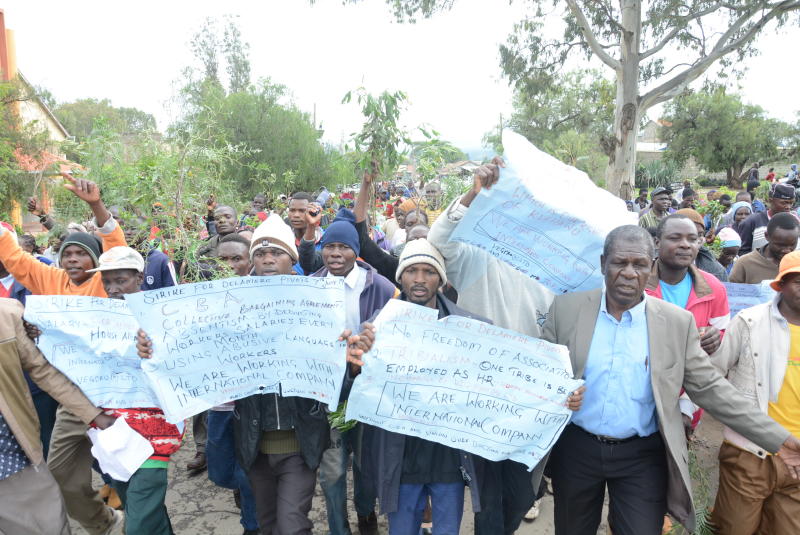 NAIVASHA, KENYA: Operations in two flower farms in Naivasha have been paralysed for the last three days after over 2,000 workers went on strike protesting low wages and poor working conditions. The management of Gorge farm and Delmare Pivot, which are owned by Veg Pro Kenya Limited, are counting losses running into millions of shillings following the industrial unrest. The workers from Gorge farm engaged police in running battles along Moi South Lake road on Monday morning before matching to the Labour offices in Naivasha seeking an audience with the government officers.
SEE ALSO: 690 more test positive as nurses table demands
According to the Kenya Export Floriculture, Horticulture and Allied Workers Union (KEFHA), the farm had failed to honour a Collective Bargaining Agreement (CBA) that sought to improve terms and conditions of the workers. The union Industrial relations officer Issa Wafula said workers in the vegetable section were earning Sh4, 500 per month compared to Sh7,800 for those in the flower department. "The workers are further subjected to other hidden deductions and at times they go home with less than Sh1, 000 at the end of the month," he said. The union national organising Secretary James Okeyo said that they had tried to engage the farm on several occasions over the workers grievances but to no avail. Addressing striking workers, Naivasha assistant sub-county commissioner Sylvia Ocholla said that all parties had been summoned for a meeting on Wednesday to resolve the issue.
SEE ALSO: Victory Farm staff call off strike after meeting with management
"We shall meet the farm management, workers representative and labour officers so that we can get a solution to this strike which has affected tens of workers," she said. Efforts to get a comment from the farm management were fruitless as they were locked in a crisis meeting.