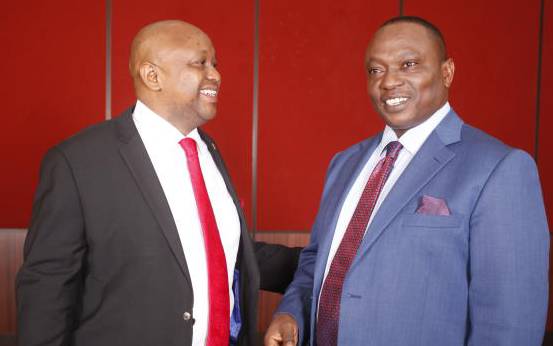 Business News
Richard Ngatia says Uhuru and CBK's directives will spur growth of small and medium enterprises.
Traders have welcomed the decision by Central Bank of Kenya (CBK) to phase out the current Sh1,000 notes and President Uhuru Kenyatta's orders stopping re-inspection of imported goods. During Madaraka Day celebrations at Narok last week, Uhuru directed the Kenya Ports Authority, Kenya Revenue Authority and Kenya Bureau of Standards (KEBS) to honour pre-shipment inspections done by KEBS-appointed agents at the port of origin. At the same function, CBK unveiled new bank notes and announced that the current Sh1,000 will be rendered useless by October 1. The rest of the bank notes will be phased out gradually.
SEE ALSO: Registrar gazettes notice to dissolve School of Monetary studies
Small traders
The directives come at the backdrop of renewed efforts by Kenya National Chamber of Commerce and Industry (KNCCI) to assist small traders access affordable loan facilities from banks and end a protracted standoff between importers and the Kenya Revenue Authority (KRA). In an exclusive interview on KTN News' Point Blank last night, KNCCI President-elect Richard Ngatia said Uhuru and CBK's directive will spur growth of Small and Medium Enterprises (SMEs) Mr Ngatia said small and medium importers had suffered huge losses following detention of their goods for not meeting new and stricter importation rules. Ngatia who is set to assume office on June 8 said some of the traders have had their property auctioned after defaulting on their loans.
SEE ALSO: Banks choke under the weight of unpaid loans
He said the decision to phase out the Sh1,000 note by October 1 will return more money to the country's economy to the advantage of traders seeking credit facilities from banks. In the interview, Ngatia announced plans to engage banks so that traders can easily access loans.
Accessing credit
He said a majority of business people have been locked out of credit because they lack the collateral required by lenders. He said he will be working with Equity Bank to help small traders get loans.
SEE ALSO: Wrong thermometer gun readings: The user could be the problem
"You noticed the involvement of Polycarp Igathe (Equity's Chief Commercial Officer) during the launch (of my manifesto) where he announced they want to reach out to the business community," said Ngatia. "The challenge that has been there is that the small business people do not have collateral. We want to negotiate for them with banks," he said. He said there have been protests by traders against detention of their goods, stating that the standoff occasioned them major losses. According to Ngatia, discussions on the issue that culminated in Uhuru meeting the traders and finally issuing the directive at Madaraka celebrations had been going on for some time. "We seek to support the small trader. The other day we had people protesting over detention of their goods at the Port of Mombasa because of standardisation," he said. He explained that some of the traders had been caught up in the standoff because of mistakes committed by consolidators. He said several small traders put their goods in one container for shipment, but every time there was a problem with one set of imports, the entire container was held. "It hurts their businesses because some take loans only for their goods to be held," he said. The former Nairobi KNCCI Chapter chairman also spoke about prohibitive tax regimes, especially in counties where traders end up paying double tax. He proposed a free trade regime between counties to boost trade, create jobs and ensure prosperity by ensuring traders pay tax only in one county and is not charged for goods on transit.
Double tax
"The issue of double taxation by counties is a major problem facing our traders. Once you pay tax in one county, you should not be forced to pay tax in the next county you use for transit," he said. The new KNCCI boss is also pushing to have the Government pay SMEs within 90 days of invoicing and is campaigning to have it put into law. He further announced the chamber's plan to put up industrial parks in all the 47 counties to promote small enterprises and Jua Kali industry across the country. Ngatia said he was seeking to partner with the Government in the project. "We are looking at having industrial parks in all the 47 counties. If we partner with government for instance, the National Cereals and Produce Board has space which we can use to set up a place for the small traders in all the counties," he said. Ngatia is succeeding the outgoing chamber president, Kiprono Kittony. He said he will seek to unify the chamber and strengthen all the its chapters as he pushes for increased exports and discourage importation of non-essential goods that stifle creativity, enterprise and job creation. The proprietor of Galileos – an entertainment joint in Nairobi – was declared elected unopposed after all his opponents withdrew from the race. James Mureu and Abdulwalli Sharrif, Stephen Mbugua and Laban Onditi pulled out to back Ngatia while Gor Semelang'o withdrew citing personal reasons. "What I want is not just the win but a chamber that is unified. Before I launched my manifesto, I invited my close friends and asked them what I should do to fix the chamber," he said.