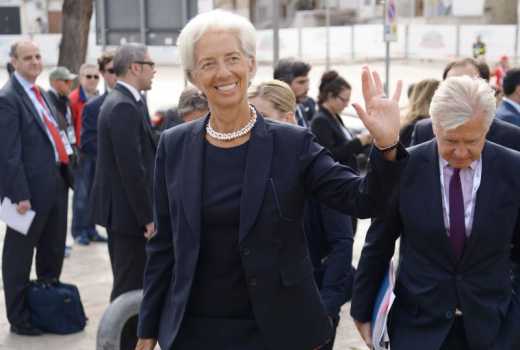 The global elites have rediscovered their animal spirits. As the World Economic Forum drew to a close in the Swiss ski resort, the overarching mood of the executives, policy makers and investors was that their economies are in fine shape and that stock markets have every reason to extend their run. "Let's celebrate what could go right for the moment because we are in a sweet spot," International Monetary Fund Managing Director Christine Lagarde said on the closing panel discussion. The Standard & Poor's 500 Index has gained about a quarter since the start of 2017 and the IMF is forecasting the strongest worldwide economic growth this year since a brief post-recession bounce in 2011. Some 57 per cent of executives polled by PricewaterhouseCoopers LLP saw the economy improving in 2018, about double the number of a year ago.
SEE ALSO: Zaha releases statement after 12-year-old is arrested over racist abuse
TOO EXUBERANT
The rise of cryptocurrencies was evident in the Swiss town both in conference sessions and on the promenade where companies rent shopfronts to promote their wares. "The greatest worry I've heard over the past days in Davos is that there is not enough worry," Mary Callahan Erdoes, JPMorgan Chase & Co asset-management unit CEO, said on the panel. "It's OK to not be worried, to celebrate how we got here." Erdoes thanked the policy makers on the stage for working "tirelessly" and "giving all of these government jobs such fabulous prestige and something that I know all of us now perhaps aspire to do." "Wow," said Bank of England Governor Mark Carney. "This is fantastic."
SEE ALSO: Kenya records highest daily Covid-19 death toll
Such sentiment led delegates to declare that it was the most upbeat Davos gathering since before the financial crisis. Yet the giddiness also gave some investors pause as they warned against turning too exuberant. "I do feel it's a little bit like 2006," Barclays Plc Chief Executive Officer Jes Staley said earlier in the week. David Rubenstein, who co-founded the Carlyle Group, also called for caution. "The biggest concern I have is that most people think there's no problem of a likely recession this year or early next year,'' said Rubenstein. "Generally, when people are happy and confident, something wrong happens.'' America Open for Business
But the warnings weren't enough to damp the confidence in the corridors. Executives from JPMorgan and Deutsche Bank AG said a global boom in deal-making is set to continue this year.
SEE ALSO: Atheist in Kenya supports controversial Reproductive Health Bill 2019
"It's the first Davos I've been at where we haven't mostly been talking about a recent or a next crisis," Bank of Canada Governor Stephen Poloz told Bloomberg Television on Friday. Even President Donald Trump, a villain for many on the pro-globalisation guest-list, was hailed in some quarters for cutting taxes and regulation. He used his much-anticipated visit to declare "America is open for business." "There are companies all around the world now looking at U.S., saying this is the place to be in the developed world," said Blackstone Group LP Chief Executive Officer Stephen Schwarzman. US Commerce Department data released earlier Friday showed fourth quarter U.S. growth of 2.6 percent on an annualized basis, down from 3.2 percent the previous three months, though consumer spending and business investment remained strong. Europe, often a poster boy at Davos for political or economic crisis, won praise for its recent expansion. "Europe's been a phenomenal story," said Harvard University professor Kenneth Rogoff. Commodity chiefs also spoke bullishly about their outlook, having spent the past two years lamenting the price of oil. "We have not seen this kind of growth since before the global financial crisis," said OPEC Secretary-General Mohammad Barkindo.