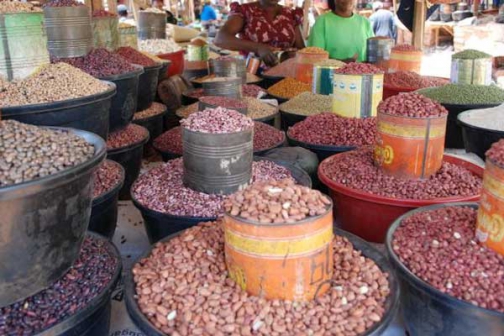 Millions of Kenyans are stuck in one of the worst economic crises after food prices suddenly shot up leaving many staring at starvation. Prices of maize flour, milk, tomatoes, cooking oil, onions and sukumawiki (kale) — the most basic foodstuff—have risen sharply in less than two months making life unbearable for ordinary consumers who toil just to put food on the table. Kenya's staple food maize is the worst hit with a gorogoro (a two-kilogramme tin) of the cereal in most rural areas trading at between Sh100 and Sh130, up from between Sh70 and Sh80 during the festive month of December. At Kibuye Open Market in Kisumu, a gorogoro of maize is going for as high as Sh130, a price last seen in 2009 when the country experienced a similar crisis in the lakeside city. In Kisii County, one of the areas that feeds food-deficient city of Kisumu, a gorogoro of maize is trading at an unprecedented Sh100 up from Sh75 in December 2016. What makes this worrying is that in many areas in Kisii, farmers have just harvested in January. In the border town of Busia where some residents walk to a Ugandan cereal shop for cheap maize, a gorogoro of maize is going for Sh95 up from Sh90 just a month ago.
SEE ALSO: Kenya's economic growth slows down in the first quarter
The drought has brought nothing but problems for the residents of Budalang'i, Busia County, who will now have to endure the ignominious ritual of receiving relief food, said the Cabinet Secretary for Agriculture Willy Bett. The CS noted that there are 300,000 people from non-ASALs (arid and semi-arid lands) areas that need relief food. Other residents who have been forced to line up with begging bowls for a few gorogoros of maize to keep them going are from Nyatike in Migori. The Kenya National Bureau of Statistics (KNBS) data shows that a kilogramme of loose maize grain as the ones sold in gorogoro rose from Sh45 in December 2016 to Sh46 in January 2017. This works out to maize retailing at Sh92 last month. In urban areas such as Nairobi, most supermarkets are selling a two-kilogramme packet of maize flour at Sh126—this is a shilling higher than a two-kilogramme of wheat flour which for long has been more costly than the latter. "Right now, wheat is cheaper than maize on the shelf," said a local miller who preferred not to be identified as he is not authorised to speak on behalf of the Cereal Millers Association (CMA). For the first time, most households will be tempted to eat chapati instead of ugali. However, there are other costs for one to prepare Chapati such as cooking oil. Chapati has traditionally been reserved for such special occasions in poor households. Millers are now living from hand to mouth, said the anonymous miller. He said it is not easy to build up stock once it is replenished. CMA is now buying quality maize from Western regions at a cost of Sh3,600 and Sh3,800.
SEE ALSO: We must seize the unfolding economic moment
A cheap meal of ugali and sukumawiki, which has kept millions of poor Kenyans going during the toughest of times, is hard to come by. In January, a kilogramme of the vegetable had risen from Sh45.7 in December 2016 to Sh48.74, according to KNBS. But now, a handful of stalks of sukumawiki will leave households Sh20 poorer. This is inadequate for a typical Kenyan household of five members. Nancy, a resident of Kisumu, told Weekend Business that Sh10 would get her less than six stalks of sukumawiki. Sugar lovers have endured the price burden since November 2016 when the country started experiencing shortages. A two kilogramme packet of sugar is retailing at Sh290, up from Sh250 in October 2016, and some supermarkets have even been rationing the commodity as consumers grapple with shortages. Depressed harvests Fresh packeted milk (half litre or 500mls) is retailing at Sh55 from Sh45 a month ago. The spike in prices of basic foodstuff has something to do with the debilitating effects of drought. Drought has reduced the supply of basic foods driving the price up, said Dr XN Iraki, a lecturer at the University of Nairobi. "For the poor, more money goes to foodstuff and less money is available for other needs like school fees," said Iraki.