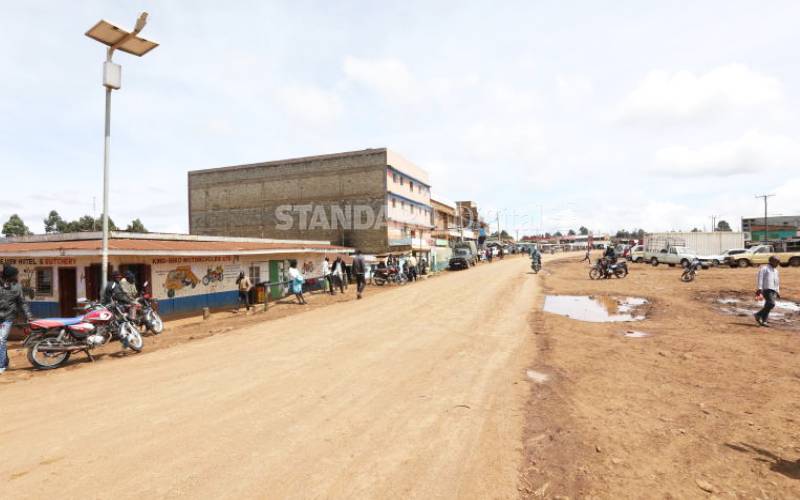 At the floor of the scenic Kerio Escarpment in Elgeyo Marakwet County lies a desolate town.
Kimwarer trading centre was until three years ago a fast-growing commercial hub, swarming with humanity.
But all that changed when the Kenya Fluorspar Company shut down operations in 2016.
Since 1970s, smoke spiraled from this mining factory that churned out 130,000 tonnes of fluorite annually and employed 15,000 people.
Read More
The factory's operations were scaled down in June 2015, when it laid off some 75 workers and attempted to sell its stock of fluorspar.
A year later, Kenya Fluorspar Company called it a day, and fate of Kimwarer trading centre was sealed.
Today, the town whose economy was driven by the company's workers, is dead.
Lorries that roared day and night hauling raw materials to keep the factory engines purring now serve as shades for goats during hot afternoons.
Residents of Kimwarer say the the company's closure was not just felt in Kerio Valley, but also in Eldoret, 75 kilometres away.
Motor vehicle spare part suppliers in Eldoret lost out after tens of lorry owners who offered transport services to the mining company went out of business.
Fluorspar firm fall killed Kimwarer
Many traders had taken loans from micro-finance institutions to expand their businesses when Kenya Fluorspar Company fell.
To date, many residents look at the cold chimneys, hoping that by chance they might see a whiff of smoke to revive their hopes.
"Life became difficult when smoke stopped billowing from the factory's chimneys," says Priscilla Kitavi.
But it is not just Kimwarer that has been orphaned by the fall of Kenya Fluorspar Company.
A long list of trading centres that owed their existence to the company and have been massively affected by its closure.
Flax town, located in Keiyo South Constituency, Elgeyo Marakwet is one of them. Here, Fluorite processed in Kimwarer was stored awaiting a train to transport it to Mombasa.
When the company fell, the fortunes of Flax fell with it.
Only less than six businesses remain open.
"Even those businesses that are still open are struggling. People moved on after the collapse of the fluorspar company," says Eric Kimeli, who used to run a booming transport business at Flax in its heyday.
The story is similar for Kabokbok, Muskut, Kalwal, and Soy-all ghosts of their former selves.
But Fluorspar alone is not to blame for the death of many rural shopping centres in the North Rift.
Songhor trading centre in Tinderet Constituency, Nandi County was at its peak in the 1980s, serving as a coffee collection center.
Then came the 1990s and Songhor's fortunes plummeted, thanks to poor prices that rocked the coffee sector, prompting hundreds of farmers to abandon the cash crop.
The collection centre had grown into one of the biggest markets in Nandi, attracting coffee deliveries from Meteitei, Senetwa and Taunet villages.
"From early 2000, the coffee farmers went through hard times and the their association broke up," says Pius Kipsang, a resident.
Today, Sanghor is dotted with old structures, silent reminders of a once vibrant trading centre.
In Keiyo North, Kaplolo trading centre depended on timber mills. But four years ago, Elgeyo Sawmills scaled down operations,and Kaplolo's star started fading.
The town's fate was sealed in 2017 when the State issued a moratorium stopping tree harvesting in all gazetted forests in the country.
"Kaplolo depended on Elgeyo sawmills. The company starting laying off some staff in 2015," says Joseph Kiptigin.