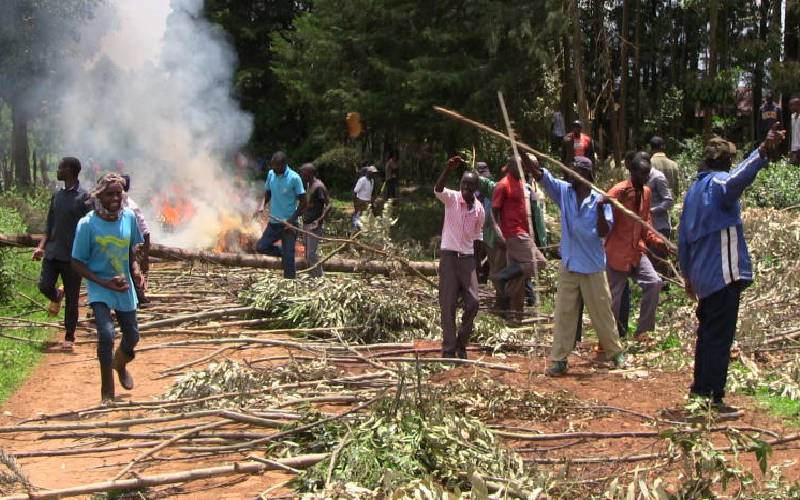 Anti-riot police shot in the air and lobbed tear gas canisters to disperse tea farmers protesting against this year's low bonus payments. The farmers, affiliated to Tegat Tea Factory, were paid Sh14.10 per kilogramme, down from the Sh28.70 they earned last year, sparking the protest. The angry farmers barricaded roads leading to the factory with felled trees and bonfires. They also barricaded the entrance to the factory with boulders in the day-long drama that paralysed tea harvesting activities in the area.
SEE ALSO: Tea marketers plot to sue against CS Munya's rules
Belgut OCPD Phillip Okello called in a squad of anti-riot police to guard the factory as its management held a crisis meeting. The farmers blamed the low payments on cartels and brokers. "The brokers at the Mombasa tea auction should be investigated. They dissuaded buyers from buying tea from West Rift which they claimed was of low quality," said William Ketteinya, a farmer. They demanded that the factory revises the bonus payment rates upwards. "It is a fallacy to pay farmers Sh14 while another farmer who supplies the same quality of tea to Momul Tea Factory within the same constituency is paid Sh28," said Kapsoit ward rep, Paul Chirchir, who is also a tea farmer.
SEE ALSO: County shuts markets in bid to tame Covid-19 spread
The farmers demanded changes in the election of Kenya Tea Development Authority (KTDA) directors. "We want the current voting system where farmers vote for directors depending on the number of shares they hold in factories abolished. We want a one-man one-vote system for the sake of transparency and fairness," said Hillary Kiprono. According to KTDA's region five manager in charge of Kericho and Bomet counties, Charles Manegene, the low bonus payment was caused by challenges in the international tea market. "The challenges are not unique to Tegat. We have been experiencing challenges in the market occasioned by economic and political environment in the countries where we sell the tea," he said. Tegat Tea Factory board of directors chairman, Jonathan Kiptoo said the management had issued a low bonus warning on September 9 this year.
SEE ALSO: UoN comes top among East African varsities
"All along, we have been updating our farmers on the unfavourable market situation," he said. In Nandi, tea factories affiliated to KTDA are looking for new strategies to boost earnings for farmers. According to John Tega, KTDA director and chairman of Chebut and Kaptumo tea factories, the fall in this year's bonus payments followed poor prices at the Mombasa tea auction. Mr Tega said the factories are now focusing on cost reduction initiatives such as buying more land to plant more trees for fuel, generating own electricity and investing in an additional processing plant to ease transport costs and boost quality. [
Additional reporting by Titus Too
]